GTA 6 map recently leaked among fans Grand Theft Auto (GTA) which are spread all over the world.
This was reported from the Twitter account @GTAVI_Countdown which was uploaded on May 5 with a tweets which became a hot topic of discussion for fans GTA.
Of course, from these rumors, this made GTA fans even more curious about the GTA 6 map.
Cheapest Top Up Social Live!
Arif_budiman
IDR 50,000
62%
IDR 18,900
Then, what are the details of the GTA VI map that became a rumor on Twitter? Check out this article to the end, ok!
Also read: Rockstar Make Sure They're Working on GTA 6, Released This Year?
GTA 6 maps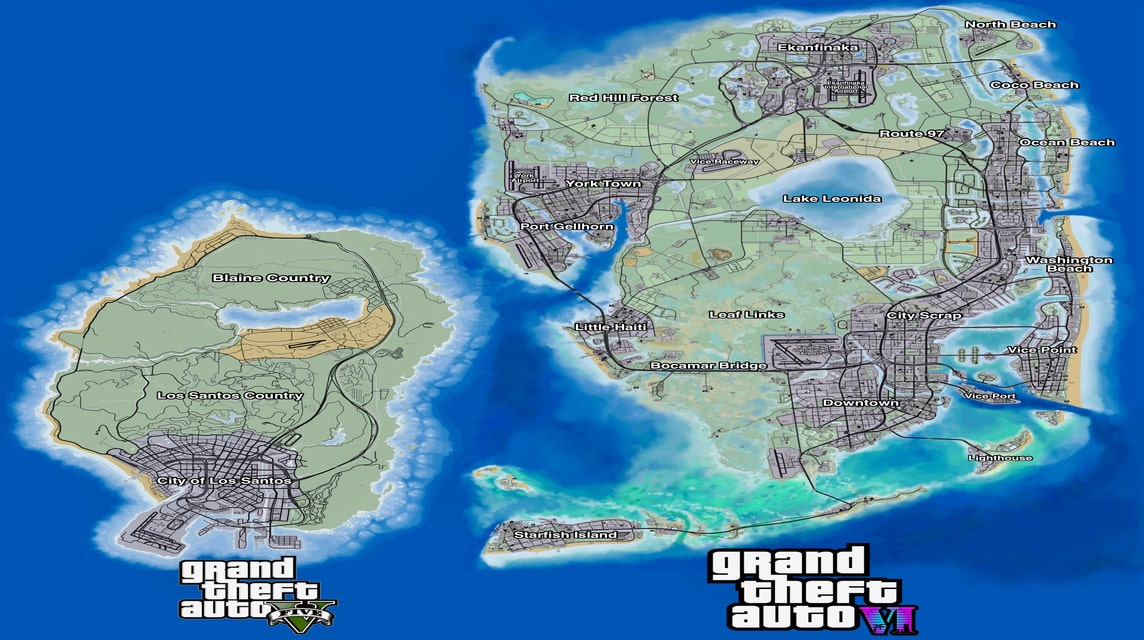 In fact, it's been a long time since Grand Theft Auto fans have been waiting for the latest series update from games this is Grand Theft Auto VI.
All fans are very enthusiastic about the rumors circulating about the game.
Fans think that soon the game will be released by Rockstar Games.
There are lots of rumors circulating about GTA VI, starting from latest features, location, to map.
Of course, this makes fans even more hopeful about the official release of GTA VI, especially after seeing the leaked map on the internet.
Twice As Big
According to esportschimp.com, if we talk about the GTA 6 map, it turns out that recently there was a claim that the rumored Vice City map from GTA 6 is 2x bigger than the map in GTA 5.
As seen in the picture, this map gives us an idea of how wide the GTA 6 map is.
And this is obvious, when the GTA 6 map and the GTA 5 map look very contrasting in size, because the map is wider and bigger than GTA 5.
Florida City in GTA 6 Map
When viewed on the map, it is very similar to the city of Florida in the United States. Apart from that, there are several activities in the Florida city that make GTA 6 very exciting to play.
This makes fans speculate that GTA 6 will be located in Vice City.
The atmosphere of the city of Miami, Florida in the 1980s that you can explore by players since GTA 4 too.
Life in Miami is like the presence of a bustling nightclub by the people of Miami which is the setting of Vice City.
Rumors Map
GTA 5 used to have the biggest modern map for Rockstar Games. However, the Blaine County and Paleto Forest locations will be removed due to their underutilization. This was reported from beebom.com.
However, in fact the players are eyeing other locations on the map to explore things or search for their targets.
From these rumors, of course, there is very high optimism among GTA players.
Fans hope that there will be more surprises on this map and something to do in these locations.
Referring to another game released by Rockstar Games, namely Red Dead Redemption 2, in each region there are missions that must be carried out by the players.
This is a hope for GTA 6 players. Many things need to be included in the game, including the map.
Also read: The Latest Leaked Features in the GTA6 Game, Watch This! 
GTA 6 Release Schedule Rumors
Reported from Gizmochina.com, Microsoft's acquisition of Activision-Blizzard caught the radar of the Competition and Markets Authority (CMA) as the UK Oversight Agency.
Because of that the CMA conducted an investigation and examined a document. However, the document provides an indication of when GTA 6 will be released.
The hint is on page 24 of the document with the statement that "the highly anticipated Grand Theft Auto VI is expected to be released in 2024".
So actually, GTA 6 is still uncertain when it will be released because it is still in the development stage. However, from these rumors GTA 6 will be released in 2024.
Also read: GTA 6 Release Date Leaks, Take This Note!
So, that's a brief overview of the GTA 6 map and when it will be released. Who can't wait to play this GTA?
Don't forget to always top up your game needs cheaply, quickly and safely, only at VCGamers Marketplace, yes!