Player Counter Strike: Global Offensive Surely you've encountered cheaters when playing competitive. Of course this bothers other players, even though Valves have Anti-Cheat for CSGO. However, there is a CS GO platform that you can use, namely FACEIT.
This time, VCGamers will discuss FACEIT and how to use it. This platform has an additional Anti-cheat so that the possibility of cheaters decreases when playing CSGO.
Also Read: CSGO Assault Rifle Spray Pattern, Must Memorize!
What is FACEIT CS GO?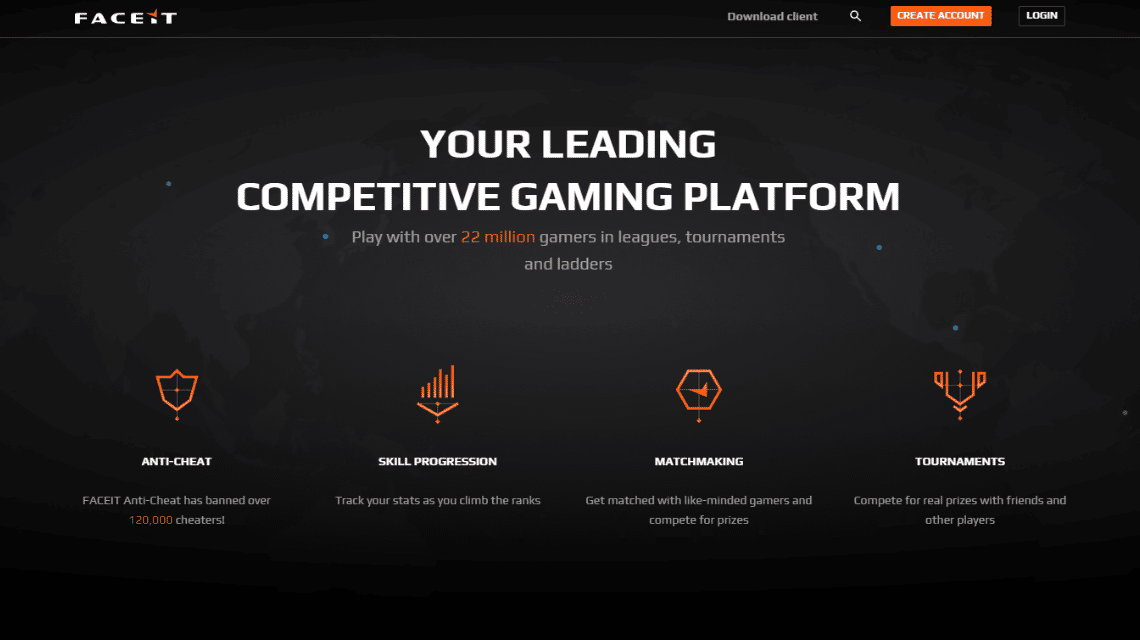 FACEIT is a game platform that was released in London from 2012. This platform is not like Steam or Epic Games, but FACEIT is a platform that provides matchmaking with its own server.
Cheapest Top Up Social Live!
Arif_budiman
IDR 50,000
62%
IDR 18,900
There are various choices of games that you can play through FACEIT. Examples are several game leagues for Counter Strike: Global Offensive or CSGO, League of Legends, Rainbow Six Siege, Dota 2, Rocket League, to Team Fortress 2.
Not only a platform, FACEIT also organizes various tournaments such as the Esports Championship Series or ECS starting in 2016. After that, ECS became one of the premier Counter Strike leagues along with the ESL Pro League.
However, this time the discussion of the article will focus on the FACEIT platform for playing CS:GO. You will still play CSGO via Steam, but the server you will play on will be different.
You can play matchmaking in 5v5 format like usual CSGO games. Apart from that, you can also take part in 1v1, 2v2, and of course 5v5 tournaments.
According to scope. gg, you can also participate in professional league like FPL Challenger if you have a high enough skill. Of course, these features are different from CSGO. Apart from that, the server that you will play on is also different.
Besides a different server, your rank will also be different. If you are curious, let's see an explanation of how to use FACEIT CS GO!
Also Read: Tips for Playing CSGO for Beginners, Definitely Good!
How to Use FACEIT CS GO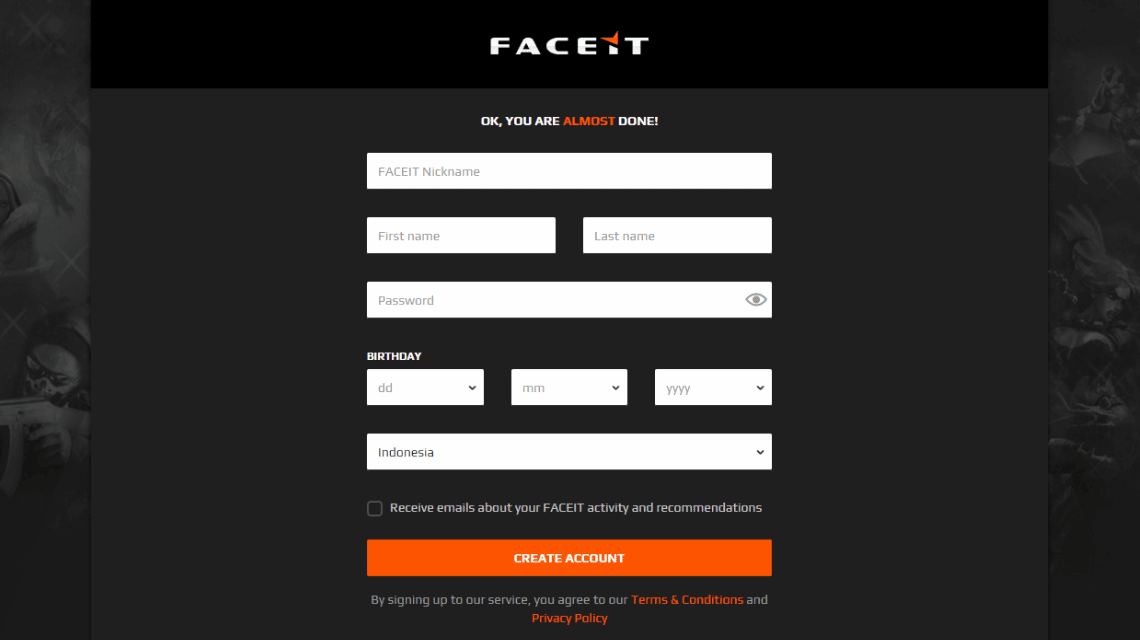 For those of you who are curious about FACEIT matchmaking, here are the complete steps on how to register a FACEIT account so you can play CS GO through this platform.
Visit the official website FACEIT
Register by e-mail
Input personal data such as Nickname, name, password, birthday, and country of origin
Select Create Account
Download patient faceit
Login with the newly created account
Download Anti-cheat from the FACEIT client
Choose CSGO 5v5 Ranked
Select Play and Confirm Match
Open CSGO and connect server via Console Command with ` or ~ key
Play CSGO as usual
That's a short way to play CS GO via FACEIT. Keep in mind that FACEIT games still require a CSGO account. Besides that, rank what you get through Faceit will be different.
A full explanation of the advantages of using this platform will be discussed below. Let's see why you should use FACEIT!
Also Read: Required Memorizing! Smoke Mirage CSGO for the Terrorist Side
Advantages of Using FACEIT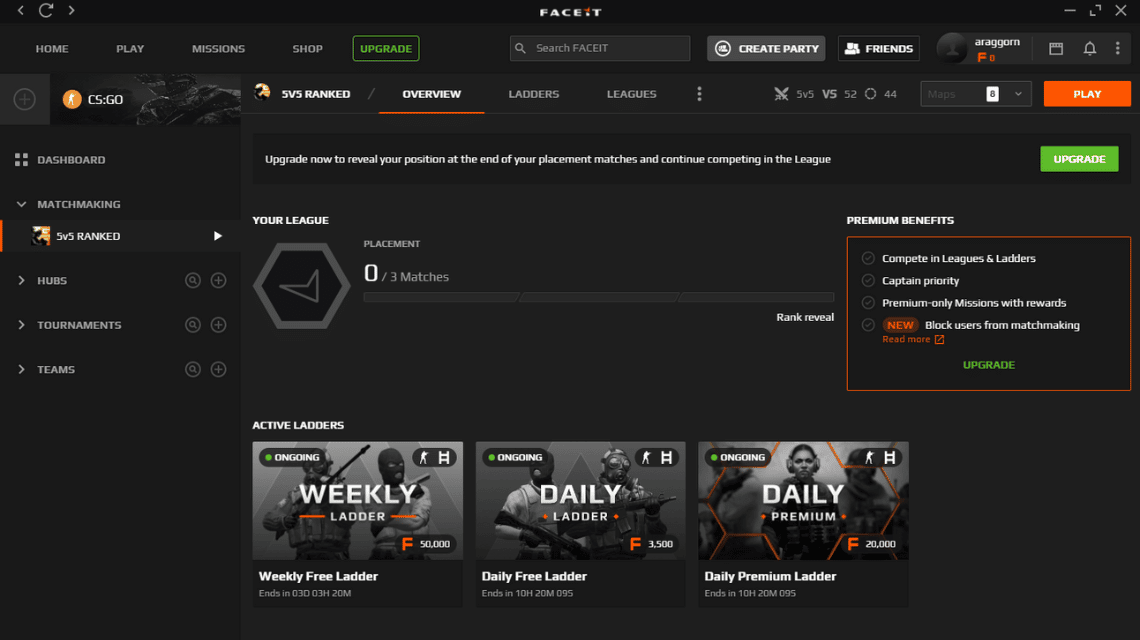 FACEIT is a very famous platform among CSGO players. Therefore, not a few pro players use Faceit compared to the competitive mode in CSGO games.
Because of the many pro player who use FACEIT, you can be sure that this platform has a very good reputation.
This good reputation was born because of the trust of many players about the effectiveness of the available anti-cheats. While playing FACEIT, you will rarely find cheaters.
The proven anti-cheat then makes CSGO players use FACEIT as a server to play CSGO.
The server from FACEIT also has 128 tickrate which means the game quality will be better than the CSGO server which only has 64 tickrate.
Thus the discussion on how to use FACEIT to play CSGO.
For the need to buy CSGO skins via Steam Wallet top up, let's visit VC Markets by VCGamers! Enjoy lower prices and available promos!