This is the analysis of the VCT 2022 Grand Final between Loud vs OpTic. September 17, 2022 was a historical day for Loud because they beat OpTic with a score of 3-1 and became the champion Valorant Competition Tournament 2022 in Istanbul, Turkey.
After watching it again, the writer has his own analysis of the match so that Loud manages to win the game. Want to know the reason? Just read below!
Also Read: Guide to Using Sova Valorant, Beginners Must Read!
VCT 2022 Grand Final Analysis Loud Vs OpTic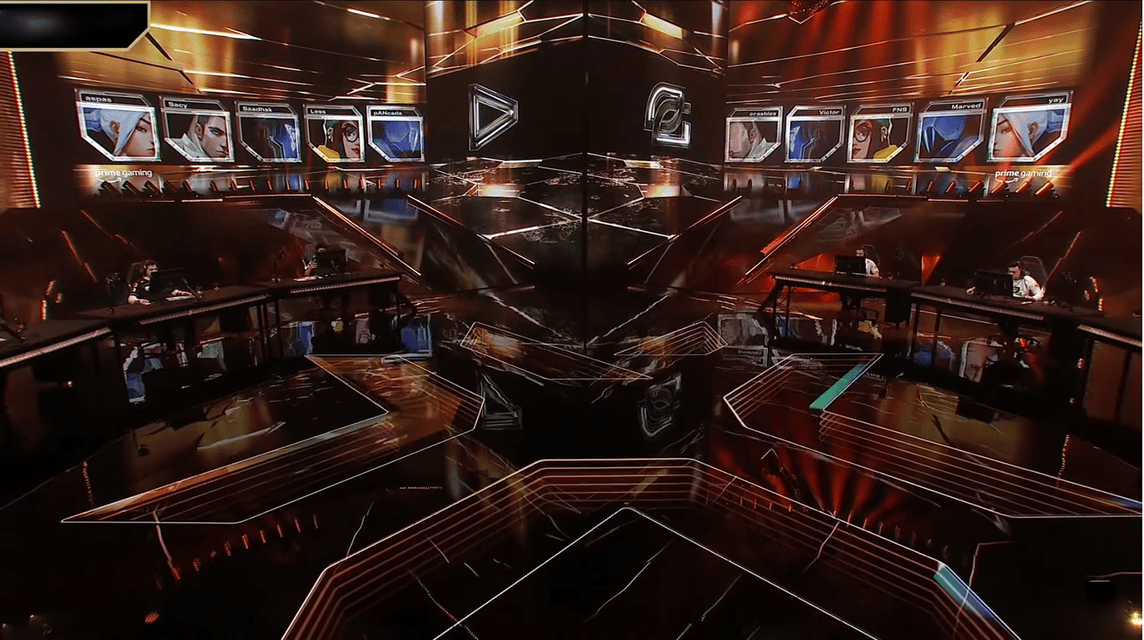 The match between Loud and OpTic is inevitable. Previously in the upper bracket, Loud and OpTic also met, fighting for a position in the Grand Final.  
The Cheapest Valorant Product!
Arif_budiman
IDR 50,000
62%
IDR 18,900
With a score of 2-0, Loud managed to send OpTic to the Lower Bracket to meet DRX. But OpTic managed to secure a position in the Grand Final with a score of 3-2.
Unknowingly, Loud and OpTic meeting in the VCT 2022 Grand Final will be their 6th meeting! They last met in the Grand Final at a tournament Reykjavic with OpTic as the champion.
OK, without further ado, here are the results of the analysis:
Game 1: Map Ascent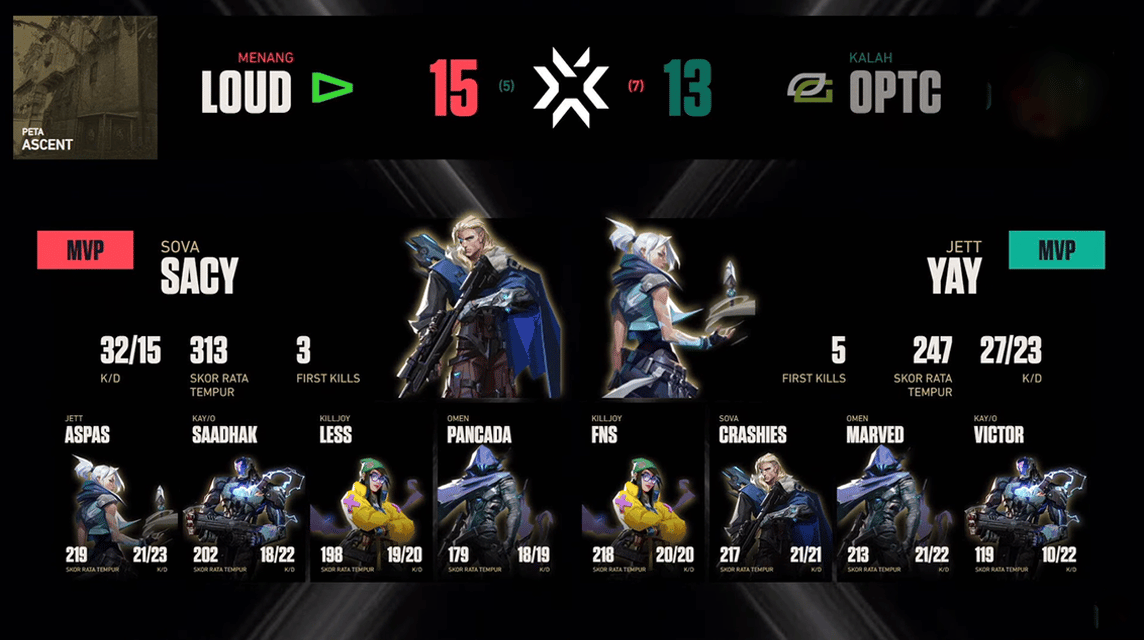 Team lineup:
OpTic
Crashies : Sova
FNS : Killjoy
Marved : Omen
victor : Kay/O
Loud
Aspas : Jett
Saadhak : Kay/O
Less : Killjoy
Panda: Omen
Sacy: Sova
Loud becomes an Attacker in their flagship map. In terms of agent selection, both teams use 1 duelist, 1 controller, 2 initiators, and 1 sentinel. It does seem that Killjoy is a potential sentinel.
The two teams had more or less the same strategy when they became attackers, namely with strategies 1-4. Killjoy for each team is used to keep B playing from defender and mid.
Both teams played pretty neatly, but from the start to the middle of the game it was clear that Loud wasn't paying attention. Loud was hit several times by Flank and occasionally didn't check the corner.
OpTic also has its own advantages. Even though Ascent is not their signature map, they know a good line up and are able to pull off a beautiful flank. Kay/O Victor had destroyed Killjoy's Ultimate with the frag/ment skill lineup.
After getting the upper hand with a score of 8-12, OpTic's performance was not good. This can be seen from several blunders and OpTic's overly aggressive play.
The worst blunder that OpTic made was leaving a spike on B playing with the full Loud team guarding it.  
OpTic's poor performance was felt even overtime. OpTic had tried to keep up with Loud's way of playing, but Loud managed to make a comeback and won Map Ascent with a score of 13-15.
Baca Also: 5 Tips for Playing on the Valorant Ascent Map
Game 2: Map Bind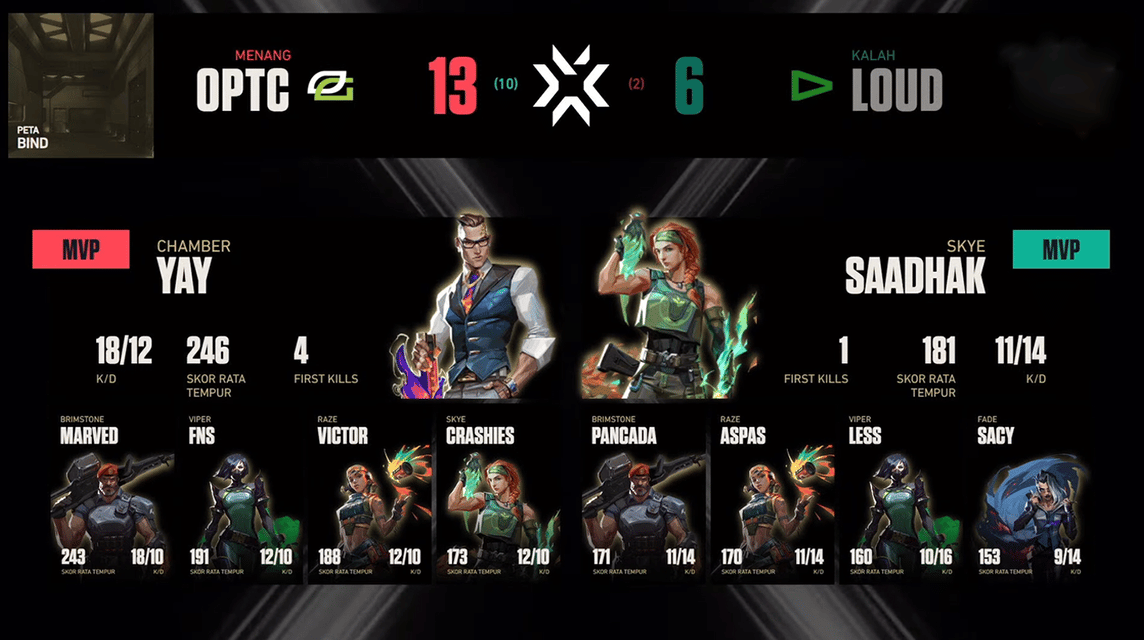 Team lineup:
OpTic
Crashies : Skye
FNS : Vipers
Marved : Brimstone
victor : Raze
Yay : Chambers
Loud
Aspas : Raze
Saadhak : Skye
Less : Vipers
Pancada : Brimstone
Sacy : Fade
OpTic chose the Bind map, their signature map. Before the match, Sacy from the Loud team said that the team was quite confident and had been practicing on the map with the aim of competing with OpTic.
After the defeat at Map Ascent, Yay from the OpTic team immediately used the signature agent, Chamber. Of all the OpTic and Loud team players, only Yay is the most awaited using his signature hero.
Of course apart from the reasons above, OpTic must equalize the points in the second game. The trick is to play on their favorite map and trust the agent of their choice. They are very confident with the gameplay.
From an agent perspective, Loud feels the least profitable. The absence of sentinels makes Loud vulnerable to flanking and difficult to secure sites. These conditions make Loud often save.
It can be seen from several rounds, Loud seemed to feel intimidated by OpTic, starting from losing the timing, being more easily hit by the flanks, and also Yay and his Chamber agent who always managed to cut off Loud's movements.
Under these conditions, OpTic managed to secure the game on Map Bind with a score of 13-6 and leveled the points 1-1.
At this time, from all members of the OpTic team, it can be seen that Yay is the favorite of the OpTic team. Yay has always been the MVP of the OpTic team.
Also Read: Tips and Tricks for Playing Valorant Bind Map in 2022
Game 3: Map Breeze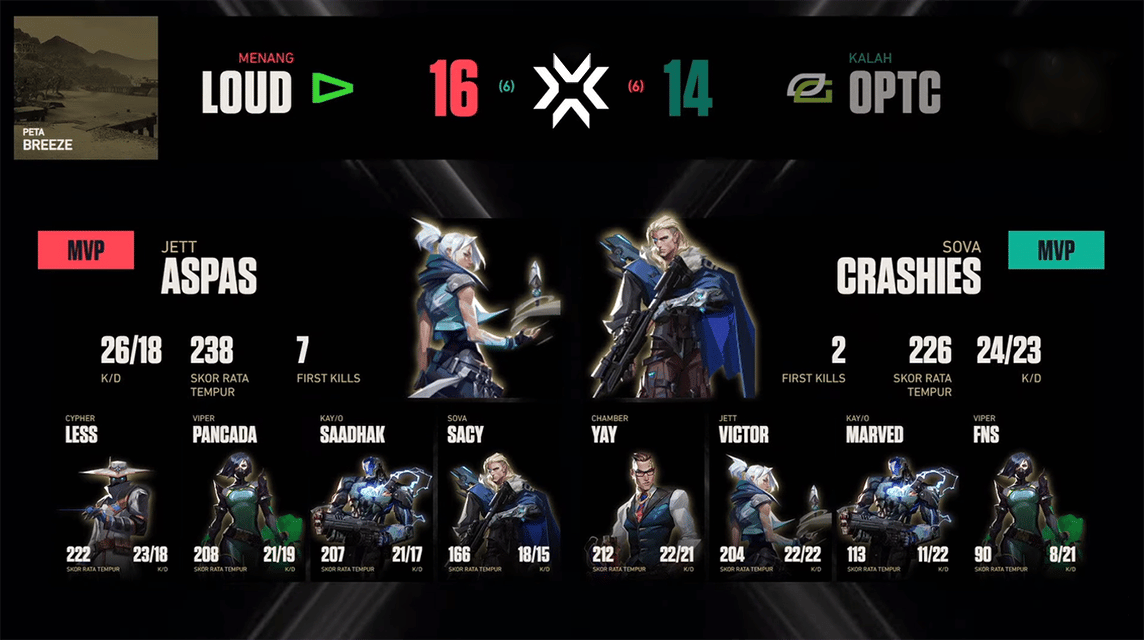 Team lineup:
OpTic
Crashies : Sova
FNS : Vipers
Marved : Kay/O
Victor : Jett
Yay : Chamber
Loud
Aspas : Jett
Saadhak : Kay/O
less : Cypher
Pancada: Viper
Sacy: Sova
It is undeniable, Breeze is the most extensive map. In terms of agents, the two teams use almost the same agent. The only difference lies in OpTic.Yay with Chamber and Loud.Less with Cypher.
If you look closely, these two agents are indeed suitable for a map this size. Chamber with Headhunter abilities along with Tour de Force and Cypher with Spycam abilities that can see clearly in certain positions.
Before starting, you need to know that Map Breeze is Loud's preferred map. So it looks like Loud is the team that controls this map.
At the start of the game, OpTic outperformed Loud with a score of 5-0. The author can see that Loud's game is not neat and is still being flanked. This condition occurs because maybe Loud's mentality is still unstable.
After falling behind, Loud requests a time out. It seems that this time out meant a lot to Loud, because after that, Loud was back on fire.
Loud got back on their feet, tidied up their gameplay, and managed to win Map Breeze with a score of 14-16. The point of this game belongs to Loud being 2-1.
From this map match, the performance of the OpTic team seemed to have significantly decreased, especially from Marved and FNS who had an average combat score of less than 120. As for the Loud team, their combat abilities were more or less the same.
Also Read: The 5 Best Valorant Agents in Breeze!
Last Game: Map Haven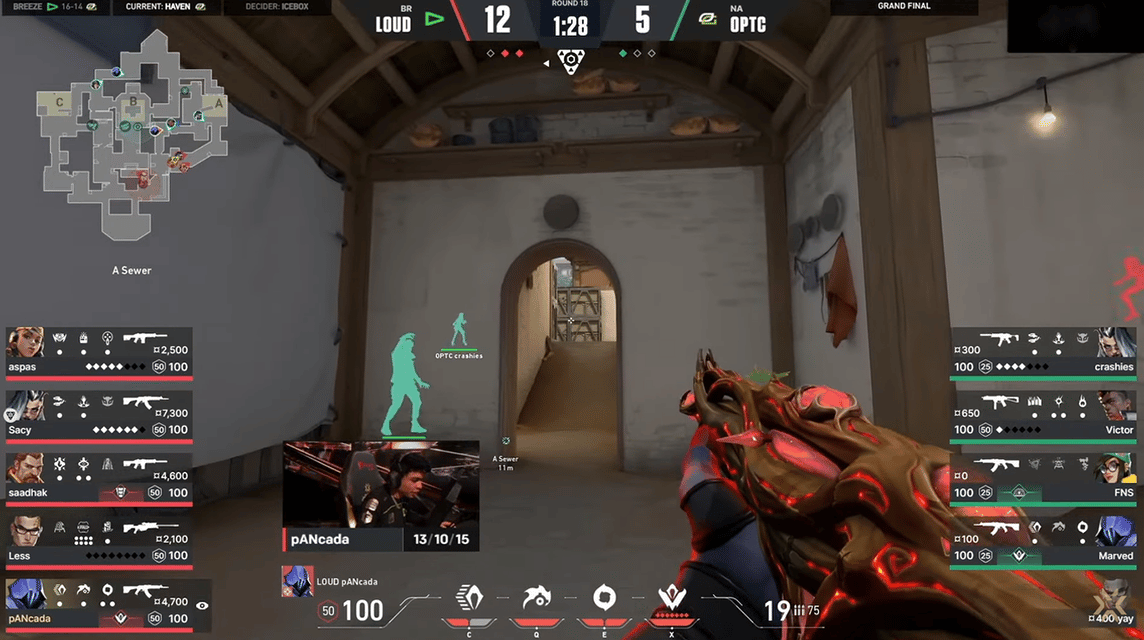 Team lineup:
OpTic
Crashies : Fade
FNS : Killjoy
Marved : Omen
victor : Phoenix
Yay : Chamber
Loud
Aspas : Raze
Saadhak : Breach
Less : Chamber
Panda: Omen
Sacy : Fade
Lastgame, Haven. OpTic's choice map is quite complicated. Apart from having three sites, there are quite a number of corners that must be considered.
In terms of agents, this time we can see that OpTic.Yay is the only player who hasn't changed agents, he's quite comfortable with Chamber. To compete with him, Loud.Less also chose Chamber.
During the early game, Loud's mentality of being a defender is now starting to form again. They don't give OpTic a chance to outperform the score. Starting from a neat game, a nearly perfect retake site, Loud is getting stronger and more disciplined.
Meanwhile, from the OpTic team, it can be seen that their performance has begun to decline, especially from Crashies and FNS players who became Bottom Fraggers. Yay also looks a bit worried after seeing Loud.Less's Chamber skill.
With full confidence, Loud managed to silence OpTic in Map Haven with a score of 12-5. That way, Loud won the 2022 Valorant Competitive Tournament (VCT) defeating OpTic with 3-1 points.
Also Read: 5 Tips for Playing Valorant on the Haven Map A la Pro Player
Overall VCT Analysis Results 2022 Loud VS OpTic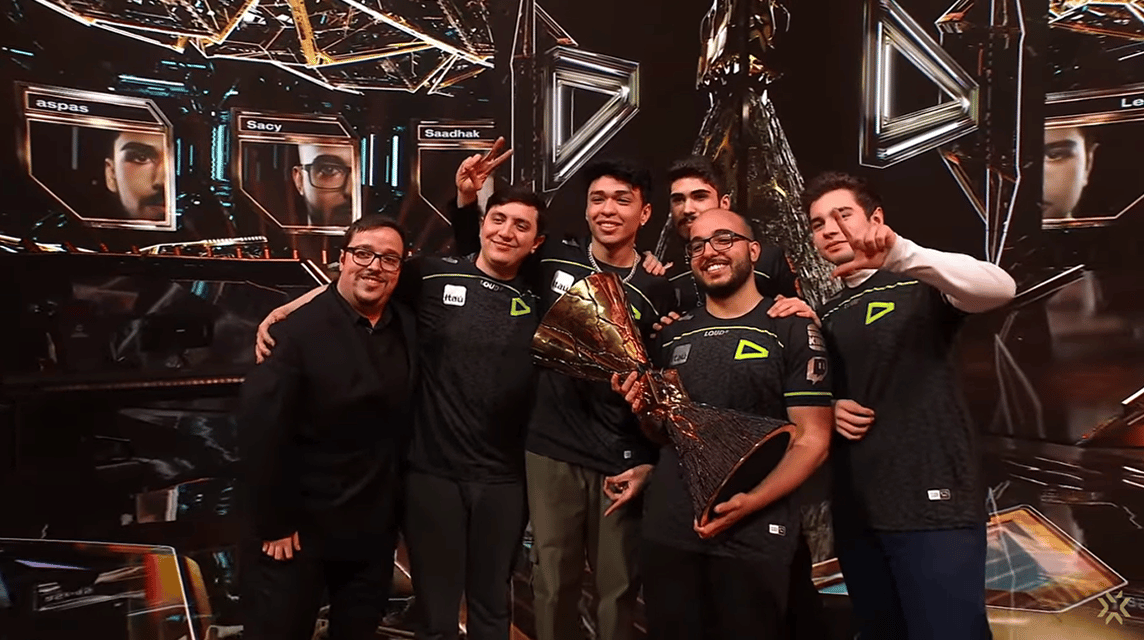 Start from Loud. In terms of players, all players have more or less similar abilities. If you look at the results of the average combat score, Loud players are not too different.
From the use of agents, it can be seen that Loud is very shrewd and not fixated on just one agent. It's only the selection of agents in Map Bind that I feel is a bit unfavorable and is one of the factors in their defeat.
Meanwhile, from OpTic, it's a shame that all players don't have the same abilities and tend to go up and down.  
For example, Cashies who initially became MVP on Map Breeze, but when Map Haven was ranked 4th with 6 kills. Apart from that, FNS actually has a good line up, but it is not accompanied by abilities that are on par with other team members.
What is no less interesting, Yay from the OpTic team, seems to be the "backbone" of his team. He is good at being alone, until finally exhausted physically and mentally. The decline in Yay's performance coincided with the decline in OpTic's performance.
From the results of this match, it looks like OpTic will have to overhaul its team, especially considering FNS's position.
That is the author's analysis of the 2022 Valorant Competition Tournament (VCT) Grand Final between Loud vs OpTic in Istanbul, Turkey. Congratulations to Loud on the win and keep up the good work for OpTic.
Meet the needs Valorant Points you with Top-Up via VCMarket from VCGamers and get attractive promos in it.