Valorant has various agents according to their respective roles. One of these roles is Sentinel and currently, there are four agents with the Sentinel role, one of which is Chamber Valorant.
This time, VCGamers will talk about Chamber Valorant. Agents with the Sentinel role can have unique and different gameplay from other Sentinel agents. While other Sentinel agents such as Sage, Cypher, and Killjoy have relatively defensive gameplay, Chamber is capable of playing aggressively.
The following is a complete explanation about Chamber as a unique Sentinel agent, how to get the agent, as well as the advantages and disadvantages of being a Valorant agent.
The Cheapest Valorant Product!
Arif_budiman
IDR 50,000
62%
IDR 18,900
Also Read: The Best Valorant Tracker Choice That Must Be Used!
Chamber As Sentinel Valorant Agent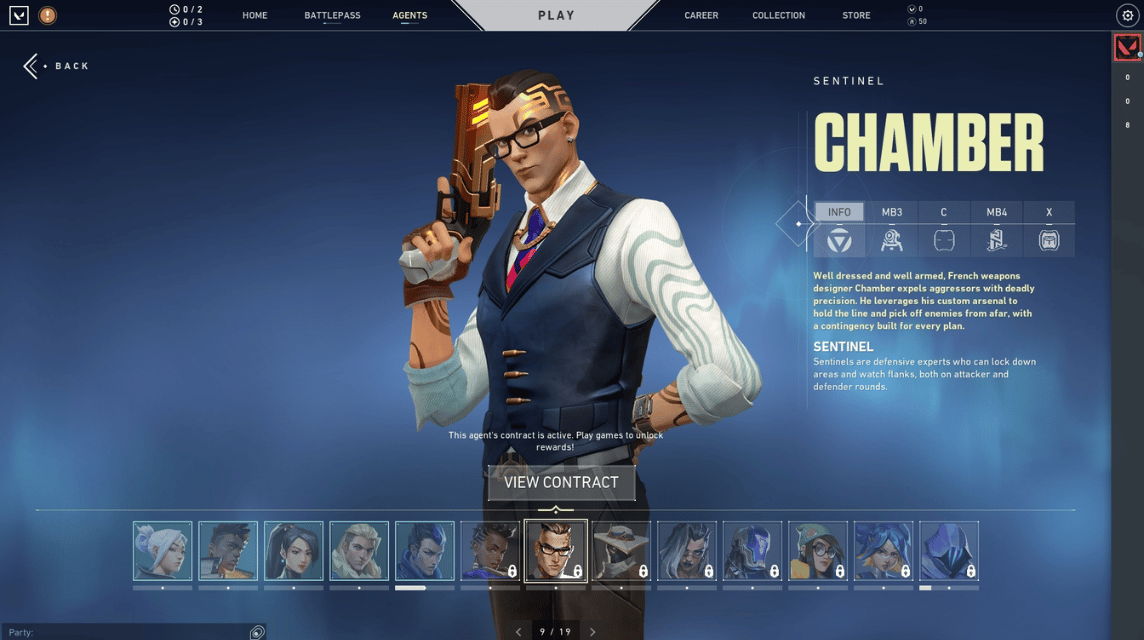 Chamber is a Sentinel agent who has his own uniqueness. The skills he has are quite different from other Sentinel agents. The trademark which is his first skill is a small tool that can detect enemies and slow down enemy movements when hit by detection.
His second skill is a very unique skill. By using his second skill called Headhunter, players will use Chamber's signature gun which is similar to the Sheriff's. Players can buy bullets from these special pistols at a price of one hundred points for one bullet, a maximum of eight bullets.
The third skill is called Rendezvous. The chamber will place two teleportation tools. When in the range of a teleportation tool, players can reactivate the skill to teleport to a second teleportation tool. The teleportation tool can be taken by players to be used again.
Players can use Ultimate from Chamber when they reach seven ultimate points. By using the ultimate, players will be given a weapon similar to the Operator, but relatively better.
The special sniper weapon will kill enemies with one hit and slow down players trapped around the corpses of slain enemies. Its speed exceeds that of Operators and hurts more, so this ultimate is great for players to use with sick aim.
Also Read: Strengths and Weaknesses of Neon Valorant, The Sickest Duelist!
How to Get Chambers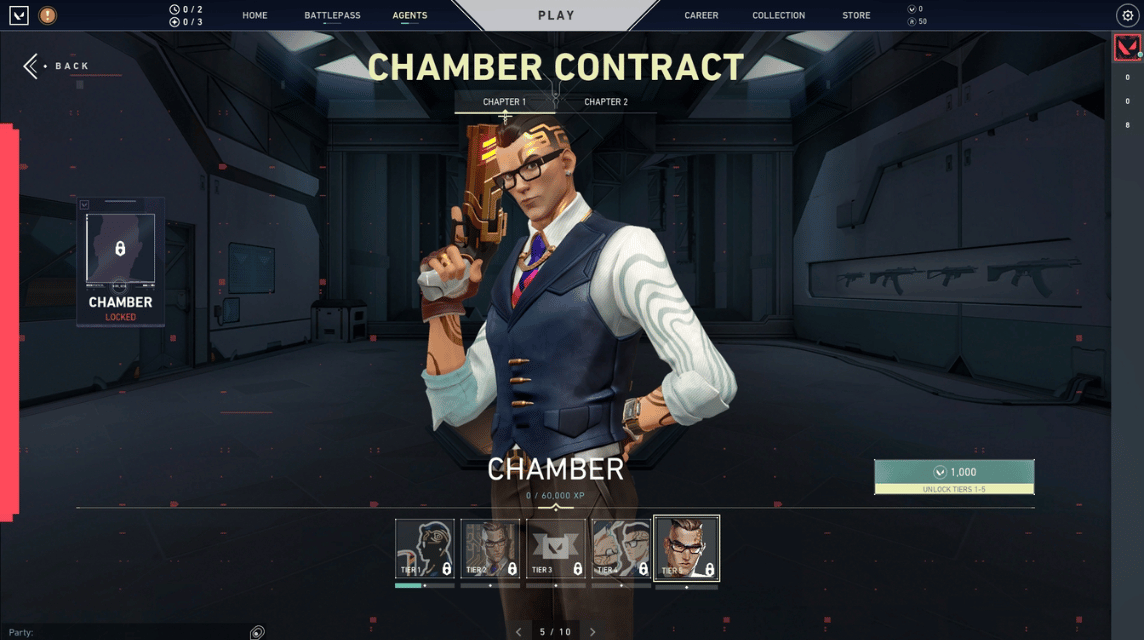 If Vicigers are interested in using the Chamber, then here's how to get the Chamber and play it in any mode other than firing range.
First, the Vicigers must activate the Chamber contract. After that, play Valorant and complete the available missions. Daily and weekly missions need Vicigers to complete to level up the contract.
Once Vicigers completes tier 5 in the Chamber contract, Vicigers will unlock the Chamber and be able to play it. Not only that, if Vicigers can reach tier 10, players will get a Classic skin called Finesse with Chamber characteristics.
Also Read: How To Train Aim Valorant For Beginners 
Pros of Chamber Valorant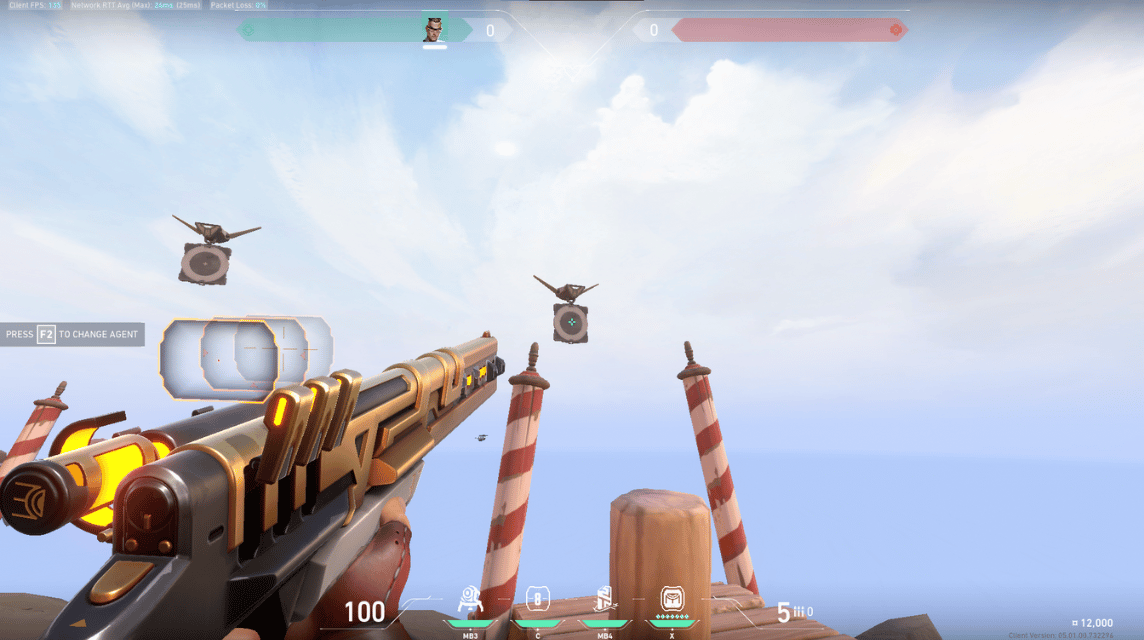 The combination of skills that Chamber has is very useful for Vicigers who often play aggressively. Chamber players will peek very aggressively because with their signature skill, Rendezvous, Chamber can immediately teleport to a safe place.
Apart from that, the ultimate skill is also a free operator. So, if a player uses the ultimate with the Rendezvous skill, the player will be able to make an aggressive peek.
When playing Chamber and doing aggressive peeks, players can use the first skill called Trademark. Players can place Trademarks in areas where enemies might flank them.
Because of the advantages of the Chamber, pro players in various tournaments often use the Chamber. According to vlr. gg, Chamber is the agent most often used in the LCQ APAC 2022 tournament, namely 72%.
During the VCT Masters Copenhagen, Chamber was again the most frequently used agent, namely 77%.
Disadvantages of Chamber Valorant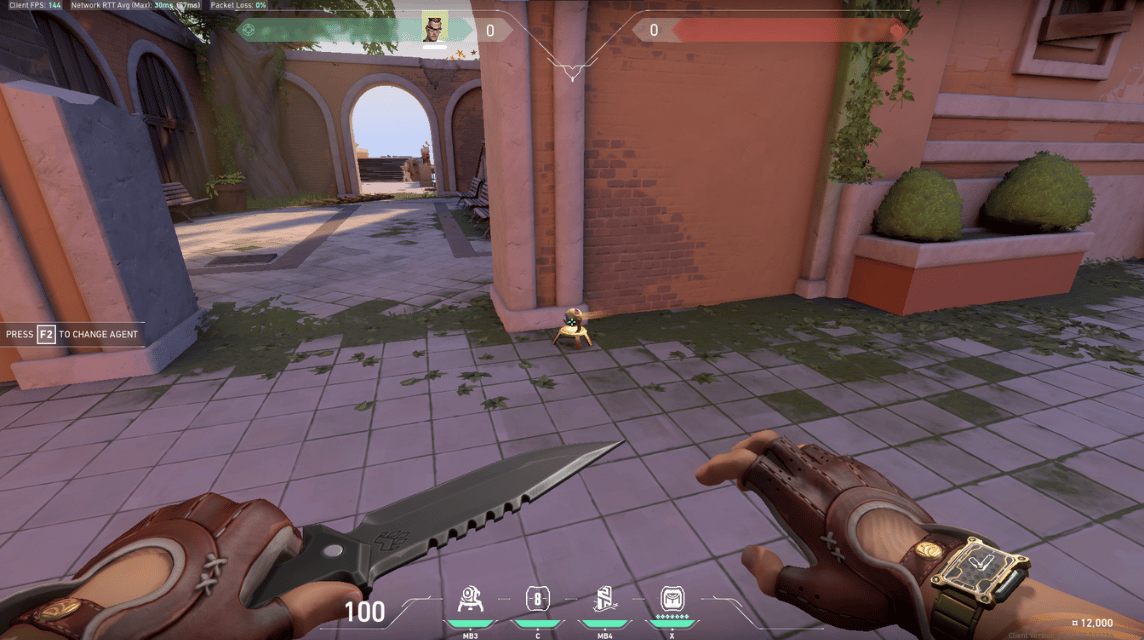 Players must have sharp and precise aim when using the Chamber. The ultimate skill only has 5 bullets so you have to be efficient and every shot has to hit the enemy. If not, then the ultimate will be in vain.
Unlike other Sentinels, Chamber only has one skill that can defend an area from enemies. This skill is also quite expensive (200 points) and can only be used once.
So, the main weakness of the Chamber is the lack of skill as a Sentinel and players must have very precise aim. However, with enough practice, players will be able to use the Chamber easily.
Thus the discussion about Chamber Valorant agents. For the need to top up Valorant Points, please visit VC Market by VCGamers! Many promos and cash back are available, you know!