There are a number of cool Mama Squad ML recommendations for 2023. You can try using this name when building a Squad.
Mobile Legends is a game that is loved by various groups in Indonesia. Ranging from children to adults also play this game.
Playing Mobile Legends will be more fun if it is played with more than one player or together alias Play Together (Mabar). Because by playing in a team, of course you can better manage the strategy of the players to conquer the enemy.
Arif_budiman
IDR 50,000
62%
IDR 18,900
In this article, we will discuss cool ML squad names that must be used by teams in Mobile Legend, but before discussing further here, let's get to know what a squad is.
Come on, Top Up Diamonds in Mobile Legends is cheap, fast and safe, only at
What are Squads?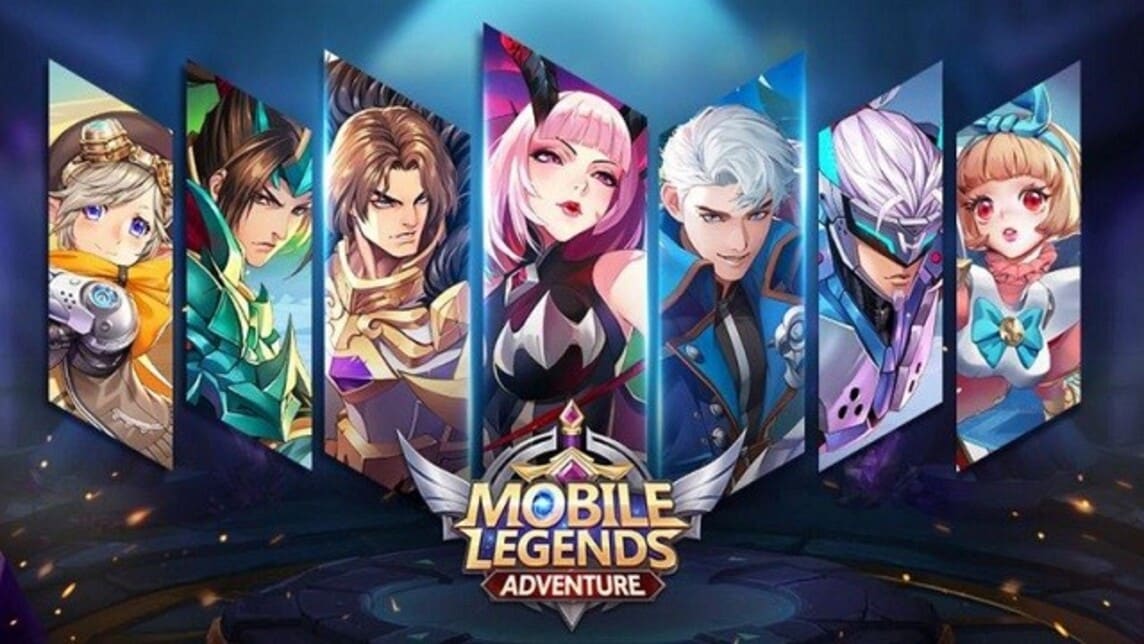 Squad ML has the meaning of a group or container for players Mobile Legends which number up to 9 people the dominant players of them are pro players or players who have competent or very good abilities.
In Squad, of course, all players must continue to hone their skills and communication so that they can improve their playing abilities, both individually and with a team.
By creating a very competent Squad and in which there are players who have good skills and attitudes, of course you will be hard to beat while in the game.
You can find out about several ML Squads if you often watch Mobile Legends tournaments at local, national and global levels.
It's not uncommon for many Squads to win tournaments because the contents of this Squad are interconnected and have strong skills.
The most important thing for the Squad is to establish connections with each other and create chemistry between players so that the Squad can win against the enemy.
Behind that, of course having a cool ML squad name as the name of the strongest team will make you more confident while in the game.
Also read: MLBB Creator Camp: Terms, How to Register, Up to the Benefits
Squad Benefits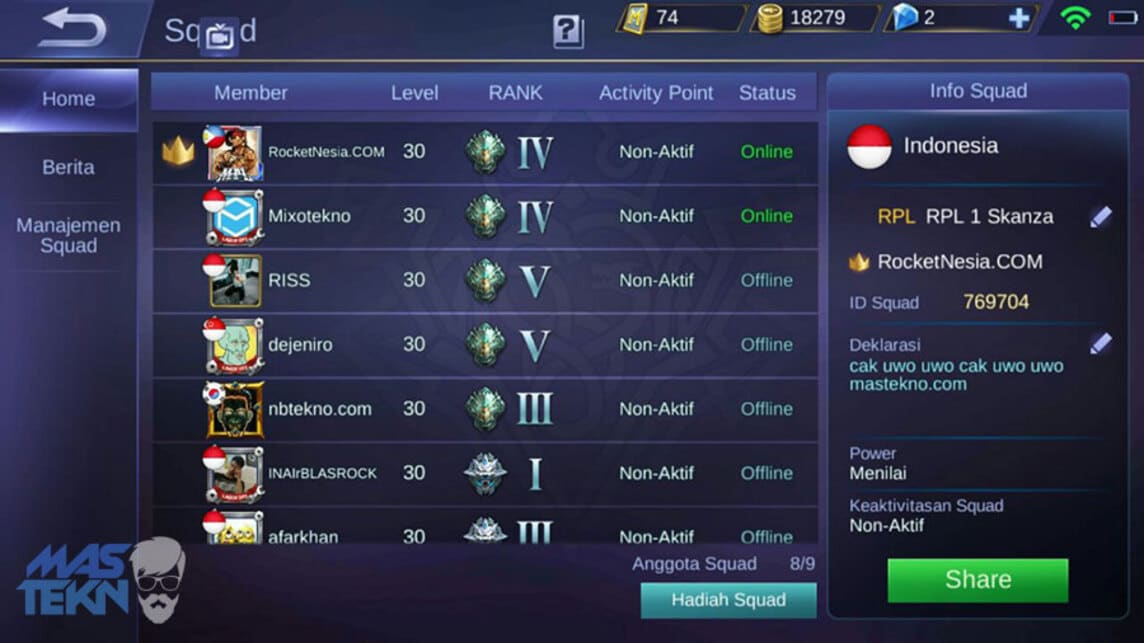 There are a number of advantages when you play Squad. The benefits generated when forming a Squad are as follows:
Squad Member Chat Features
With this chat feature it can make it easier for all members to be able to interact with players in the Squad, there they can plan strategies to be carried out when fighting enemies.
Play Together (Mabar)
By having a Squad, all members can play games together! Very exciting, as well as strengthen the relationship between its members.
Easy to Raise Tier Rank
Another advantage is that playing games will make it easier for players to get Teir Rank, you know!
The process to get this ranking is very easy and actually depends on the skills and knowledge of the players.
Therefore, it is very important to choose players who will be included in the Squad. So, you need to be very careful when arranging players in one squad.
Earn Free Battle Points
Squad can help to get other benefits such as the opportunity to get more Battle Points, you know! Of course, these Battle Points are used to improve emblems to buy the desired hero.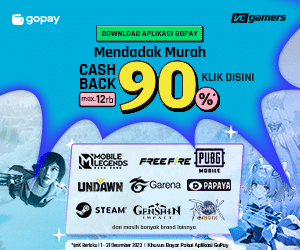 Enter the Tournament
By having a Squad, of course you can take part in various Mobile Legends tournaments. If your Squad is competent and fairly good at it, you can register for tournaments and win matches.
Previously you have discussed about the Squad. So, for those of you who want to form an ML Squad with your friends, there are several requirements that must be met!
Also read: 10 Frequently Used Terms in Mobile Legends
Cool ML Squad Names 2023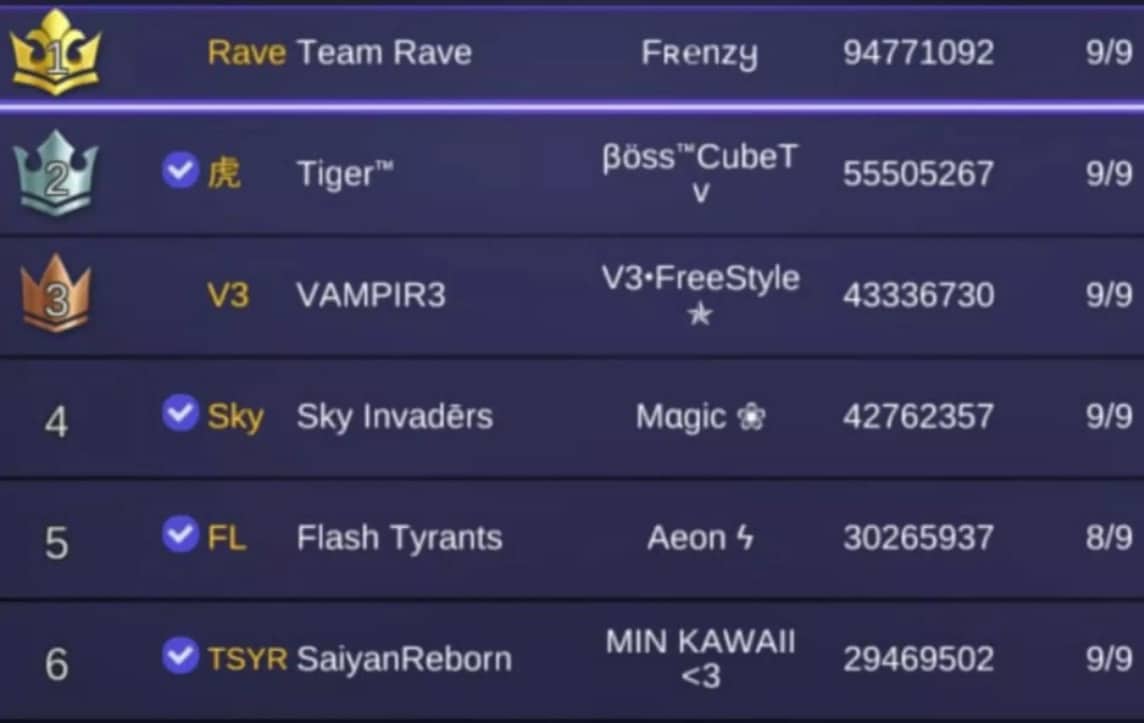 VCGamers has some recommendations for cool ML Squad names, you know! This is perfect for those of you who are looking for a name for your Mobile Legends team. Here are the cool ML Squad names, namely as follows:
For Honor (FHO)
Limitless Power (LLP)
Barbarianz (BBR)
Blossoms (BLS)
We Don't Lose (WDL)
Chargers (CHR)
Asteroids (AST)
Blue Jays (BJY)
Baby Got Track (BGT)
The Road to Glory (TRG)
Dangerous Curves (DCV)
The Eldelry (EDL)
Warlocks (WLK)
Morgana Strong (MGS)
Minerva Angels (MNA)
Glorious (GLR)
Twisted Misery (TWM)
Golden Man (GDM)
Diamond Hope (DHP)
Deep Down Land (DDL)
Above is a recommendation for a cool ML squal name that must be used in 2023. Seeing from your cool ML squad name, it will definitely make your enemies feel scared and worried about losing to your squad!
Also read: Easy Tricks to Get Double Kill Mobile Legends!
Read on for the latest Mobile Legends news only at VCGamers News!