Build Benedetta 40% CDR in Mobile Legends what you can do will be very useful when he is used as a hyper carry hero.
That is, Benedetta will have the ability to always be in the leading position and will have the ability to rotate quickly and create lots of kills.
The Benedetta 40% CDR build will also be able to ease the burden on tanks and support, because they can focus more on increasing defense in the mid and bottom lane.
Arif_budiman
IDR 50,000
62%
IDR 18,900
Of course, to be able to build Benedetta with the CDR 40% you have to determine what items are suitable so that he can be tough from early to late game.
Also read: 5 Advantages of Benedetta Mobile Legends, You Must Know This!
The following is a Benedetta 40% CDR build recommendation that can make him a hyper carry in the team. Several items certainly focus on increasing Benedetta's CDR.
Benedetta Hyper Carry Build Recommendations, Can Spam Skills and Lifesteal
There are about 7 excellent items that you can use to create a Benedetta 40% CDR build. You will sell one item to be replaced with another attack item in the late game. This Benedetta Hyper build is based on a YouTube channel recommendation Lexy YT.
Magic Shoes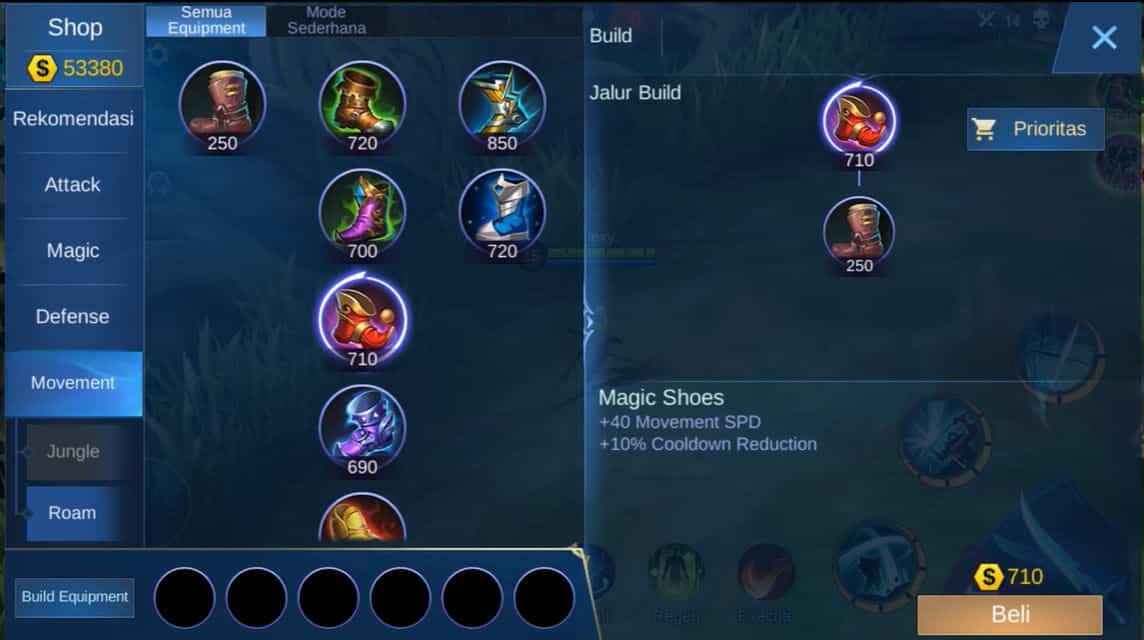 The Magic Shoes item is an opening access for the Benedetta Hyper build because the effect of this item gives Benedetta an additional speed of up to 40 points.
Magic Boots also has another effect, namely a CD reduction of 10%. This item is the initial capital for building Benedetta 40% CDR so that it can be strong when it becomes hyper.
During the early game, Benedetta needs a lot of farming, especially on the gold lane and EXP lane. Of course, while farming Benedetta will be disturbed by opposing heroes.
Magic Shoes has an important role as an item that guarantees Benedetta's safety so that she can rotate her better with her blink skill and speed.
War Ax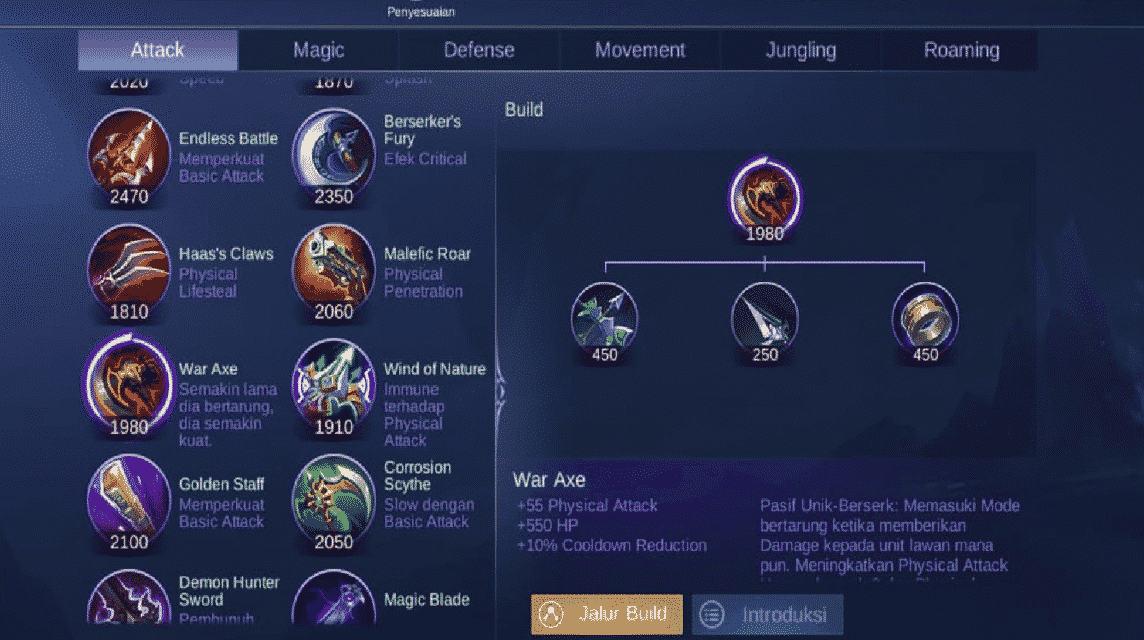 In the next sequence, build Benedetta 40% CDR can use the War Ax item. With this item bearing the axe, Benedetta will get a bonus of 550 HP, 35 physical attacks and of course, 10% CDR.
The plus point of this item is its passive effect which will give you a physical attack and penetration bonus that can be stacked up to 8.
This War Ax passive effect will be useful for increasing Benedetta's damage in the early game. So he can produce more damage against opposing heroes on both lanes.
This additional HP and physical penetration will strengthen Benedetta's skillset, which is mostly a series of lightning attacks. Take advantage of the War Ax bonus to get first blood.
Bloodlust Ax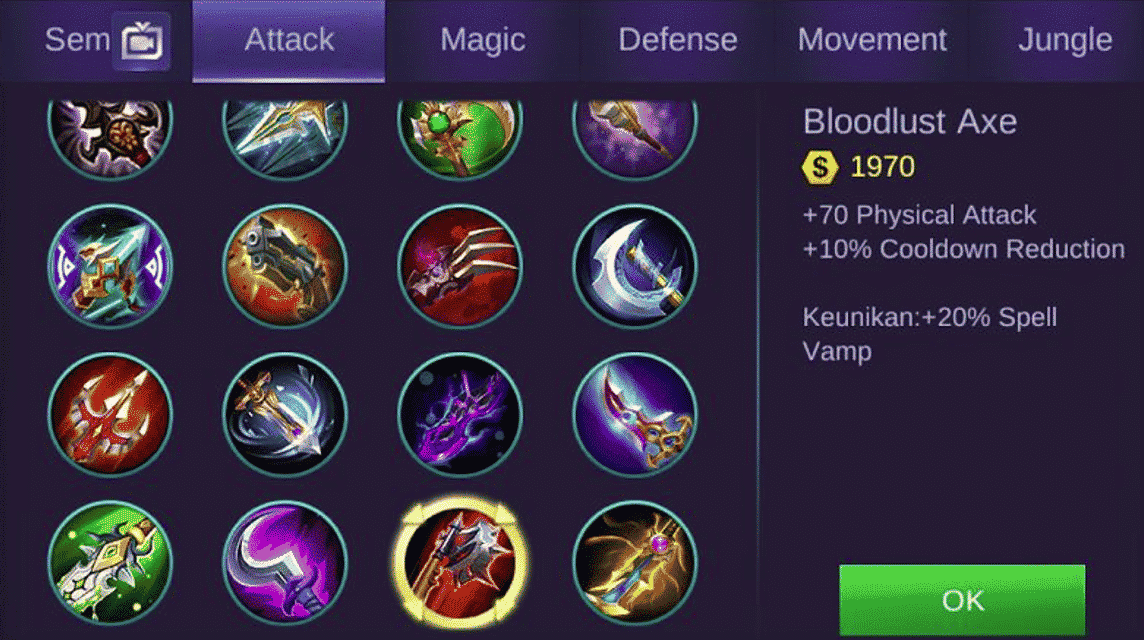 This Bloodlust Ax item will also strengthen Benedetta's 40% CDR build because it can provide a cooldown skill reduction of 10%. In addition, this item provides an additional 70 physical attack points and 20% spell vamp.
This spell vamp item skill will be used by Benedetta hyper so that every attack using her skillset can produce a lifesteal.
This lifesteal ability will really help Benedetta when she is released alone on the gold or EXP lane by the team. Benedetta 40% CDR's build also becomes more effective because she can start creating a lot of kills with skill 1 and her ulti which has successive attacks.
In this situation, the assumption is that you have entered the mid game, so you also need to be aware of items being purchased by your opponent. Check the opponent's items so Benedetta can determine the rotation timing.
Also read: Use the Bloodlust Ax Item to Keep the Blood from Running Out!
Blade of Despair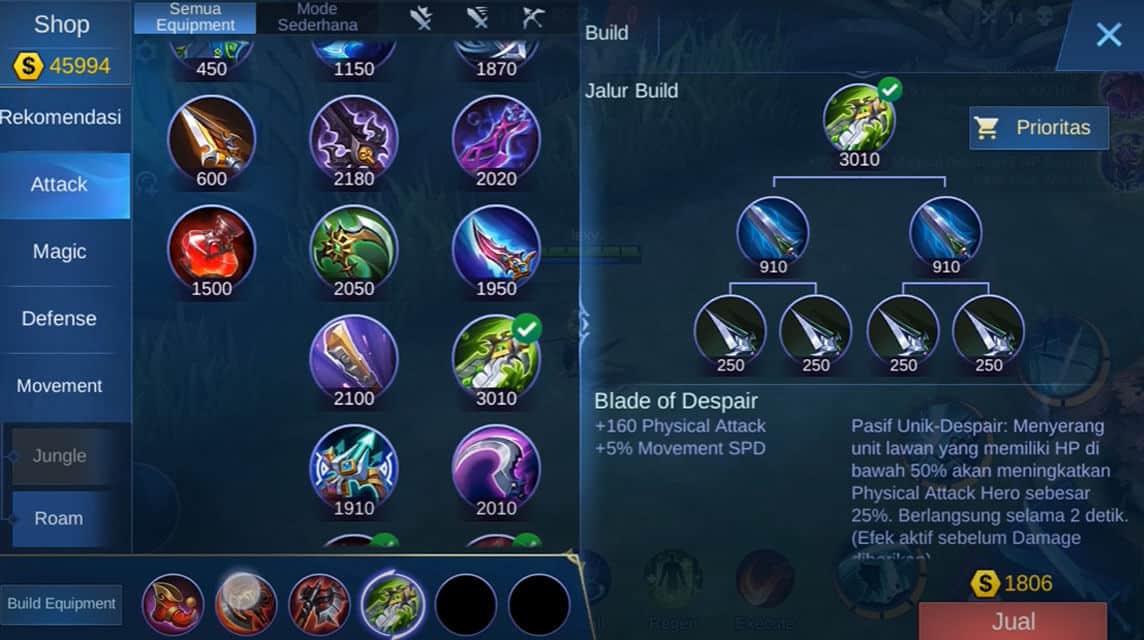 This time, the Benedetta 40% CDR build will increase its damage output because there will be an additional 160 physical attacks and an additional 5% speed so that it will be more agile in offlane.
Benedetta will also get a passive effect from this item, in the form of an additional physical attack of 25% against opponents whose HP is below 50%. So, Benedetta will pose a lot of threats to opposing heroes whose HP is running low.
With this item too, Benedetta can be the lead when ganking. His ulti skill that can blink and give continuous damage will wipe out opponents with thin HP.
HunterStrike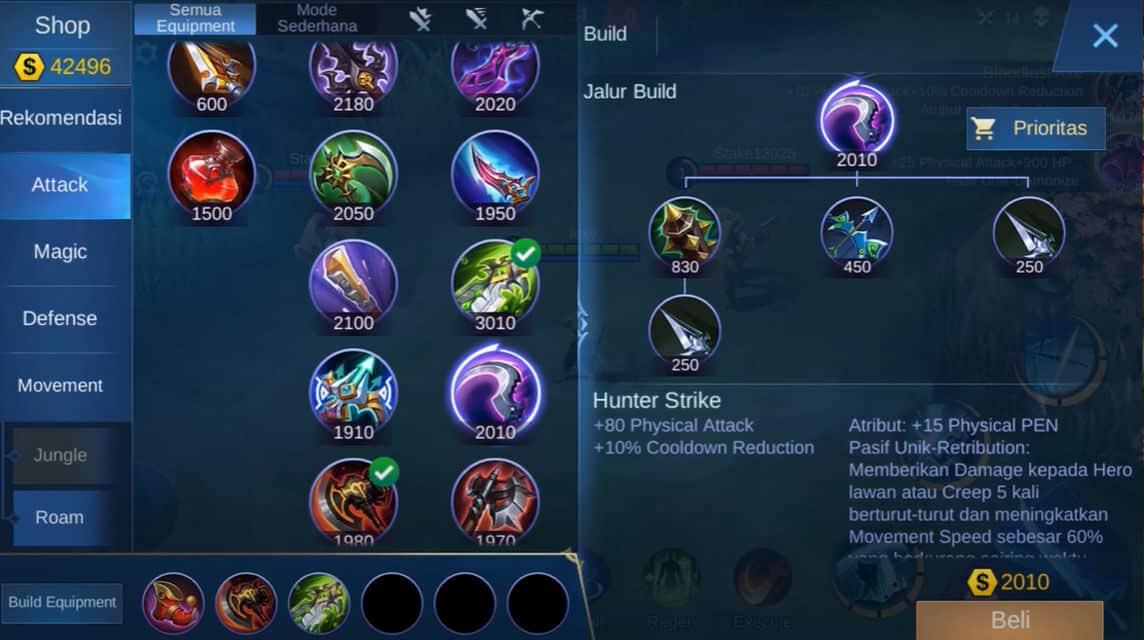 The next CDR enhancing item for the Benedetta 40% CDR build is Hunter Strike. Apart from having the effect of reducing skill CD by 10%, this item can increase physical attack by up to 80 points.
Since Benedetta this time will act as a hyper carry, the passive effect of this item will support her to have a fairly fast speed in the mid game.
In particular, when she is farming buff, every time Benedetta defeats creeps, she will get a speed bonus of 25%. There is an additional 15% physical penetration as well from the passive effect of this item.
This time, Benedetta's hyper carry will be even more agile and stronger and can engage in a lot of mechanical fights with opposing offlaners. He also of course can split push.
Also read: Benedetta's Painful Build, Try It Now!
Queen's Wings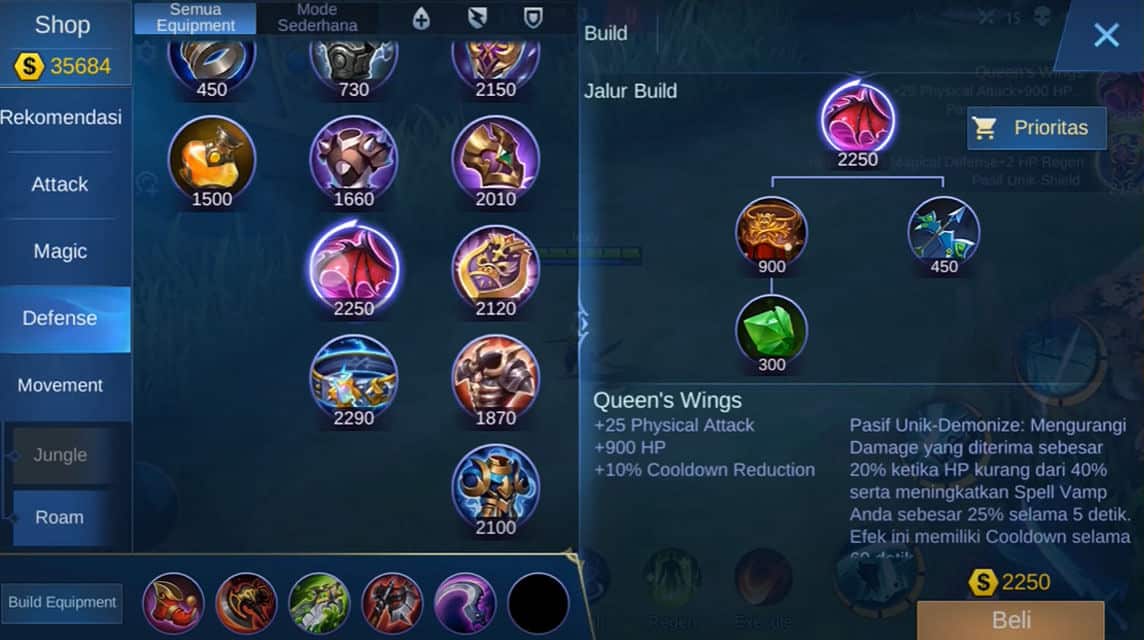 With this Queen's Wings item, Benedetta has the capability to survive when her HP is below 40% by 20%.
The good news is, this item can add to the capabilities of the spell vamp 25%, and will be a GG combination with the Bloodlust Ax item. Benedetta can do a lot of lifesteal with these two items.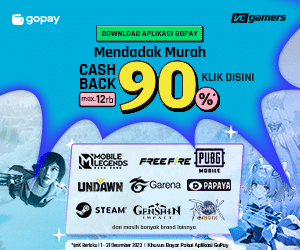 Benedetta's skill is getting stronger, especially since she can hurt her opponent a lot with her blink skill. You can use passive skills to Benedetta's ultimate to give the most damage, especially in the late game.
Windtalker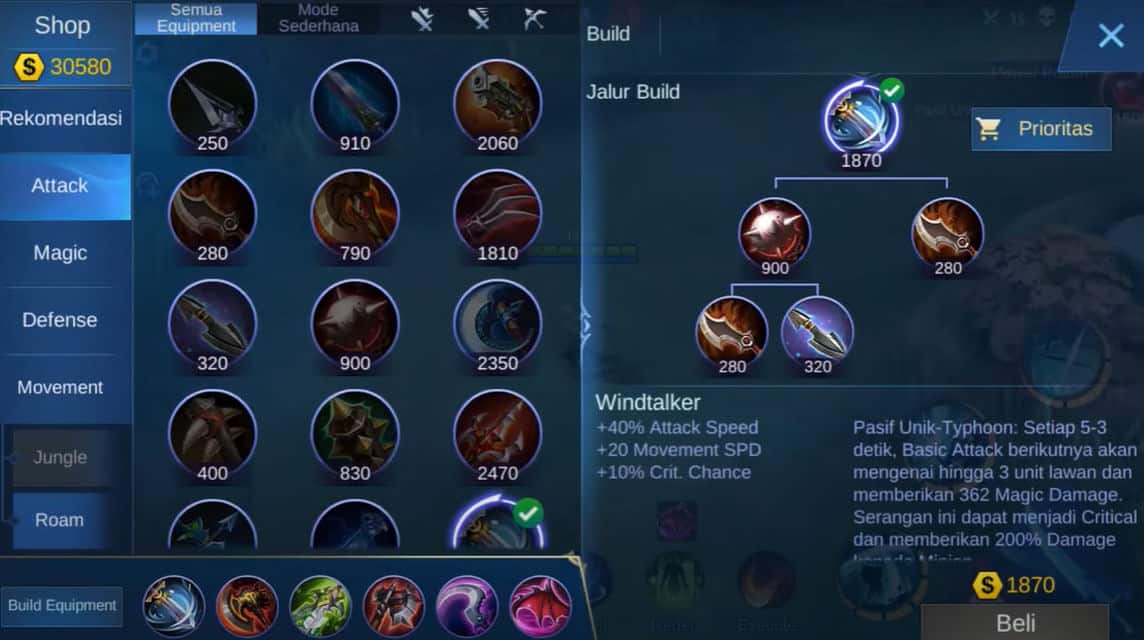 This Windtalker item will determine Benedetta's hyper carry because it gives an additional effect of attack speed of up to 40%, 10% critical chance and an additional 20 speed points for its users.
Windtalker will replace Magic Shoes because in this situation, Benedetta's CDR is around 40% and you will need a bigger damage output.
So, you can sell Magic Shoes and replace them with Windtalkers because they can increase damage, especially Benedetta's critical damage. With this item, Benedetta's passive skill and skill 1 will all have the opportunity to give critical damage that hurts.
For more details, see the video from the Lexy YT YouTube channel for Benedetta hyper carry.
Also read: Listen! This is Benedetta's Best Counter Hero
That's the Benedetta 40% CDR build so you can play as a team hyper carry. Master Benedetta's skillset so that she stays strong from the beginning to the end of the game, Vicigers!