In Mobile Legends, to be able to make a hero really sick, you have to build it with the right items. User only marksman heroes, there is an item that must be present in every match, namely the WoN (Wind of Nature) ML item.
WoN items in ML are one of the physical attack items that are very useful for marksman heroes. What makes the Wind of Nature item very suitable for marksman is the ability of this item to make the user invulnerable for 2 seconds from physical attack damage.
So, for those of you who want to know more about WoN items in ML games, let's look at the following reviews.
Arif_budiman
IDR 50,000
62%
IDR 18,900
What is Wind of Nature?
As we know, MOBA games do not only rely on the skill of the player, but also the ability of the player to combine existing items.
In Mobile Legends, marksman users must buy an important item, namely Wind of Nature (WoN). You can get this item by buying it for 1910 gold. 
From the price you pay, you will get a lot of benefits from this one item. Because Wind of Nature has a passive skill in the form of immune which makes it immune to enemy physical attacks for 2 seconds. As for the cooldown itself, this item takes about 80 seconds to be used again.
The main reason why this item is very suitable for use by marksman heroes is to make the duration of the immune effect against all damage longer than other heroes who are not marksman.
Also read: List of Heroes and Counter Change Items in Season 28 ML, Auto Jiper!
Stats of Wind of Nature Items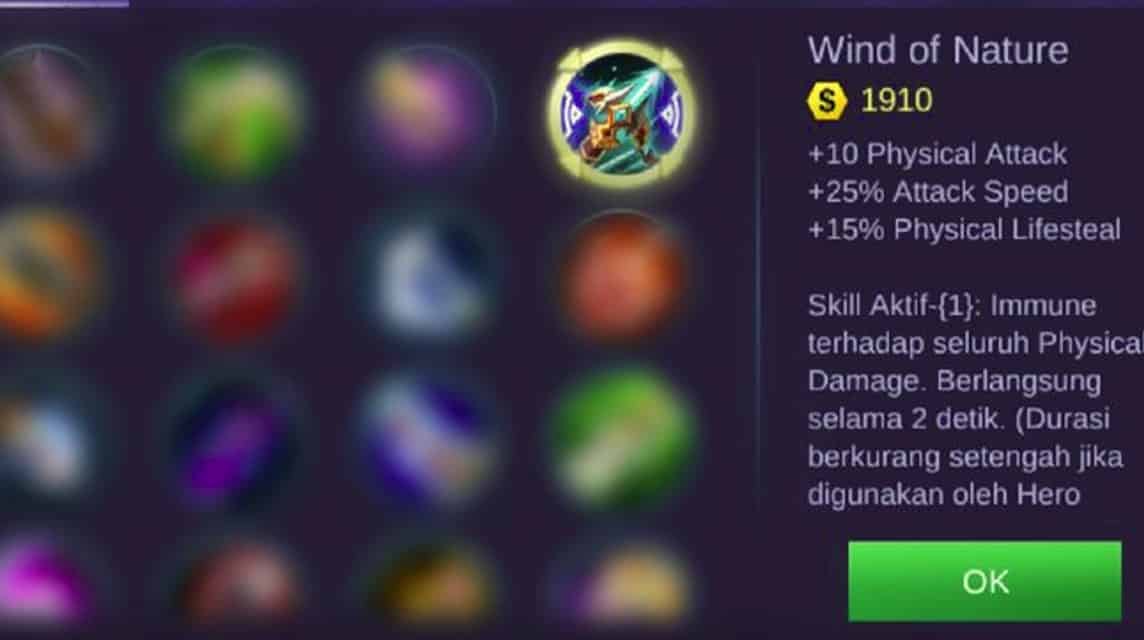 When you use this item, you will get additional stats in the form of +25% Attack Speed, +15% Physical Lifesteal and +10 Physical Attack. From these stats, this item is perfect for you to buy in the late game.
Because when entering the late game, marksman must be sick, and can survive longer. So by using this item everything can be achieved.
However, what is important here is that you have to use this item at the right time, so that it can have a significant impact on the battle.
Also read: Build Emblem, Spell and Alucard's Sick Season 28 Items
Suitable Heroes Using Wind of Nature Items
After seeing the explanation above, it can be concluded that this item is very suitable for use by marksman. Then, are all marksman heroes suitable for using this hero? 
Here are some heroes that are highly recommended using Wind of Nature items:
Karrie
Karrie is a marksman hero who has a short attack range, which makes her more likely to face enemies directly during teamfights.
Therefore, Karrie must use this item to make it last longer.
Claude
When diving, Claude is often caught by enemy heroes. Therefore, to prevent him from being killed when he is grabbed, using the Wind of Nature item will make him get an immune feature from physical damage.
Hanabi
Hanabi has a very unique passive skill, that is, when her blood is full she will be immune to any attacks. However, Hanabi has a weakness, namely she does not have the skill to escape.
Therefore, with the Wind of Nature item, he will no longer worry when an enemy approaches him. Because this item will provide immunity to physical damage.
Also read: The Painful Hanabi Revamp Build Recommendation for 2023
Thus our discussion this time regarding WoN items in ML. Hopefully this article can help you recognize the use of Wind of Nature items.
For those of you who want to top up Mobile Legends diamonds at low prices, are safe, and have an easy process, come visit VCGamers Marketplace!
Don't forget to stay up to date with the latest information about games, technology and gadgets, only at VCGamers News.