Wirothesley is a new character who will be present in the update Genshin Impact 4.1, this character has Cryo elements.
As revealed in the special program 4.1 livestream on September 15, we were told that Wirothesley is a DPS player, we can tell from the stats he has increased in Crit Rate.
This character will be released together with Venti's banner. This banner is suitable for those of you who want to collect all the archons because Venti is an anemo archon.
Cheapest Genshin Impact Products!
Arif_budiman
IDR 50,000
62%
IDR 18,900
In the special livestream 4.1 program there are two new characters, namely Neuvillette and Wriothesley. Neuvillette will be present with Hutao in Phase 1, while Wriothesley will be present with the anemo archon, Venti.
Hoyoverse has revealed several spoilers about new maps and materials that we can get to upgrade Neuvillette. Like the new boss boss located in Fontaine 4.1.
Also read: Next Genshin Impact Fontaine Banner Female Character Leaks
About Wirothesley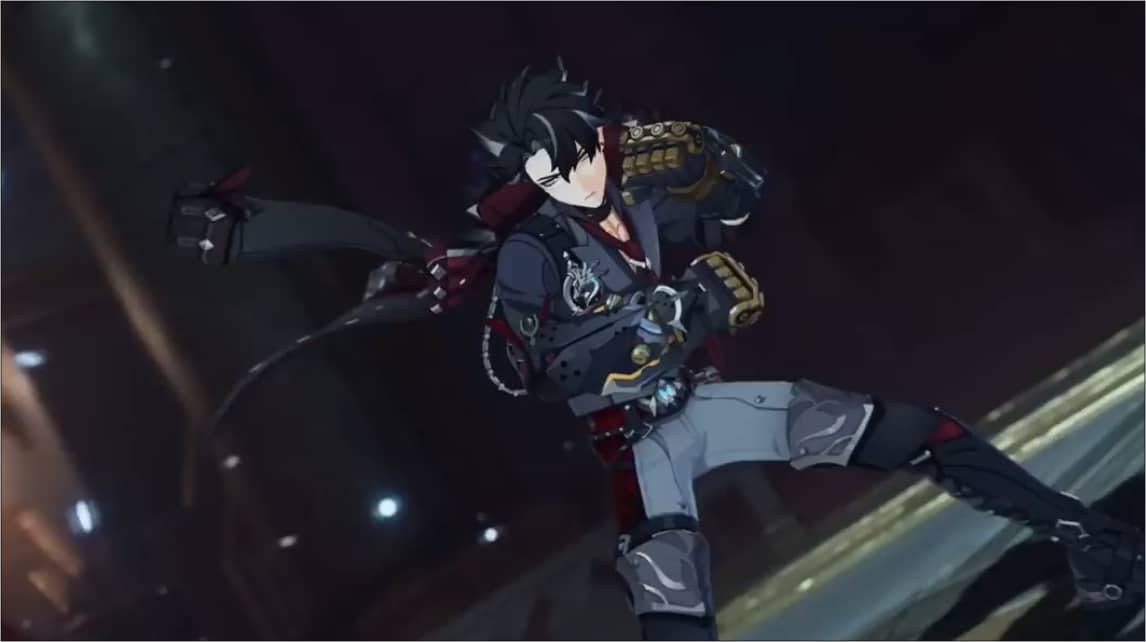 Wirothesley was the leader of a place of exile called the "Fortress of Meropide". In the teaser provided, it seems that Wirothesley still has the same relationship as Neuvillette, who is still connected to the courts and the law.
From the description given by hoyoverrse it seems that Wirothesley served as a warden at that place.
The unique thing about Wirothesley is that the gameplay resembles Heizo. In teaser 4.1, Wirothesley's gameplay is shown fighting against enemies in the lower city of Fontaine. In the footage, Wirothesley fights at close range using both hands using a tool.
Also read: Genshin Impact 4.1 Special Program Recap: Wriothesley, Neuvillette, and Others
Wirothesley Materials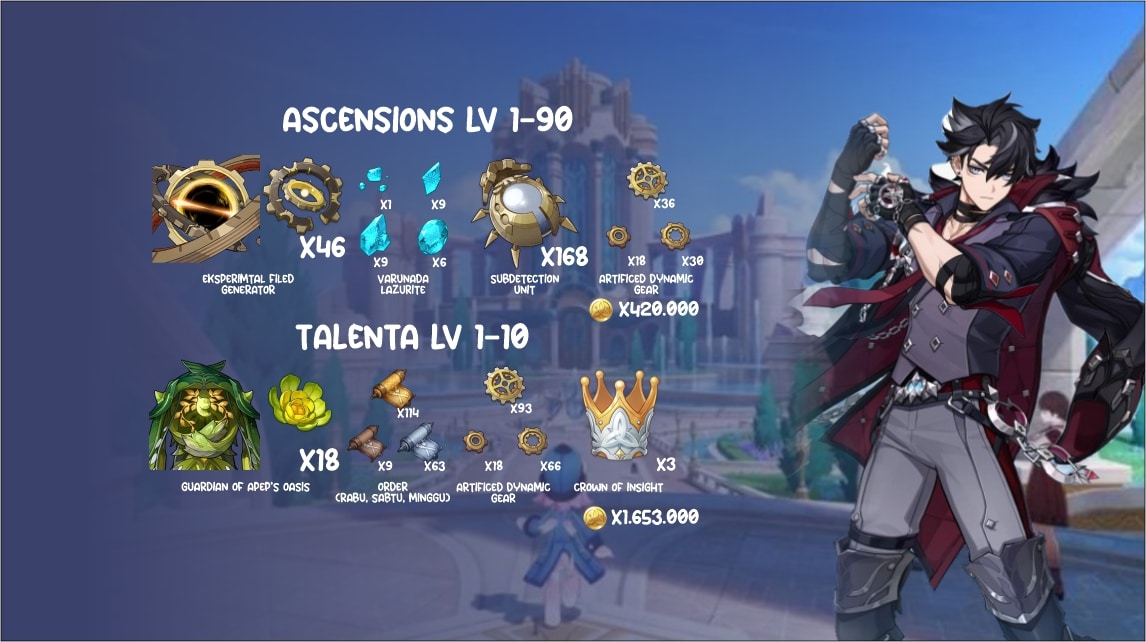 In this article, we have compiled a list of all the Wirothesley upgrade materials to reach its highest potential, including level 90 accessions and lvl 10 talents. You can collect the materials from now on, but there are several materials such as the Tourbillon Device and Subdetection Unit that will be available in Version 4.1. Here are Wirothesley's Ascension materials
Shivada Lazurite Sliver x1
Shivada Lazurite Fragments x9
Shivada Lazurite Chunks x9
Shivada Lazurite Gemstones x6
Unknown Specialty Items (potentially tied to a new 4.1 location) x168
Unknown materials connected to an unreleased boss in 4.1 x46
Meching Gears x36
Mechanical Spur Gears x96
Artificial Dynamic Gears x129
Teachings of Order x9
Guide to Order x63
Philosophies of Order x114
Primordial Greenblooms x18
Crowns of Insight x3
Hero's Wit x419
Mora 1,653.00 & 420,000
If you don't know how to get character materials before Wirothesley's launch, check out this list:
Varunada Crystal: Can be obtained from Cryo bosses such as Cryo Regisvine or Cryo Hypostasis.
Mechanical gear materials: Can be collected from various mechanisms including Recon Log Mek, Arithmetic Enhancer Mek, Underwater Survey Mek, Geological Survey Mek, Underwater Patrol Mek, Nimble Harvester Mek, Area Alert Mek, Assault Specialist Mek, Suppression Specialist Mek, Annihilation Specialist Mek, Construction Specialist Mek. And can be obtained from the crafting bench.
Order books: Can be accessed from the "Pale Forgotten Glory" domain. And can be obtained from the crafting bench.
Primordial Greenblooms: Obtained from Guardian of Apep's Oasis/Dendro Dragon in the desert (level 70+).
Crowns of Insight: Can be obtained from a limited event in the Fontaine patch
Hero's Wit: Available from events, ley lines or battle passes
Mora: Can be obtained from events, battle pass tiers, ley lines, treasure chests, missions, and more
Genshin impact Maps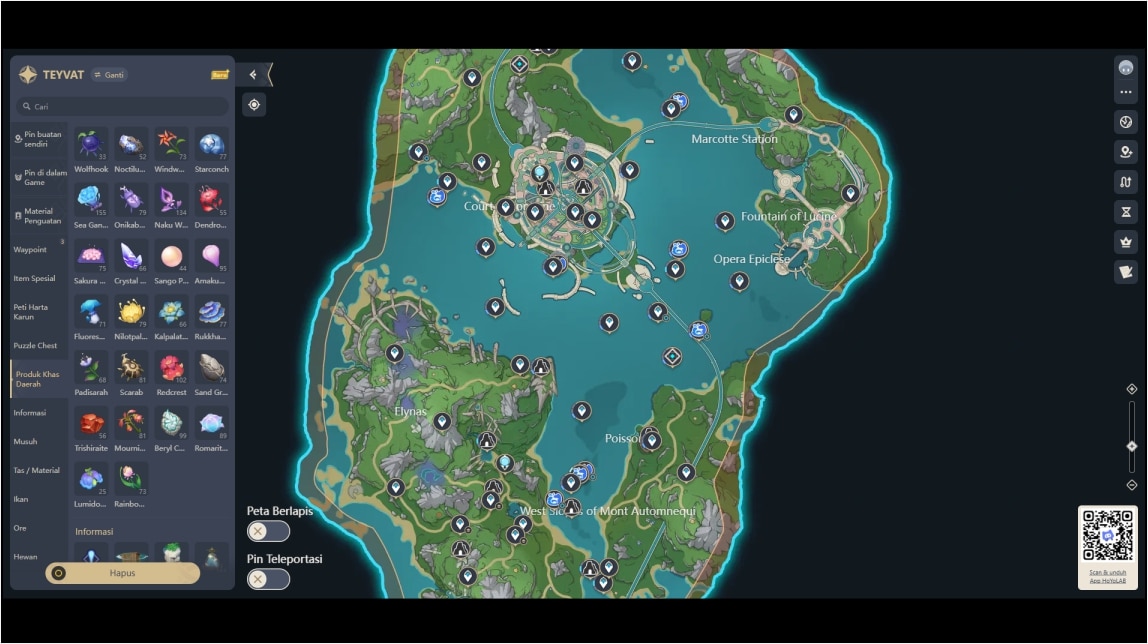 For more details, you can visit genshin impact maps to search for Neuvillette material, Genshin Impact Maps are maps that provide various instructions about all the materials scattered in the game.
These maps make it easier for players to find the materials they want to collect. How to use it is also easy, just press the material you want on the left side of your monitor screen, there are many material choices, if you click on the map the location will appear.
Apart from searching for materials, Genshin Impact maps are used to search for chests that are difficult to find, or culus such as dendro culuc, hydro culuc, anemo culuc, geo culus, and electro culuc. You can open it on another device or one device while exploring Teyvat.
Also read: 5 Facts about Il Dottore Genshin Impact that you must know
That's the discussion about Wirothesley materials, even though all of them cannot be farmed in patch 4.0, at least you have prepared some of the materials so you can try Neuvillette to the fullest, to find out its greatest potential.
Are you interested in the banner that will be present? Especially in phase one, your husband and waifu will be present.
Come on, top up Genshin Impact at the lowest price only at VCGamers Marketplace!