Neuvillette is a new character that will be present in the update Genshin Impact 4.1, this character has the Hydro element.
As revealed in the special program 4.1 livestream on September 15, we were told that Neuvillette is a DPS player, we can tell from his signature weapon that it has Crit Damage stats.
This character will be released at the same time as the Hutao banner. So for those of you who don't have much DPS, this phase one banner is highly recommended for you to pull.
Cheapest Genshin Impact Products!
Arif_budiman
IDR 50,000
62%
IDR 18,900
In the special livestream 4.1 program there are two new characters, namely Neuvillette and Wriothesley. Neuvillette will be present with Hutao in Phase 1, while Wriothesley will be present with the anemo archon, Venti.
Hoyoverse has already revealed some spoilers about folder as well as new materials that we can get to upgrade Neuvillette. Like the new boss boss located in Fontaine 4.1.
Also read: Next Genshin Impact Fontaine Banner Female Character Leaks
About Neuvillette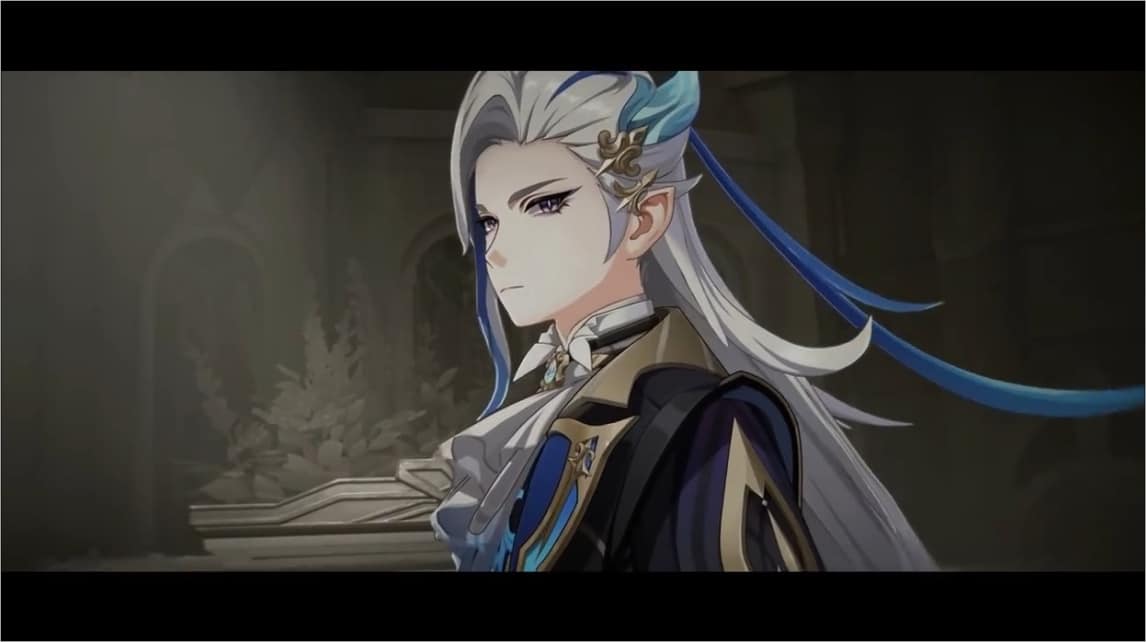 Neuvillette is a Judge Fontaine or known as the Ordainer of Inexorable Judgment will be a playable character in Genshin Impact.
This character was in the spotlight in the font teaser at the beginning of its release. Apart from his handsome appearance, Neuvillette also has enormous strength. We can see this when playing the archon quest in 4.0.
In the archon quest Neuvillette becomes the judge for the trial between Furina and Lynete or Childe. In this story we can find out what kind of character Neuvillette is, of course he is very authoritative and wise.
There was no need to doubt his strength, when Childe wanted to go berserk and transform using his delusions, Neuvillette was able to stop him easily.
Also read: Genshin Impact 4.1 Special Program Recap: Wriothesley, Neuvillette, and Others
Neuvillette material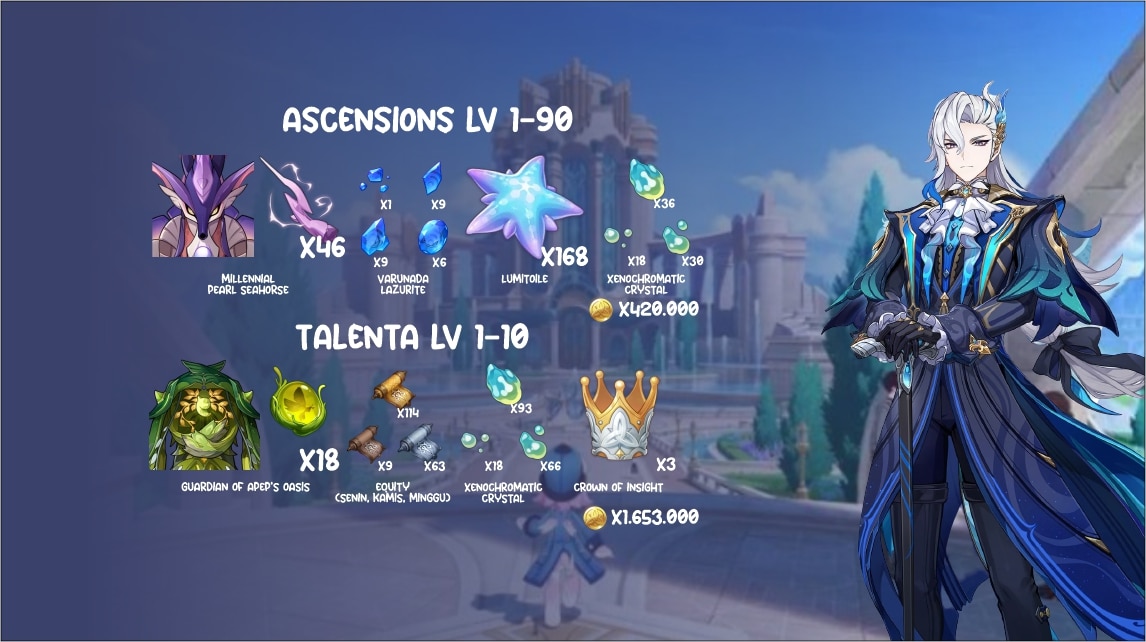 In this article, we have compiled a list of all Neuvillette upgrade materials to reach its highest potential, including level 90 accessions and lvl 10 talents. You can collect the materials from now on but there are several materials such as Fontemer Horn and Lumitoile that will be available in Version 4.1. Here are the Ascension ingredients:
Varunada Lazurite Sliver x1
Varunada Lazurite Fragments x9
Nine Varunada Lazurite Chunks x9
Varunada Lazurite Gemstones x6
Unknown specialty items x168 (possibly linked to a new 4.1 location)
Unknown Materials tied to an unreleased boss in 4.1 x46
Transoceanic Pearls x36
Transoceanic Chunks x96
Xenochromatic Crystals x129
Teachings of Equity x9
Guide to Equity x63
Philosophies of Equity x114
Everambers x18
Crowns of Insight x3
Hero's Wit x419
Mora 1,653.00 & 420,000
If you don't know how to get character materials before launch, let's look at the following list:
Varunada Crystal: obtained from Hydro bosses such as Oceanid or Hydro Hypostasis.
Transoceanic ingredients: obtained from creatures such as Blubberbeast, Hunter's Ray, armored crab, stern-shield crab, Emperor of Fire and Iron boss, hat jellyfish, bubbly seahorse, bubbler seahorse, ball octopus, angelic sea hare, and cherubic sea hare. And can be obtained from the crafting bench.
Equity books: Can be accessed from the "Pale Forgotten Glory" domain. And can be obtained from the crafting bench.
Everamers: Obtained from Guardian of Apep's Oasis/Dendro Dragon in the desert (level 70+).
Crowns of Insight: Can be obtained from a limited event in the Fontaine patch
Hero's Wit: Available from events, ley lines or battle passes
Mora: Can be obtained from events, battle pass tiers, ley lines, treasure chests, missions, and more
Also read: Genshin Impact and Pizza Hut Collaboration Comes to Indonesia, Save the Date!
Genshin impact Maps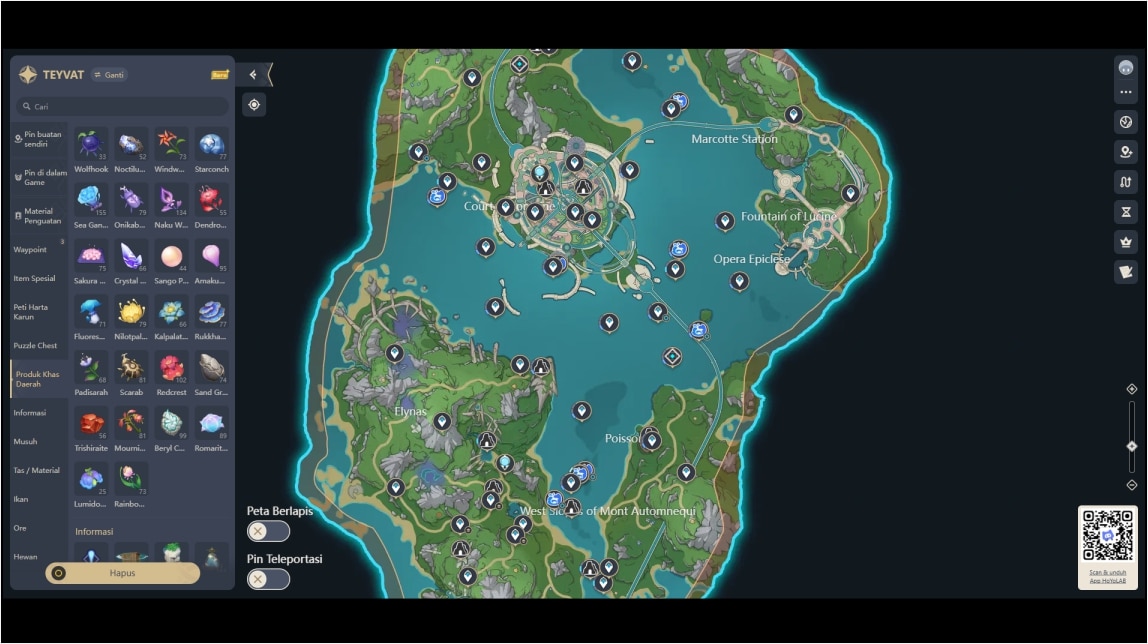 For more details, you can visit genshin impact maps to search for Neuvillette material. Genshin impact maps are maps that provide various instructions about all the materials scattered in the Genshin Impact game.
These maps make it easier for players to find the materials they want to collect. How to use it is also easy, just press the material you want on the left side of your monitor screen, there are many material choices, if you click on the map the location will appear.
Apart from searching for material, Genshin Impact Maps are used to search for chests that are difficult to find, or culus such as dendro culuc, hydro culuc, anemo culuc, geo culuc, and electro culuc. You can open it on another device or one device while exploring Teyvat.
Also read: Build Freminet Genshin Impact: Skills, Artifacts, Weapons and Team Comps
That's the discussion about Neuvillette materials, even though all of them can't be farmed in patch 4.0, at least you have prepared some of the materials.
That way you can try Neuvillette to the fullest, to find out its greatest potential. Are you interested in the banner that will be present? Especially in phase one, your husband and waifu will be present.
Come on, top up Genshin Impact at the lowest price VCGamers Marketplace!