The recommended build for Lesley in 2023 is very necessary for Mobile Legends game players. Especially for players who like to use roles Marksman for Push Rank in Season 27.
As we know it, heroes with the role Marksman is a mainstay hero in the gameplay MLBB. Why is that? Because the Marksman hero is the hero with the most painful Physical Attack.
Lesley is one of the Marksman heroes with the most damage with her Sniper weapon. The critical damage produced by Lesley is very effective for stealing various opportunities throughout the game.
However, the greatness of the hero is not enough if it is not accompanied by the skills and build of Lesley in 2023. Therefore, VCGamers News this time I will recommend the 2023 Lesley build that you can use.
Confused playing Mobile Legends where to buy cheap Diamonds? 
Come on, Top Up the Cheapest, Safest, and Fastest ML Diamonds only at VCGamers. 
What are you waiting for? Shop now!
Lesley's Painful Build 2023
The Lesley build recommendation that we will provide is very effective to combine with your Lesley skills. So, make sure you understand it to play in the game.
Swift Boots
This shoe item is often used by most of the MM role heroes. Swift Boots is indeed effective for MM because it will provide the main attribute in the form of +15 Attack Speed.
Apart from that, Swift Boots also provides +40 Movement Speed. Thus, Lesley can jungling quickly in the early game so leveling goes fast.
However, sometimes we need to make adjustments to what is happening in the field. If we are not selected as Hyper, then the best shoes that can be bought are Magic Shoes so that our skills can be obtained Cooldown quickly.
Endless Battles
Endless Battle items are items capable of destroying items defense fight well. The reason is, every three seconds, the unique passive of this item will provide additional True Damage of 60%.
In addition to the unique passive in this item, Endless Battle also increases Lesley's HP up to +250 to make Lesley's defense even thicker. You can use this item as a starting point for building the sickest Lesley in 2023
Not only that, Endless Battle is also supported by various other main attributes. There are additional +65 Physical Attack, +5 Mana Regen, +5% Movement Speed, +10% Cooldown Reduction and +10% Physical Lifesteal.
Blade of Despair
BoD or the abbreviation Blade of Despair is an absolute item that must be included in the 2023 Lesley build list. This is because this item is a damage item with the highest price.
Blade of Despair is a threat to enemy heroes whose HP is below 50%. When the enemy's HP is below 50%, BoD's unique passive skill will activate by giving 25% Physical Attack in two seconds.
Coupled with the basic attributes of this item itself, namely +160 Physical Attack and +5% Movement Speed to speed up Lesley's mobility.
Also read: The Painful Lapu Lapu Build Recommendation 2023
Windtalker – Lesley's Painful Build 2023
Windtalker's damage items are a mix of attack and speed. By purchasing this item, Lesley's first skill will be even more effective in immobilizing opponents.
This item focuses on increasing the hero's Attack Speed by giving +40% Attack Speed. Supported by the addition of Movement Speed of 20 and also + 10% Critical Chance.
Lesley's Basic Attack will be combined with +360 Magic Damage which can be stacked up to three times. Every time a Basic Attack is hit by an enemy hero, Movement Speed will also increase by +5.
Berserker's Fury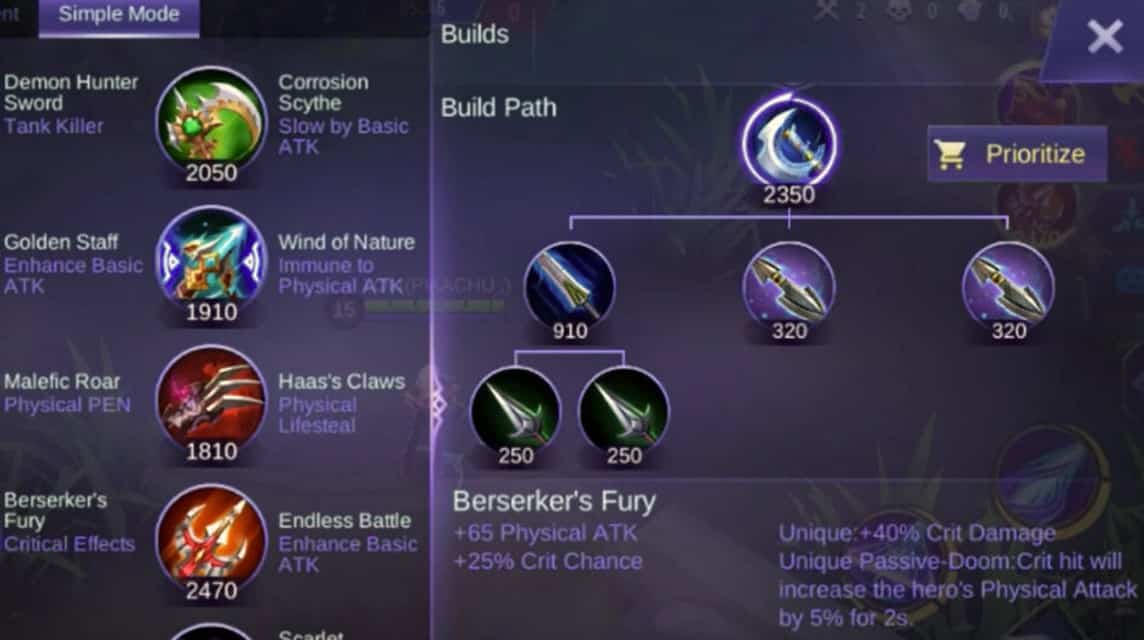 It's not fair if you don't have this item when you bought the Windtalker item earlier. Berseker's Fury and Windtalker are a deadly combination to make Lesley even sicker.
Lesley's build in 2023 will be even more intense with the basic attributes of this Berserker's Fury item. Following are the main attributes of Berseker' Fury items.
+25% Critical Chance.
+40% Critical Damage.
+65% Physical Attack.
Lesley with her qualified Critical Damage will definitely feel very sick because of the additional 40% Critical Damage.
In addition, every time Lesley reaches Critical Damage, her Physical Damage will increase by 5% for two seconds.
Scarlett Phantom – Lesley's Painful Build 2023
If you want to get kills faster, then Scarlett Phantom items can be relied upon. This item is frequently purchased by pro-player so that the heroes they play can provide many opportunities to increase kills.
The additional Attack Speed given by Scarlett Phantom is very effective for completing Late Game seconds or even accelerating Early Game moments.
Scarlett Phantom has the following basic item attributes.
+20% Attack Speed.
+30Physical Attack.
+25% Critical Chance.
Also read: Miya's Painful Build Recommendation 2023, So Slick!
How to Use Hero Lesley Properly so that GG
After knowing and understanding the Lesley Sick 2023 build, you must be curious about how to make the most of this build, right?
To answer your curiosity, we will also share tips or tips on how to play the hero Lesley so that you are more GG in the match. Check out the following method!
Don't be aggressive at the start of the game
Lesley's damage doesn't hurt too much at the beginning of the game, so you have to be a bit patient. Only after Lesley gets two items from the list of Lesley's 2023 hurts build above, will you feel Lesley's real damage.
Maximize Ultimate with Momentum
Lesley's Ulti Skill has a fairly long Cooldown, which is 40 seconds at the start of the game. Given the cooldown duration, you have to know the right moment to use it.
It is recommended to activate the Ulti skill when the enemy's HP is low and not blocked by other enemies. So Ultimate will be maximized.
Clean Minions
Another main task of Lesley is clear minions, especially early in the game. This is useful so that Lesley's level rises quickly. Apart from that, you also need to pay attention to the turret so you don't miss it.
Understand Position during War
It's important for you to know that Lesley is a hero who can die easily because her HP is small. Therefore, you must come at the moment of war in a position far from the gathering of enemies.
You have to take advantage of Lesley's first skill while approaching the enemy slowly while carrying out attacks.
The Painful Lesley Build Alternative 2023
You will often encounter enemy heroes who seem to be easily defeated. If that's true, then there will be slight build changes so that your Lesley gameplay is even more ideal.
Swift Boots.
Wind of Nature.
Berserker's Fury.
Immortality.
Windtalker.
Scarlett Phantom.
Also read: The 2023 Painful Gloo Build Item Recommendations, Try It Now!
Thus the discussion about the sickest Lesley build in 2023 that you should try in gameplay! Make sure you always understand, analyze and identify enemy heroes so that your build can be more effective.
Visit VCGamers Marketplace to buy MLBB diamonds to get your target Lesley skin, okay! Hopefully this article is useful.