This time we will review the Kaveh Genshin Impact build which is recommended for use in the game.
Kaveh is one of the characters that has just been released by Genshin Impact in the second part update 3.6  as a new addition to the Dendro character because this character uses a Claymore.
In contrast to Baizhu who is suitable as an off-field character, you will use Kaveh a lot as an on-field character.
Cheapest Genshin Impact Products!
Arif_budiman
IDR 50,000
62%
IDR 18,900
Curious about what Kaveh's build looks like? This VCGamers article will discuss complete build recommendations for the Kaveh Genshin Impact character.
Also read: Best Character for Vourukasha's Glow Genshin Impact 
Kaveh Genshin Impact Build Recommendations
This article will cover all the recommendations build starting with priority skills, artifacts, to team recommendations that are suitable for build Kaveh Genshin Impact.
Recommended artifacts are aligned with already released artifacts, where new artifacts will be added along the way updates Genshin Impact.
Also Read: Genshin Impact 3.6 Special Program Recap: Introducing New Areas and Characters
Material Talent and Character Ascension Kaveh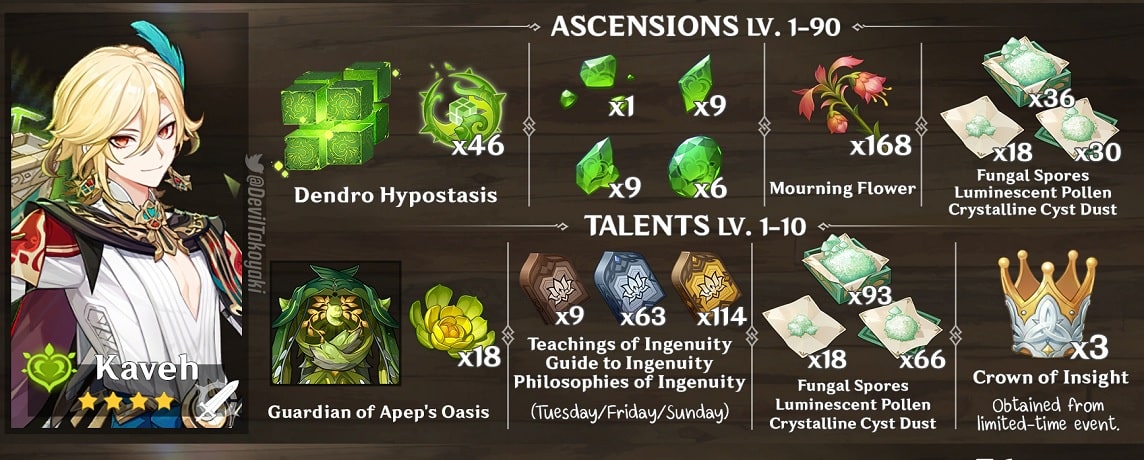 Character ascension requires material drops from Dendro Hypostasis, namely Quelled Creeper, Nagadus Emerald (silver, chunk, gemstone), Mourning Flower, and drop from Fungus enemies, namely: Fungal Spores, Luminescent Pollen, and Crystalline Cyst Dust.
Drops material from Fungus can form Spore and Nucleus. The difference is, attack enemies with Pyro and Electro elements for Nucleus. Spore can be obtained from elements other than that.
Material talents for Kaveh is drop from the Weekly boss Guardian of Apep's Oasis namely Everamber, the enemies of Fungus are: Fungal Spores, Luminescent Pollen, and Crystalline Cyst Dust, and the Ingenuity set (Teaching of Ingenuity, Guide to Ingenuity, and Philosophies of Ingenuity).
Best Constellation for Build Kaveh Genshin Impact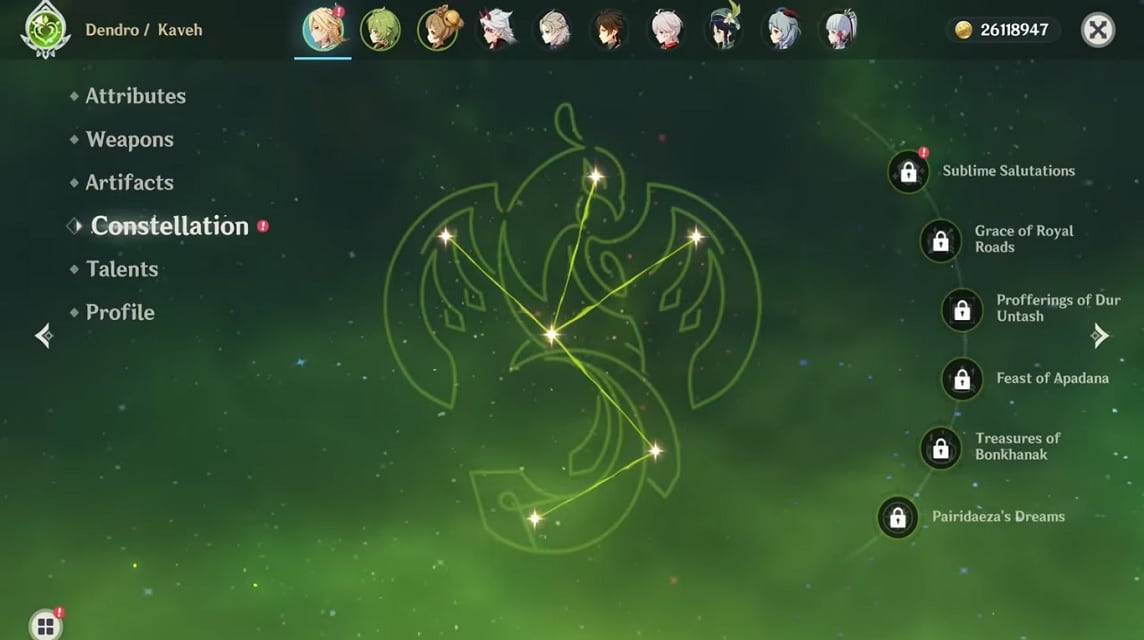 Kaveh is a very good character with constellation 0 (C0) so you don't have to have more constellations.
Overall, constellations 1 to 5 Kaveh do not have a significant impact between constellations. However, VCGamers recommends C6 for maximum optimization of Kaveh builds.
Skill Priority for Build Kaveh Genshin Impact
Normal Attack Kaveh Genshin Impact is still the same as in general which consists of 4 consecutive attacks that provide Physical damage to the enemy.
Kaveh's talents will depend heavily on Kaveh's briefcase-shaped tool named Mehrak.
Kaveh's Elemental Skill is Artistic Ingenuity will deal AoE Dendro DMG to enemies in Mehrak's circle area.
Mehrak will analyze the nearby Dendro Cores so that they can explode immediately without waiting for the duration.
Dendro Core usually has an explosion time of 5 seconds if it doesn't react with other elements such as Pyro (Burgeon) or Electro (Hyperbloom). When it explodes, the Dendro Core will deal damage to both the enemy and your own character.
If you have unlocked the passive talent An Architect's Undertaking, An exploding Dendro Core will actually restore the HP of the characters in the party based on Kaveh's Elemental Mastery percentage.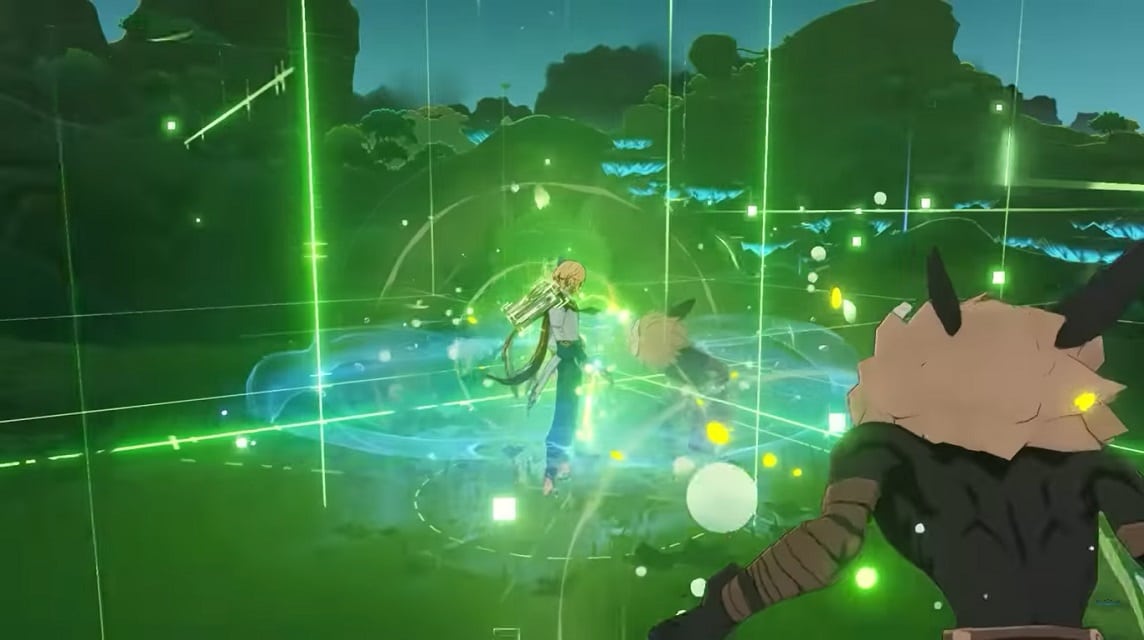 Kaveh's Elemental Burst is Painted Dome, Mehrak will give AoE Dendro DMG to the enemy and explode the existing Dendro Core.
Mehrak will also increase Kaveh's ATK DMG and change Kaveh's Normal Attack to Dendro DMG as long as Kaveh is in the area and the duration of the Elemental Burst.
Passive talent A Craftsman's Curious Conceptions will increase Kaveh's Normal Attack (Normal, Charged, Plunged) DMG and Elemental Mastery as well.
Priority skills to build Kaveh, it really depends on which party you are going to use.
If you use Bloom's party, you can prioritize Kaveh's Elemental Skill and Elemental Burst that you have to maximize. 
Character level is also important for Bloom's damage, so don't forget to level up Kaveh's character.
As for the party Spread, you have to optimize your Normal Attack then Elemental Burst and Elemental Skill.
Artifacts Suitable for Build Kaveh Genshin Impact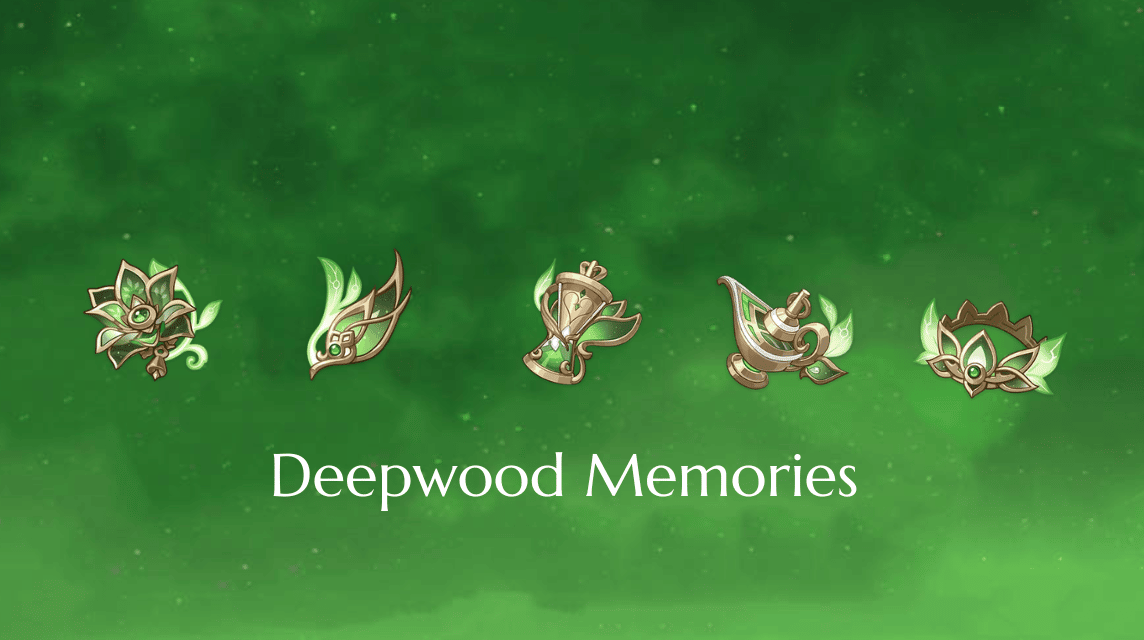 Stats what you should prioritize for Kaveh Genshin Impact are Energy Recharge and Elemental Mastery.
ATK and Dendro DMG Bonus are also important stats that you should pay attention to if you build Kaveh in the Spread team or as a DPS.
VCGamers's most recommended artifact set for Kaveh builds viz Deepwood Memories or Gilded Dreams.
Using 4 sets or combining these two sets will give Kaveh Dendro DMG as well as the Elemental Mastery that Kaveh's talent requires.
4-PC sets Flower of Paradise Lost also an option for Kaveh, especially if you build Kaveh for a Bloom, Hyperbloom, or Burgeon party.
If you focus on building Kaveh as a healer, you can also use the 4-PC Ocean-hued Clams set as Kaveh's artifact.
Also Read: Best Character User of Flower of Paradise Lost Genshin Impact
Weapon Recommendations for Build Kaveh Genshin Impact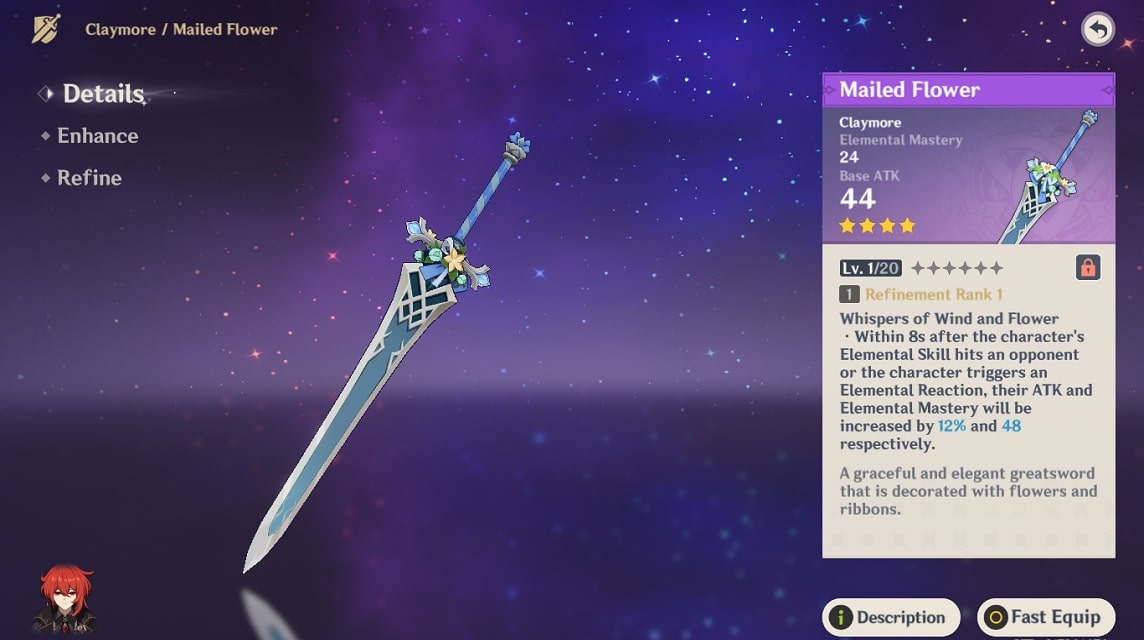 Recommended weapon for Kaveh Genshin Impact is a weapon that can provide Elemental Mastery or Energy Recharge.
You can use Skyward Pride, Mailed Flower, Bloodtained Greatsword, Rainslasher, Favonius Greatsword, Katsugikiri Nagamasa, or Forest Regalia to grant one of the aforementioned stats.
If you build Kaveh as DPS, weapons that provide additional ATK or Crit like Beacon of The Reed Sea, Wolf Gravestone, Skyward Pride, Redhorn Stonethresher, or Song of the Broken Spine, or and The Unforged.
Also Read: Best Character for Mailed Flower Genshin Impact
Recommended Team Composition (Party Setup) for Build Kaveh Genshin Impact
Kaveh is one of the Dendro characters that will depend heavily on Elemental Burst and the duration in the area against enemies where you have to make Kaveh last long as the duration of Elemental Burst applies.
Kaveh will need another Dendro character to act as elemental battery if you don't have enough Energy Recharge.
team comps others that suit Kaveh well are Dendro's elemental reaction team such as team Bloom (Hyperbloom, Bloom, Burgeon) or team Spread (Quicken Reaction (Dendro + Electro) + Dendro).
It's also important to remember that you have to use Elemental Burst or another character's Elemental Skill first before Kaveh.
That's because Kaveh's Elemental Burst will automatically disappear if you replace Kaveh with another character.
The first recommendation is the Bloom team (if you don't need Dendro battery) are Kaveh, Nilou, Xingqiu, and Kokomi. Meanwhile, if you need battery: with Kaveh, Nahida, Xingqiu, and Nilou. 
You can change the slot for the Nilou character depending on the further elemental reaction you want.
You can replace Burgeon Nilou with Thoma, Xiangling, or a suitable character as DPS Burgeon.
For Hyperbloom you can replace Nilou with Electro characters like Fischl, Kujou Sara, or Raiden Shogun.
You can replace Nahida with other Dendro characters such as Collei, Traveler Dendro, and Yao Yao.
If you play with Spread elemental reactions, you can replace Hydro characters with Electro characters such as Raiden Shogun so that you play Dendro-Electro mono team.
Also Read: Battery Genshin Impact: Definition, Functions and Characters
This is the build guide for the Kaveh Genshin Impact character. You can get this character after the second part of this 3.6 update.
Kaveh was also released with the 5-star Catalyst Dendro character, Baizhu. If you want both characters, don't forget to top up Genesis Crystal in a trusted place like here VCGamers Marketplace yes!