Use this sick Grock hero build in season 24 of Mobile Legends to get an easier win. So, don't miss this important info.
Grock is the deadliest hero in Mobile Legends. This hero has very high damage and stamina. He has a skill called Guardian's Barrier, this skill creates a barrier that can cover anything. With the skills he has, he might be your choice when playing the leaderboards.
So, of course, so that this hero can be more victorious in the game, he needs the right Grock support hero build. So, this time we will recommend you to build the strongest Grock hero in season 24 that you can use in Mobile Legends. Want to know what Grock's hero build is in season 24 of Mobile Legends? Just look at the following review until it's finished.
Arif_budiman
IDR 50,000
62%
IDR 18,900
Grock Season 24 Hero Build List
Courage Mask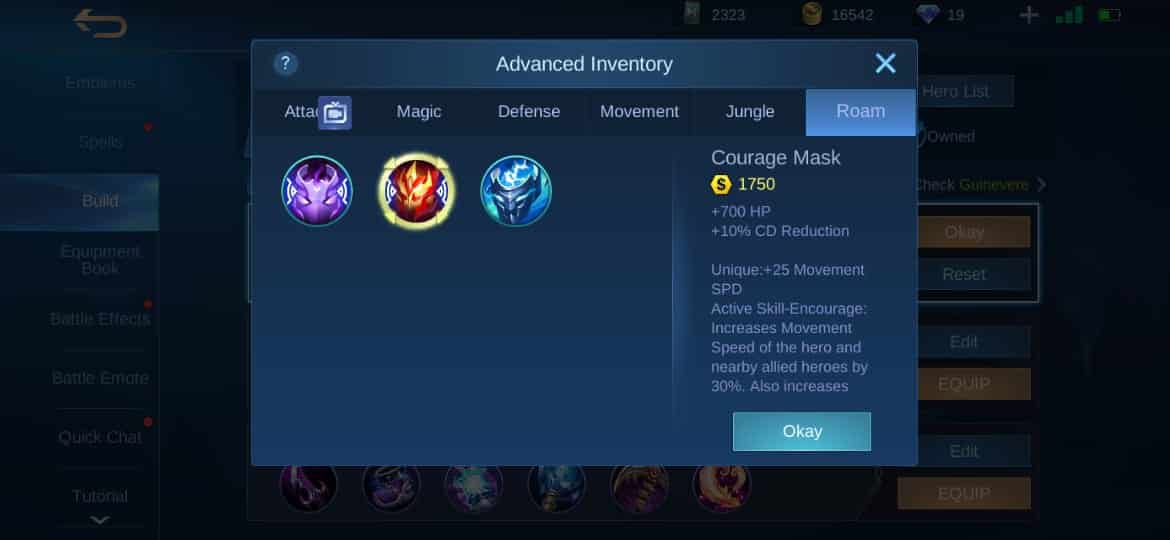 The first thing that must be the Grock build hero is the Courage Mask. As a Tank, your job is to travel.
By buying this Roam item, he can be very helpful when roaming. In addition, this item can also be activated. Once activated, Grock and team members, as neighboring heroes, receive extra movement speed, physical and magical attacks.
The Courage Mask effect at the start calms the farming team to dress fearlessly for experience and gold in the tank. When used as Courage Mask, the most beneficial effect for him is the additional effect on movement speed of 30 percent and 25 points.
As mentioned above, heroes like Harith, Alice, Yi Sun Shin are very hard to catch. With the added speed and durability provided by the Courage Mask, they can easily catch them.
In addition, this item is very flexible to suit battle conditions. With Tough Boots, it is certain that the stun or slow impact caused by the enemy will not affect him.
Rapid Boots
As a tank hero with a bit of slow motion, the good thing he immediately bought was Rapid Boots. This item will provide extra speed action against Grock. In this way, he moved faster.
Not only that, this item also has a passive skill, where when it deals or receives damage, it will reduce the opponent's hero's speed by 40 percent, which takes 5 seconds.
Also read: How to Use Grock ML Hero Properly, Immortal Tank!
Dominance Ice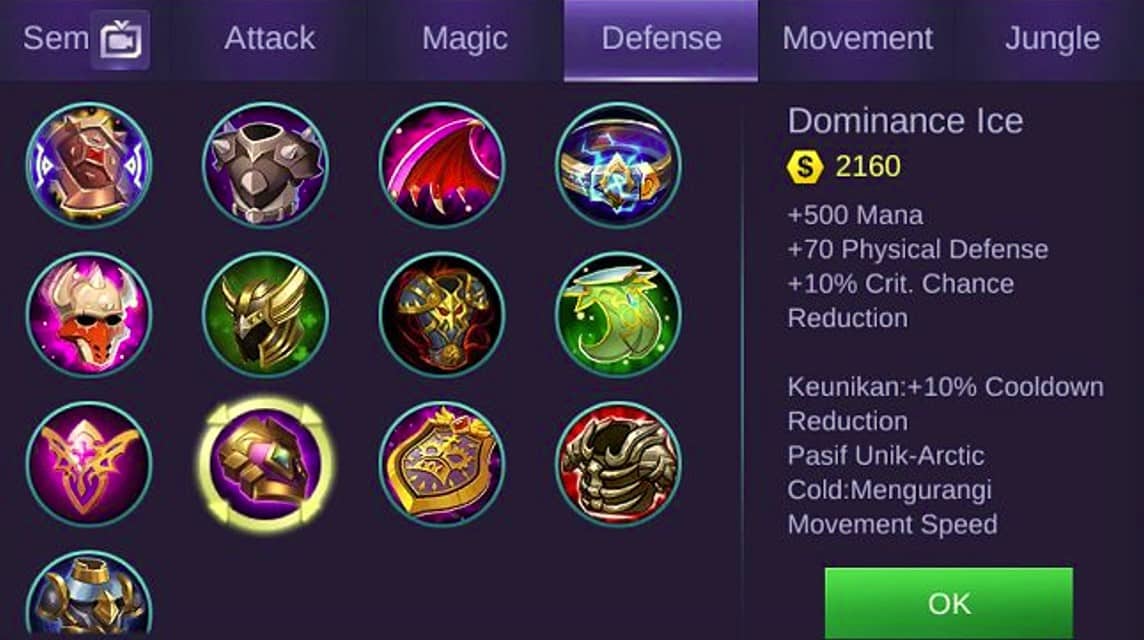 Another defense item that needs to be purchased and used as a Grock hero build is Dominance Ice. This item will provide extra physical defense, mana, and action speed against it. That buying this thing would make his defense and movement higher.
It doesn't stop there, this can also reduce the movement speed of enemy heroes around it by 10 percent. 
However, seeing that the enemy being fought has high mobility, Dominance Ice seems to be the best option. When buying this item, the attack speed of the enemy that attacks it will decrease. Yi Sun Shin, who is known to be dangerous because of his passive, can't move when dealing with this item. 
Not only that, the effect of reducing the movement speed of the enemy will also make it easier for him to catch up with all of his opponents. Moreover, his ulti combo and two skills can withstand the movements of enemies who don't have dash abilities. Then with the Ice Dominance effect, it is certain that no enemy can escape his reach.
Also read: 6 Strongest Counter Grock Heroes in Mobile Legends 2022
Immortality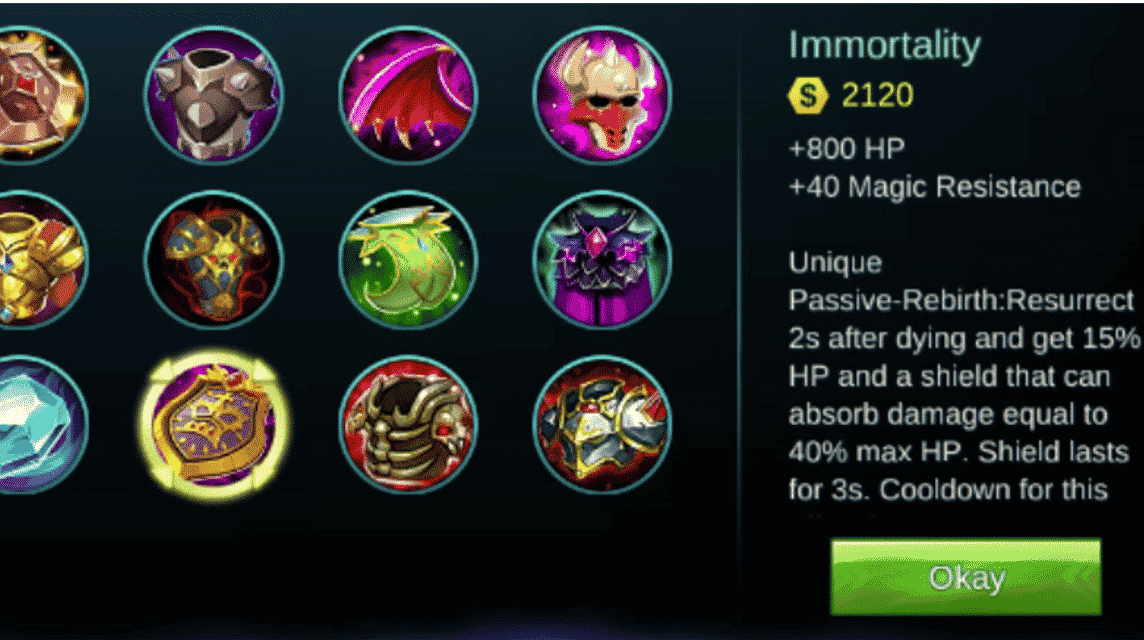 To increase his defense to become stronger. Then the next thing to buy is Immortality. Purchasing this item will increase his defense, as this item will give him more HP and more physical defense against him.
Not only that, this Immortality item also has a passive skill, where if he dies, this passive skill will revive him and get 15 percent of HP, and 300-1000 shield damage will take into account the hero level.
As a barbarian tank, you can use this item to unlock all the hero skills used by the enemy. This item is an item that you must buy as a tank in Land Of Dawn.
Brute Force Breastplate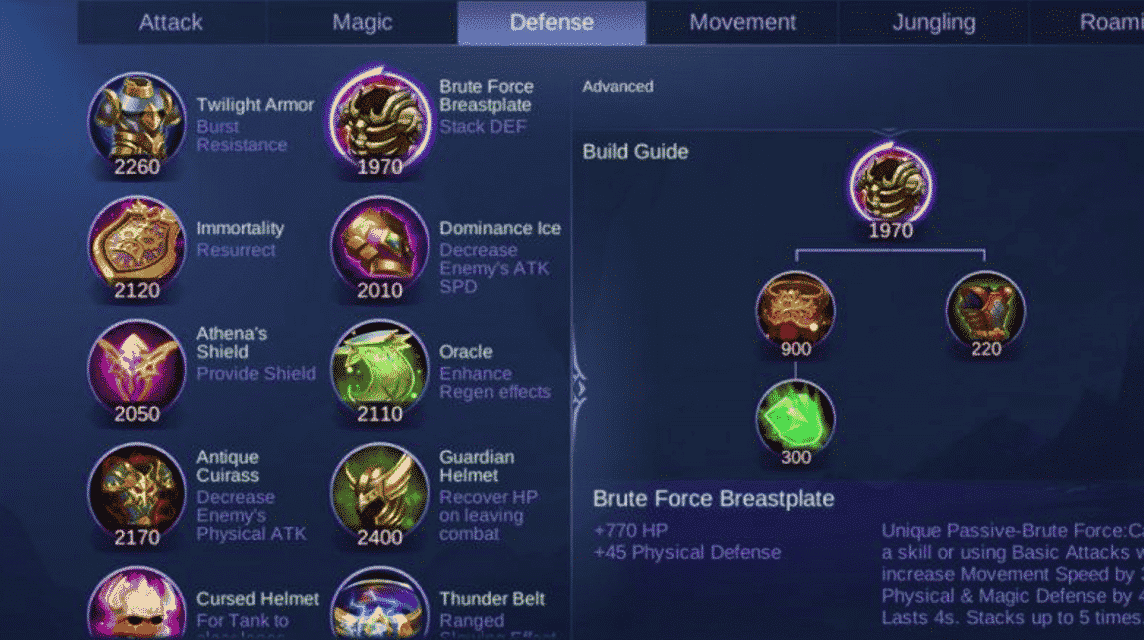 To minimize enemy damage, it is best to choose Brute Force Breastplate. The reason is, he is an aggressive Hero Tank type and is very suitable to activate the effects of these things.
The more attacks launched, the more physical and magical defense which increases by 4 points and can be stacked up to five times. In total, if five successful attacks are made on the enemy, there are 20 points left for defense. 
This Grock hero build series can be a reference for you on how to return it to the public domain meta-line. Besides being strong in endurance, his movement speed is also very dangerous for opponents. Not to mention that this hero will be immune from public scrutiny, so it will be very difficult to beat him.
Also read: The Painful Grock Build Item in Mobile Legends, Become a Deadly Tank!
And how about building your version of Grock stuff? Show it immediately in the comments column, OK! Don't forget to follow us so you don't miss the latest news about other games.