Good news has arrived for all loyal Dota 2 players. As a celebration of its presence The International 11 or TI11, Valve provides various special prizes for Dota 2 players, one of which is a free Arcana.
You can choose one of the various Arcana skins. Arcana that are in Market and tradable will be an option on The International Swag Bag menu.
So, what else is available on The International Swag Bag menu apart from the free Arcana? Come on, see the explanation of free gifts by Valves below this!
Cheapest Top Up Social Live!
Arif_budiman
IDR 50,000
62%
IDR 18,900
Also Read: Here's Why Dota 2 Hero Leshrac Becomes TI 11's Pro Player's Choice!
Free Arcana Options Available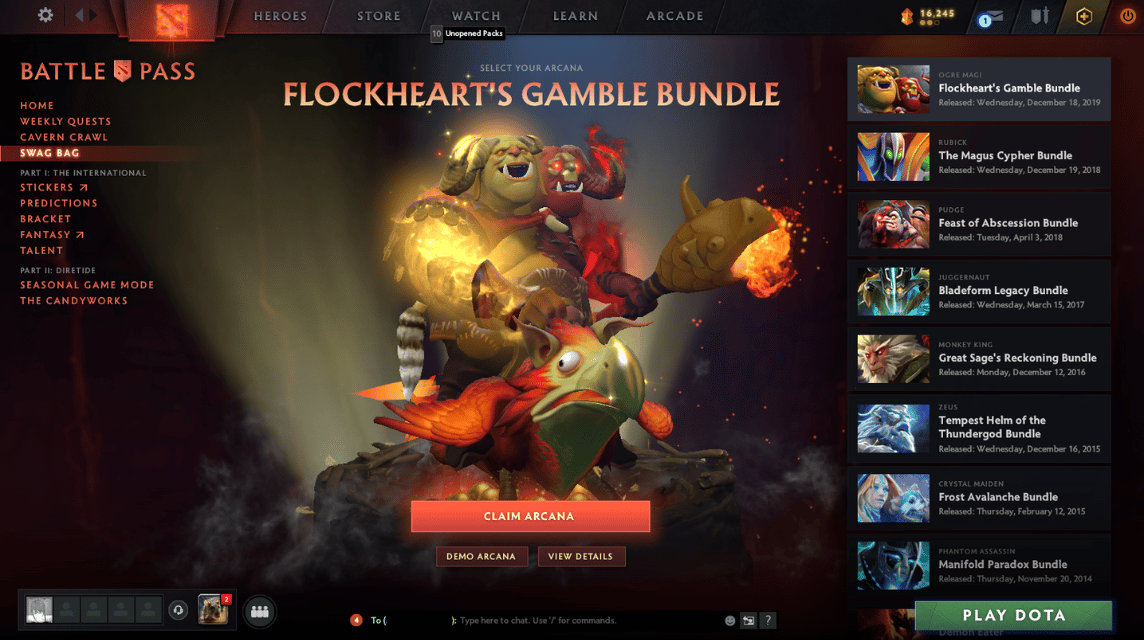 The International Swag Bag contains prizes from Valve that you can take, one of which is a free Arcana.
There are 13 Arcana choices available, ranging from Lina's Fiery Soul of the Slayer Arcana to Ogre Magi's Flockhart's Gamble Bundle.
Unfortunately, you cannot choose exclusive Arcana for the Battle Pass. For example Arcana IO, Arcana Earthshaker, Arcana Specters, and also the newest Arcana, the Faceless Void Arcana.
Even so, Dota 2 players are certainly very grateful to have the opportunity to choose one of the available Arcana.
In addition to the Arcana selection, The International Swag Bag by Valve also provides other free gifts. Check out the other free gifts below!
Also Read: Will Hero Dota 2 IO Present at The International (TI) 11?
Claim Dota Plus One Month and Battle Pass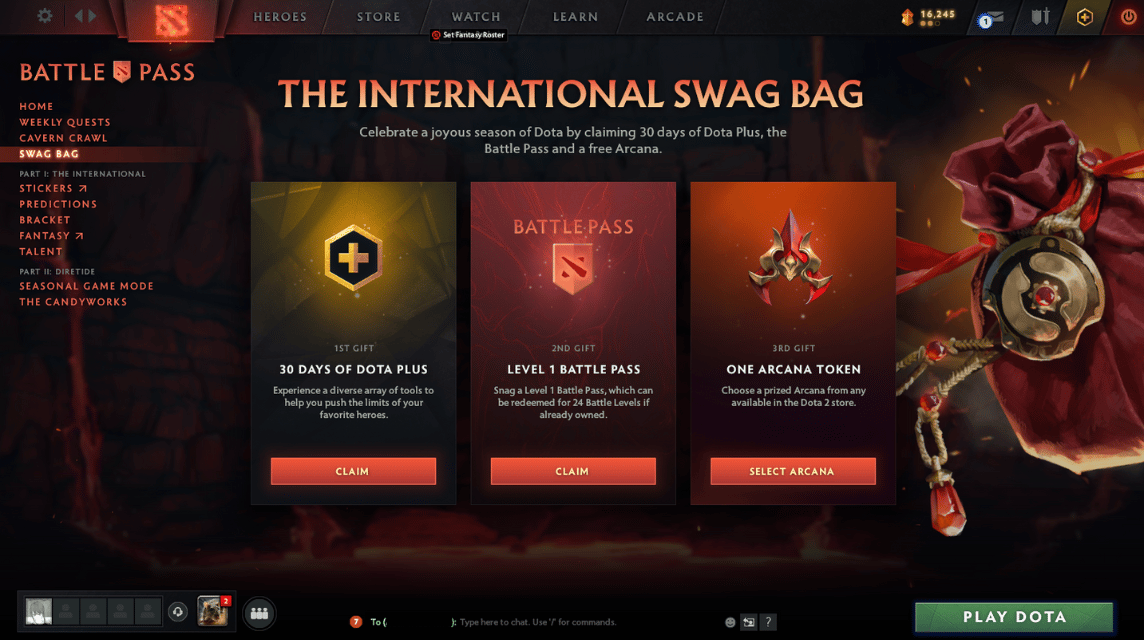 Apart from the free Arcana, you can also get two other prizes! The first prize is one month of Dota Plus. With Dota Plus, you can get a variety of very useful features.
This feature is in the form of indications and hero stats when playing games. Not only that, Dota Plus also helps you stack jungle creeps, do pulls, and also recommends heroes that you can choose on the Hero Selection menu.
The second prize is Battle Pass Level 1. For those of you who don't have it yet Battle Pass, then you will get a free Battle Pass.
However, for players who already have a Battle Pass, you will get 24 Battle Levels so you can increase the Battle Pass level.
You can't take these gifts right away. There are ways you have to do to get these prizes.
Then, how do you get prizes in The International Swag Bag? Let's see how below!
Also Read: Rows of Dota 2 Hero Skills That Translucent Black King Bar (BKB)!
How to Claim Free Arcana and Other Prizes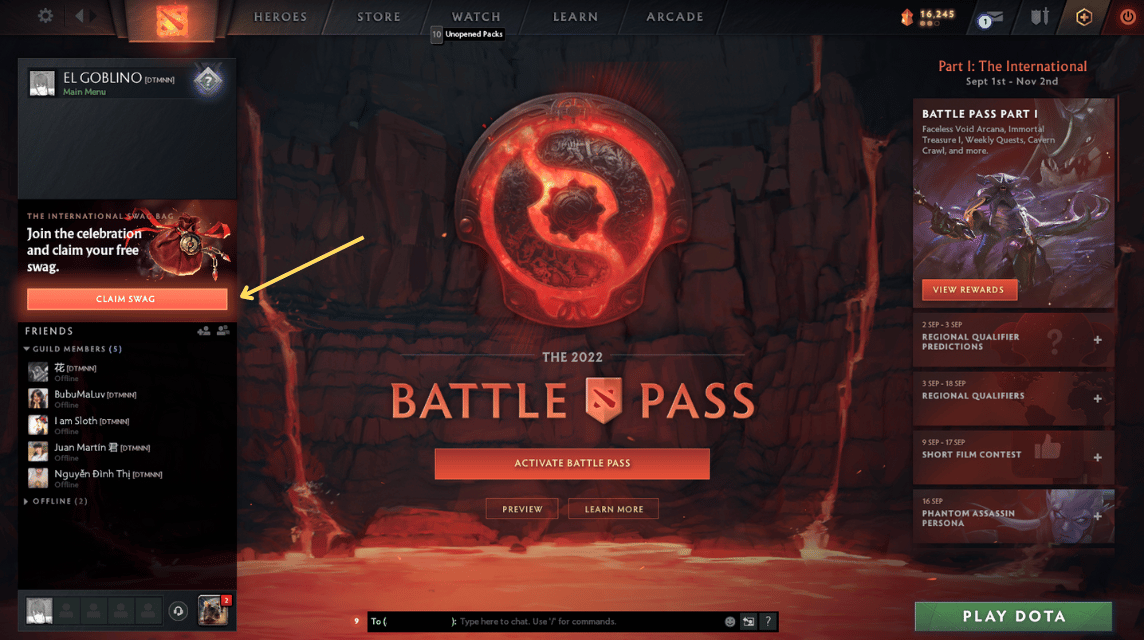 The first way to get these prizes is to update the Dota 2 client. After updating, you can enter the main menu.
Once in the main menu, you will see that there is a new menu option entitled The International Swag Bag which is located below the left profile.
Click Claim Swag and a menu to get three prizes will appear. If not, then you have to play 10 games before the Battle Pass ends.
To get a one-month Dota Plus prize, click claim 30 Days of Dota Plus. To get the Battle Pass, click Claim Level 1 Battle Pass.
Finally, you will get a free Arcana as a third prize, namely One Arcana Token. You will see the various Arcana options available.
Faster Free Arcana Claim Tips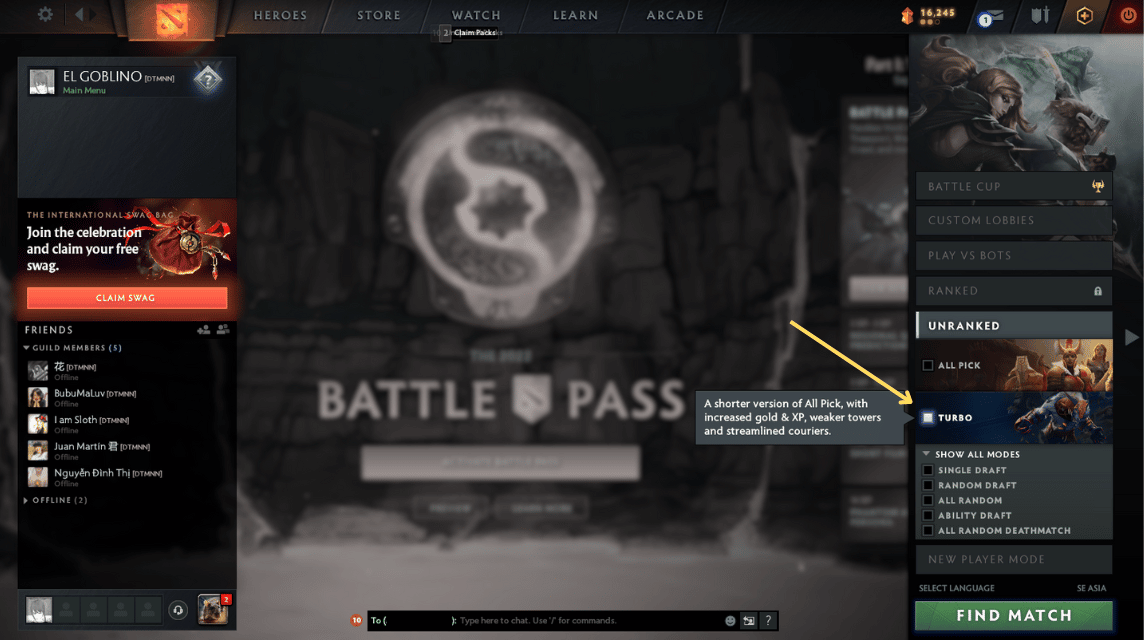 You have to play up to 10 times to get the three prizes available in The International Swag Bag.
Maybe playing 10 times will be very time consuming for some players. However, don't worry! You can play Turbo mode and still count.
Turbo mode is the usual All Pick mode, but players will get Gold and EXP faster, faster couriers, and weaker towers.
Therefore, Turbo mode is a faster All Pick mode. If you play Turbo, you will fill up your quota faster 10 times playing and get prizes faster and easier.
Until now, the prizes available in The International Swag Bag cannot be claimed due to an error. Players must wait an undetermined amount of time to be able to claim prizes.
Thus the discussion about free Arcana and how to get it. To top up the Battle Pass level, come visit VC Markets by VCGamers!