Yaoyao is a Genshin Impact Dendro character most recently released on updates 3.4 along with a new 5 star character Alhaitham and rerun banner xiao.
Yaoyao is the first healer and Dendro support released by Genshin Impact. The release of Yaoyao makes your party combination and playstyle even more diverse.
Yaoyao Genshin Impact Build Recommendations
This article will cover all the recommendations build starting with priority skills, artifacts, to team recommendations that are suitable for build Yaoyao Genshin Impact.
Cheapest Genshin Impact Products!
Arif_budiman
IDR 50,000
62%
IDR 18,900
Recommended artifacts are aligned with already released artifacts, where new artifacts will be added along the way updates Genshin Impact.
Material Talent and Character Ascension Yaoyao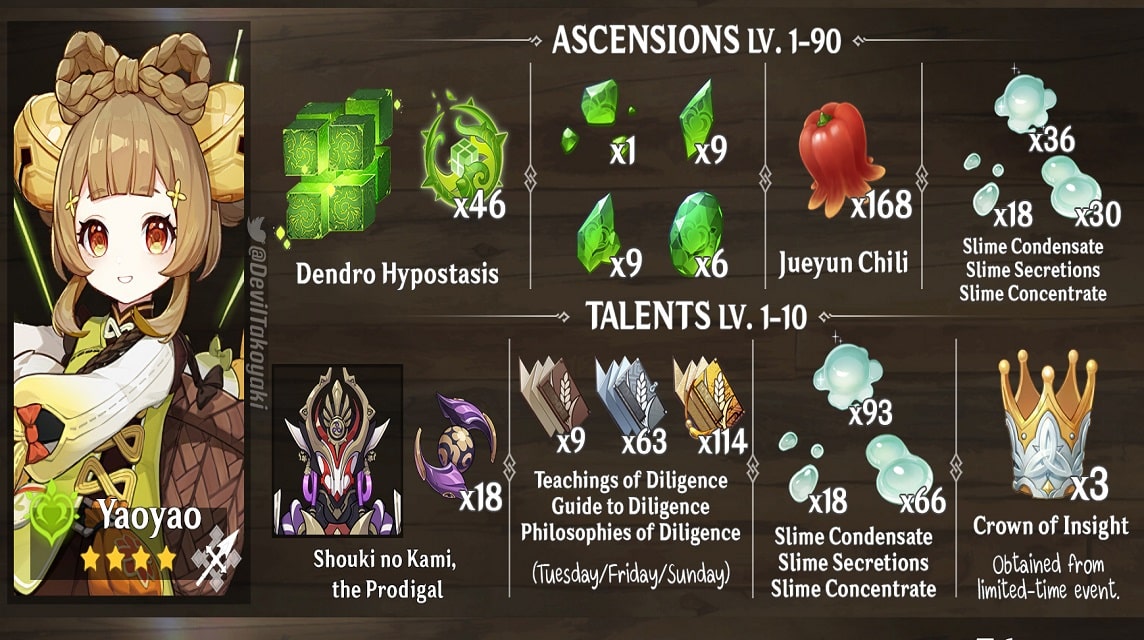 Character ascension Requires drop material from the Dendro Hypostasis boss, namely Quelled Creeper, Nagadus emerald (Silver, Fragment, Chunk, and Gemstone), Jueyun Chili, and drop from Slime enemies, namely: Slime Condensate, Slime Secretions, and Slime Concentrate. 
Material talents for Yaoyao is drop from Weekly boss Scaramouche (Shouki no Kami), namely Daka's Bell, Slime enemies namely: Slime Condensate, Slime Secretions, and Slime Concentrate, and books talents namely Diligence sets (Teaching of Diligence, Guide to Diligence, and Philosophies of Diligence).
Also Read: Build Alhaitham Genshin Impact: Skills, Artifacts, Weapons, and Team Comps
Skill Priority for Build Yaoyao Genshin Impact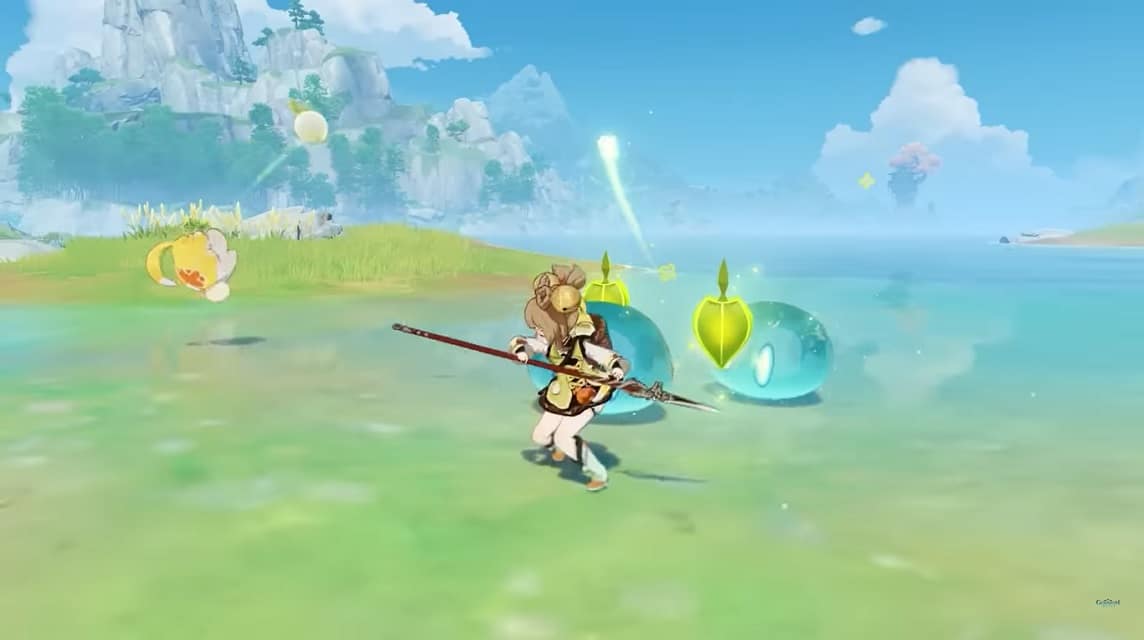 Yaoyao Genshin Impact's Normal Attack is still the same as in general, which consists of 4 consecutive attacks that deliver physical damage to the enemy.
Elemental Skill of Yaoyao namely Raphanus Sky Cluster, Yaoyao will result in summoning a doll named Yuegui.
Yuegui will throw a White Jade Radish which can deal damage in the form of Dendro damage while at the same time restoring HP characters in the field (on field) with the following mechanism:
If the character's HP is below 70%, Yuegui will focus on recovering the character

If the character's HP is above 70% and there is an enemy, Yuegui will attack the enemy and deal Dendro DMG randomly to the enemy.

White Jade Radish that is not hit by the enemy will explode if the enemy makes contact
Yuegui's AoE attack area is small so if an enemy is nearby, Dendro DMG will affect all enemies. 
This also applies to recovering HP if your character is near an enemy, Yuegui will restore HP while giving Dendro DMG to the enemy.
When you have got passive talent In Other's Shoes, The exploding White Jade Radish will restore the character's HP.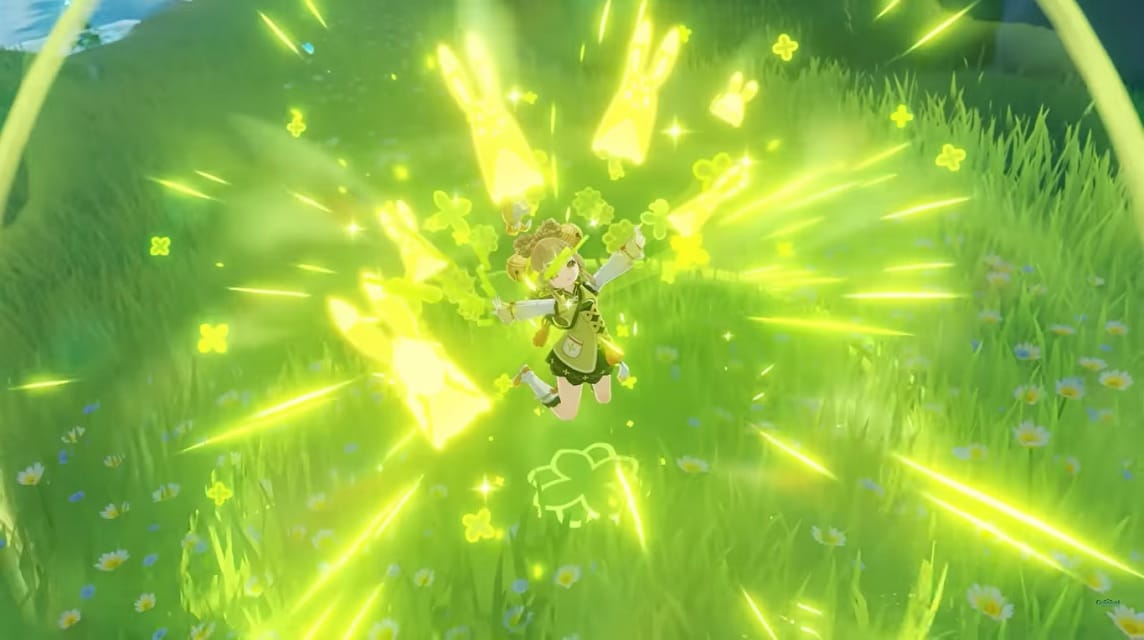 Elemental Burst of Yaoyao namely Moonjade Descent, Yaoyao will bring out 3 Yuegui.
This Yuegui will restore HP as well as provide Dendro DMG to all characters in the party, not just the active characters.
Characters don't even have to be in AoE because Yuegui's abilities can be unlimited in area.
Priority skills for Yaoyao is Elemental Skill and Elemental Burst together where you can override Normal Attack.
Best Constellation for Build Yaoyao Genshin Impact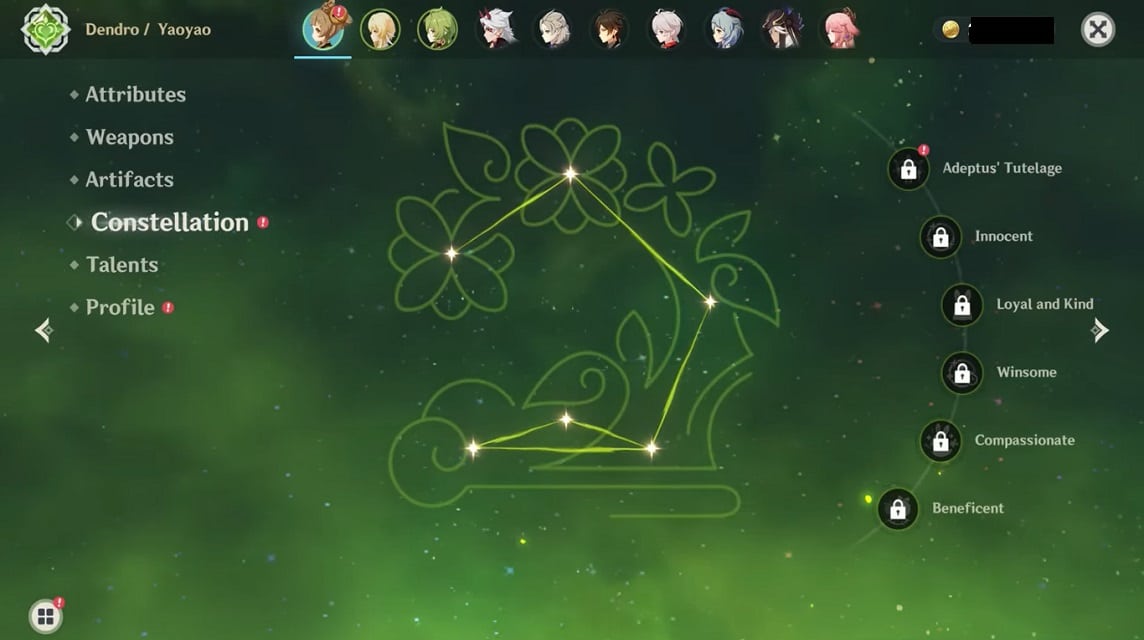 Yaoyao is a character I've been really good with constellation 0 (C0) so you don't have to have more constellations. 
However, constellation 1 (C1) and constellation 2 (C2) VCGamers feel very good for you to collect the constellations.
That's because Yaoyao gets an additional Dendro DMG Bonus on C1 which is able to optimize the Dendro application for your DPS or other characters in the party.
 The duration of the energy particles in C2 produced by Yaoyao will be faster so that it can speed up Yaoyao's duration for using Elemental Burst.
Artifacts Suitable for Build Yaoyao Genshin Impact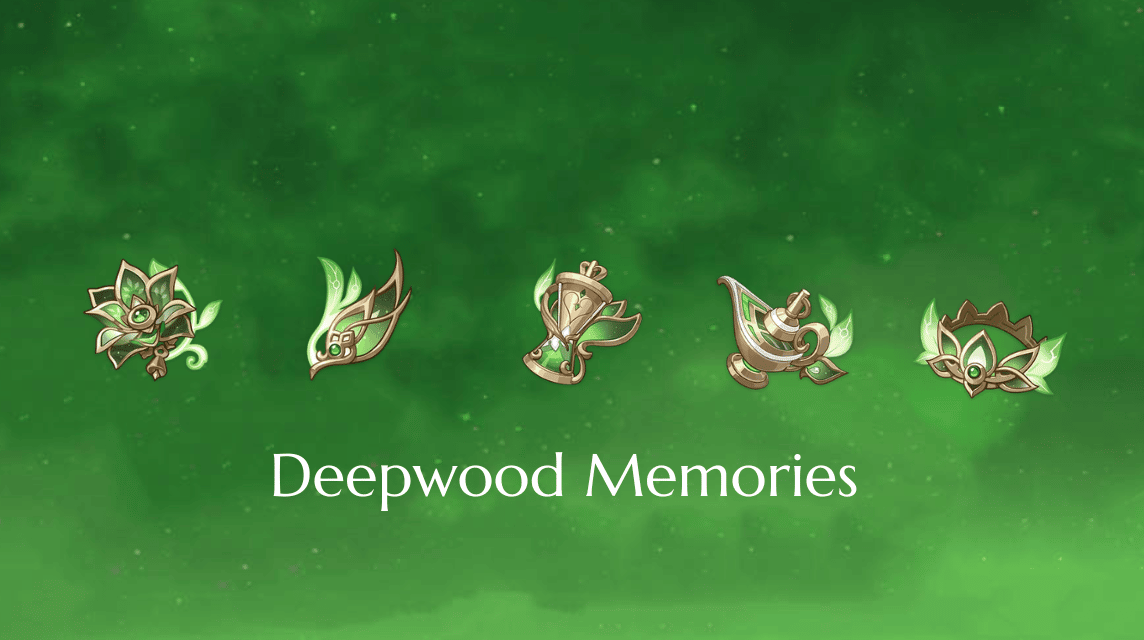 Stats what you should prioritize for Yaoyao Genshin Impact are HP, Energy Recharge, and Elemental Mastery. 
The ability to recover Yaoyao's HP will be scaled based on Yaoyao's HP. Meanwhile, the amount of damage from White Jade Radish is ATK.
You can search for ATK as a substat. Meanwhile, Elemental Mastery and Energy Recharge are used as the main stats.
Elemental Mastery will make the elemental reaction damage even greater. Include Energy Recharge, which will speed up the elemental energy from Yaoyao.
For artifact recommendations, there are several artifacts that VCGamers recommends depending on your Yaoyao needs.
In general, Deepwood Memories is the most commonly used artifact set for Dendro support characters like Yaoyao. Or you can use the Noblesse Oblige full set which is generally used by support characters.
You can also use other artifact sets such as Tenacity of the Millelith for HP, Ocean-Hued Clam for Healing Bonus, Emblem Of Severed Fate for Energy Recharge.
You can combine these artifact recommendations into 2 pieces each.
Weapon Recommendations for Build Yaoyao Genshin Impact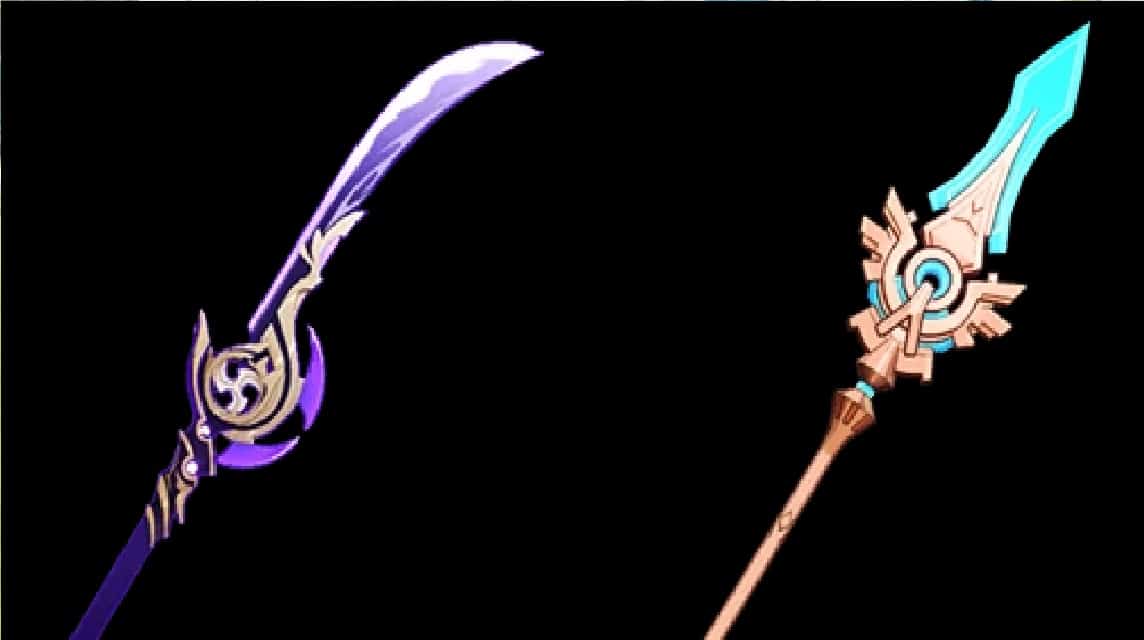 Recommended 5 star weapon for Yaoyao Genshin Impact you can choose between Engulfing Lightning and Skyward Spine as the best choice.
This 5 star weapon is recommended because it can increase Energy Recharge for Yaoyao from the ability bonuses of the two weapons earlier.
Until the time this article was written, there is no Polearm weapon that can provide additional bonuses stat DEF except for Deathmatch from the bonus, it's only a little.
You can maximize Yaoyao's Energy Recharge from weapons so that Yaoyao Genshin Impact can quickly always use Elemental Burst and Elemental Skill to support damage your DPS.
A 4 star weapon suitable for build Yaoyao Genshin Impact are The Catch and Favonius Lance.
These two weapons also add the Energy Recharge needed by Yaoyao just like the 5 star weapons mentioned.
You can also use F2P weapons that you can easily make at Blacksmith, namely the Prototype Starglitter.
Recommended Team Composition (Party Setup) for Build Yaoyao Genshin Impact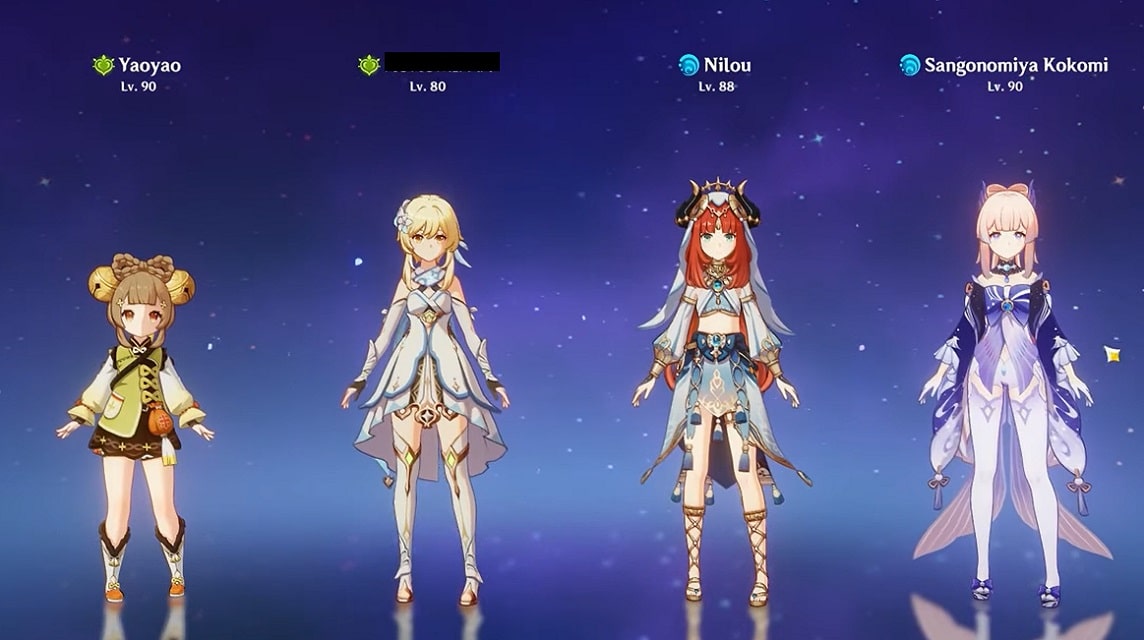 Yaoyao is a healer who can apply the Dendro element very well. This character will be very suitable for characters that produce optimal damage from Dendro's elemental reactions.
The recommendation of Bloom's elemental reaction team is that you can pair Yaoyao with Nilou, Traveler Dendro, and Sangonomiya Kokomi or Candace.
Your Hyperbloom elemental reaction team can pair Yaoyao with Alhaitham, Xingqiu, and Raiden Shogun or Kuki Shinobu.
You can pair Yaoyao with the Aggravate reaction team with Keqing, Fischl, and Dendro Traveler or Nahida. For the Spread team it is also the same with different rotations following the Spread and Aggravate rules.
Your elemental Burgeon reaction team can pair up Yaoyao, Thoma, Xingqiu, and Dendro Traveler.
Also Read: Build Dendro Traveler Genshin Impact: Skills to Party
Thus, the build of Yaoyao Genshin Impact. For those of you who haven't gotten this character, don't worry. You can buy trusted Genesis Crystals for gacha Yaoyao at VCGamers Marketplace.