Alhaitham is a character Genshin Impact Dendro most recently released on updates 3.4 along with a new 4-star character, Yaoyao.
Alhaitham is said to have mechanics as well playstyle which is similar to Keqing, only different elements are used. 
Is that right? This time, VCGamers will discuss build Alhaitham Genshin Impact is complete starting from materials, artifacts, and so on.
Cheapest Genshin Impact Products!
Arif_budiman
IDR 50,000
62%
IDR 18,900
Also read: Faruzan Genshin Impact Build: Skills, Artifacts, Weapons, and Team Comps
Alhaitham Genshin Impact Build Recommendations
This article will cover all the recommendations build starting with priority skills, artifacts, to team recommendations that are suitable for build Alhaitham Genshin Impact.
Artifact The recommended ones are adjusted according to already released artifacts, where new artifacts will be added along the way updates Genshin Impact.
Material Talent and Character Ascension Alhaitham
Character ascension requires drop material from the new boss Setekh Wenut, namely Pseudo Stamens, Nagadus emerald (Silver, Fragment, Chunk, and Gemstone), Sand Grease Pupa, and drop from the enemies of the Eremites namely: Faded Red Satin, Trimmed Red Silk, and Rich Red Brocade.
Material talents for Alhaitham is drop from Weekly boss Scaramouche (Shouki no Kami), namely Mirror of Mushin, enemies of the Eremites namely: Faded Red Satin, Trimmed Red Silk, and Rich Red Brocade and books talents namely the Ingenuity set (Teaching of Admonition, Guide to Admonition, and Philosophies of Admonition).
Skill Priority for Build Alhaitham Genshin Impact
Normal Attack Alhaitham Genshin Impact is still the same as in general, which consists of 5 consecutive attacks that give physical damage to the enemy.
Elemental Skill from Alhaitham namely Universality: An Elaboration on Form, will produce Dendro DMG as well as give Alhaitham a mechanic called "Chisel-Light Mirror".
The Chisel-Light Mirror will be an important mechanic in Alhaitham's build and its main source of power comes from.
When activating an Elemental Skill, Alhaitham will get 1 Chisel-Light Mirror. When your Elemental Skill button hold, will give 2 Chisel-Light Mirrors, provided there are no Chisel-Light Mirrors at all.
When there is a Chisel-Light Mirror, all of Alhaitham's normal attacks (Normal, Charged, Plunging) will change to Dendro DMG. 
Chisel-Light Mirrors have a maximum of 3, with each number having auto attack with big damage different based on Haitham's ATK and Elemental Mastery.
Elemental Burst from Alhaitham namely Particular Field: Fetters of Phenomenon, Alhaitham will create an area that deals AoE Dendro DMG in the form of strikes.
There will be some conditions for Alhaitham's Elemental Burst strike depending on the number of Chisel-Light Mirrors activated prior to use skills:
Without Chisel-Light Mirror: 4 strikes, gives 3 Chisel-Light Mirrors

1 Chisel-Light Mirror: 6 strikes, gives 2 Chisel-Light Mirrors

2 Chisel-Light Mirrors: 8 strikes, gives 1 Chisel-Light Mirror

3 Chisel-Light Mirrors: 10 strikes without Chisel-Light Mirrors.
Priority skills for Alhaitham are Elemental Skills, Normal Attack, and the last thing you have to maximize is Elemental Burst. 
Best Constellation for Build Alhaitham Genshin Impact
Alhaitham is a very good character with constellation 0 (C0) so you don't have to have more constellations.
Overall, the Alhaitham constellation does not have a significant impact between constellations. However, VCGamers suggests C2, C4, and C6 for you to go after if you still have Primogems.
Artifacts Suitable for Build Alhaitham Genshin Impact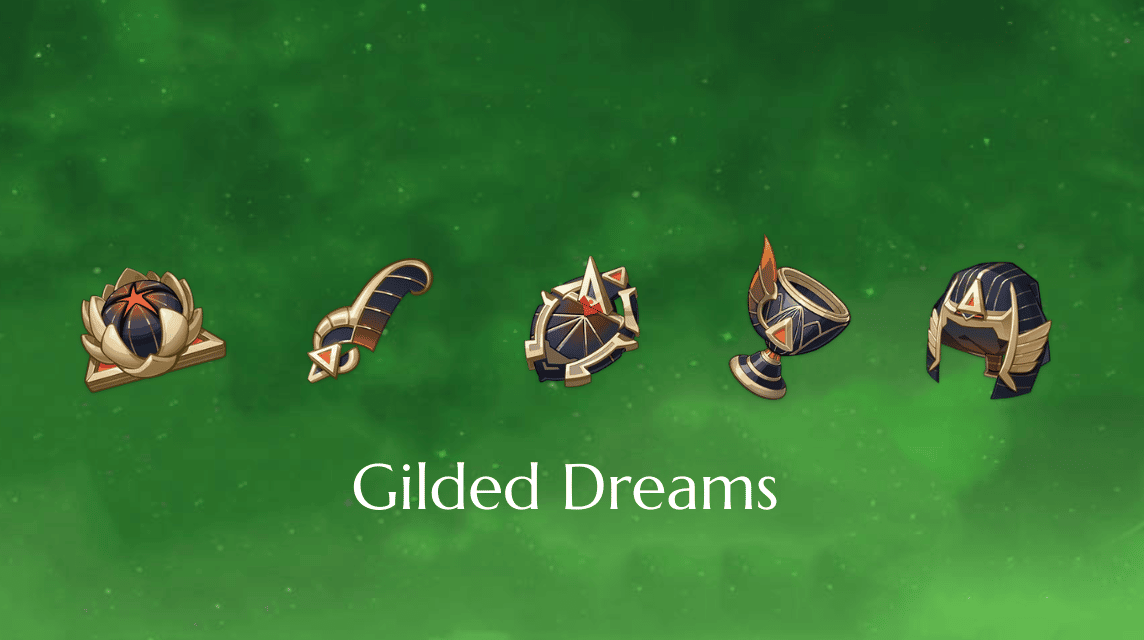 Stats what you should prioritize for Alhaitham Genshin Impact are Elemental Mastery, Crit DMG/ Rate, and Dendro DMG Bonus.
Alhaitham's attacks will mostly be calculated from Elemental Mastery and ATK. However, Elemental Mastery has a greater percentage than ATK with influence on damage higher.
Thus, you must pursue a minimum of 500 Elemental Mastery. You can target ATk and Energy Recharge as sub stat which you must fulfill.
4 sets Gilded Dreams according to VCGamers is the best because buff ATK and gives Alhaitham a bonus stat Elemental Mastery.
4 sets Deepwood Memories also good for Alhaitham. but it's better for Dendro Support characters like Yaoyao, Collei, or MC Dendro.
You can also combine these 2 artifacts into 2 sets which provide Elemental Mastery and Dendro DMG Bonus
Also Read: Recommended Characters for Gilded Dreams Genshin Impact Users
Weapon Recommendations for Build Alhaitham Genshin Impact
Recommended weapon for Alhaitham Genshin Impact all swords used by DPS in general such as Haran Geppaku Futsu, Mistsplitter Reforge, and Primordial Jade Cutter can still be used as options for Alhaitham.
But with a note, it's not the ATK stat you're looking for. But focus on Elemental Mastery, Energy Recharge, or Crit DMG/ Rate stats. 
Weapons like Freedom Sworn, or a weapon released in update 3.4, Light of Foliar Incision, are the most appropriate choices for Alhaitham.
Options for non 5 star weapons are Xiphos Moonlight, Toukabou Shigure, Favonius Sword, Festering Desire, Blackliff Sword, Iron Sting, or Harbinger of Dawn.
Recommended Team Composition (Party Setup) for Build Alhaitham Genshin Impact
Alhaitham is a Dendro DPS on-field character that you will often use as the main attacker. 
Therefore, team comps for Alhaitham are very flexible depending on elemental reactions what do you want to use.
Dendro has a major elemental reaction that gives damage The big ones are Hyperbloom, Spread/Aggravate, and Burgeon.
Recommended for Hyperbloom party is Alhaitham, Nahida, Kuki Shinobu, and Yelan.
Nahida will act as Dendro support, Kuki Shinobu as Electro support, and Yelan as Hydro Sub DPS/Support.
You can replace Nahida with Collei, MC Dendro, or Yaoyao. Kuki Shinobu with Beidou, and Yelan can use Xingqiu.
The Spread/Aggravate party recommendation is similar to before but you can replace Yelan with Zhongli. 
Zhongli's Elemental Skill can lower Dendro RES so it's good at the same time provides a shield.
For Team Burgeon's recommendation, you can replace the Electro character on the Hyperbloom team with the Pyro character. 
The recommended Pyro character for the Burgeon team is Thoma because he can provide Pyro continuously for certain intervals.
Also Read: Genius Invocation TCG, Playing Cards A la Genshin Impact!
Thus, the build of Alhaitham Genshin Impact. Unlike Keqing, isn't it? 
For those of you who haven't gotten this character, don't worry. You can buy the trusted Genesis Crystal for gacha Alhaitham at VCGamers Marketplace yes!