This time we will review the build Mia Pascal pain. So you can use the same build item arrangement for this hero.
This hero with the Marksman role is one of the strongest heroes in the game Mobile Legends. Not infrequently, he is a hero who is often chosen or the target of tires when you are dealing with the opposing team.
Pascol is also a talent GPX  really appreciate the potential that this hero has. In fact, Pascol is seen playing his flagship hero in various styles.
Arif_budiman
IDR 50,000
62%
IDR 18,900
He played Miya already about 9000 games. The large numbers make it clear that Miya Pascol's build is really worth trying in the game.
Want to know what are Miya's Pascol-style build items? Straight to scroll in the review below.
Let's Top Up Diamonds in Mobile Legends Cheap, Fast and Safely at VCGamers Marketplace!
List of Miya Pascol Build Items
Usually coming in the middle of the game or at the end of the game, Miya's damage hurts a lot. This cannot be separated from the painful Miya build structure.
So, what are the Pascol-style Miya builds? Let's see!
Berserker's Fury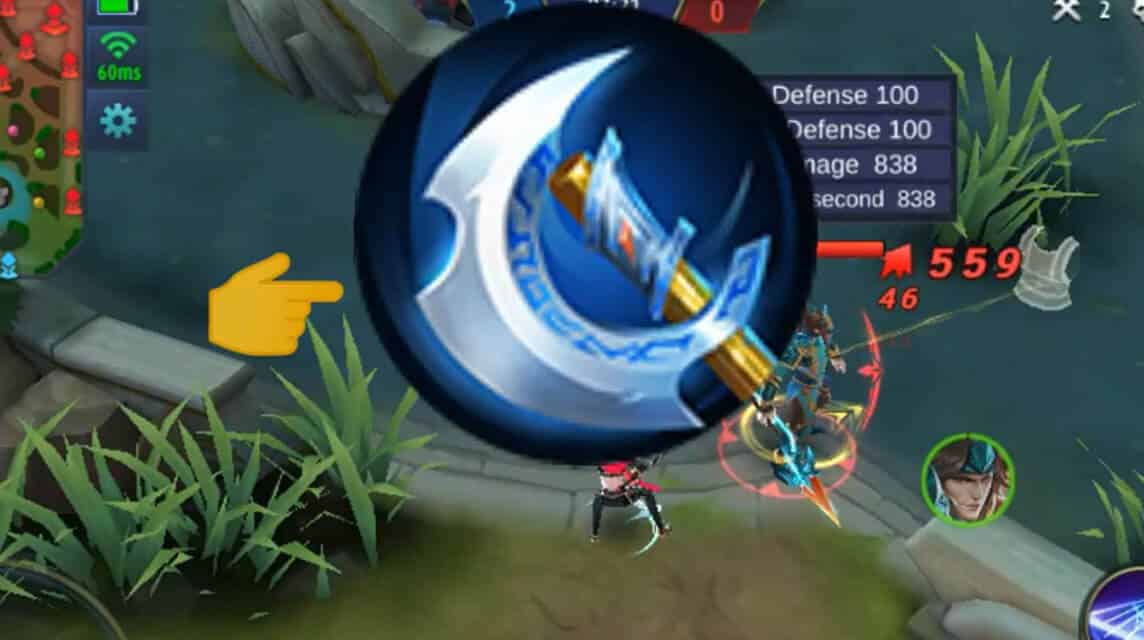 As a runner, Miya is one of the heroes who doesn't do any damage at the start of the game. The presence of Berserker's Fury that Pascol bought was actually to shorten farm time. 
After purchase, users will get +65 Physical Attack and 25 percent heavy damage to enemies. In addition, the special attribute will add +40 percent critical damage. 
In fact, his Doom special effect can increase a hero's physical attack by 5 percent for two seconds. It just so happens that every threat is dangerous, not terrible.
Windtalker
Miya needs attack speed from the start of the game, so it's not surprising that Pascol bought Windtalker in the early minutes. When you use this item, the hero can freely move to the farm and jungle.
Because this item can provide +40 percent Attack Speed, +20 Movement Speed, and +10 percent Critical Hit Chance. 
Not only that, this item also has an interesting effect, namely every 3-5 seconds a basic attack that is triggered will cause more damage, namely Typhon, and the ability to hit 3 enemy heroes and a total of 100 breaks. magic.
Also read: The Most Beautiful BA and GPX Talent 2023, Make Salting!
Swift Boots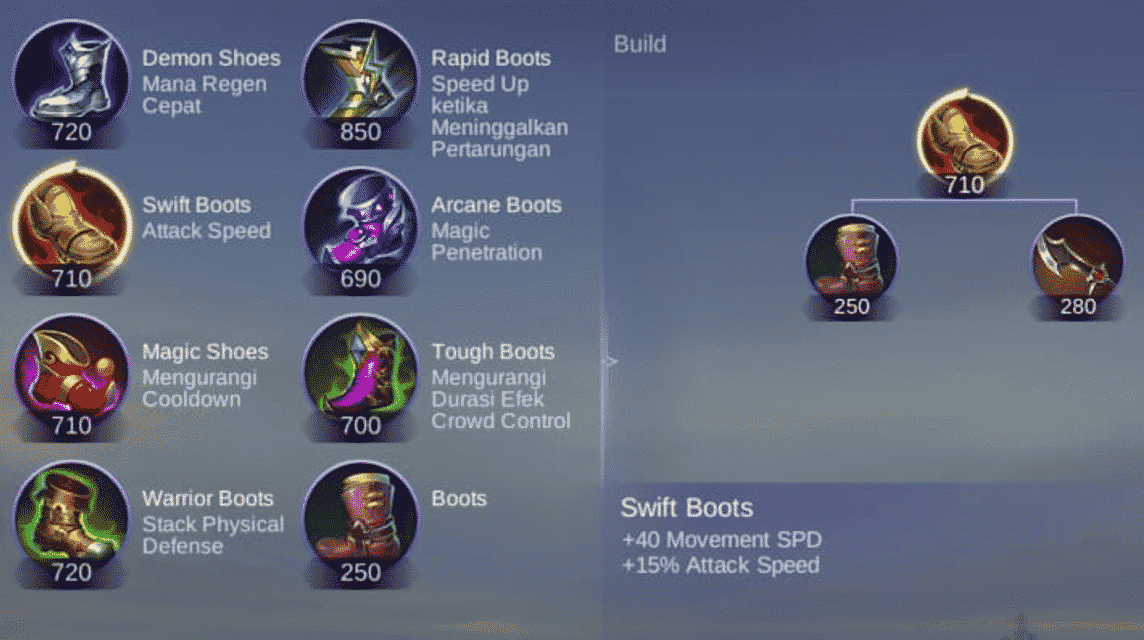 This item will be useful in terms of speed when you are farming using Miya. Because Swift shoes will add 15 percent attack speed. 
These shoes are perfect for sniper work heroes because this hero uses attacks that are more important than his skills. A fast main attack will make it easier to support enemy defenses. 
For this reason, fast boots are important for heroes who rely on basic attacks, because they provide an additional +15 percent attack speed. Heroes who deserve to wear these shoes are Miya, Laila, Hanabi, Irithel, Roger, Sun, Bruno, Moskov and others.
Scarlet Phantom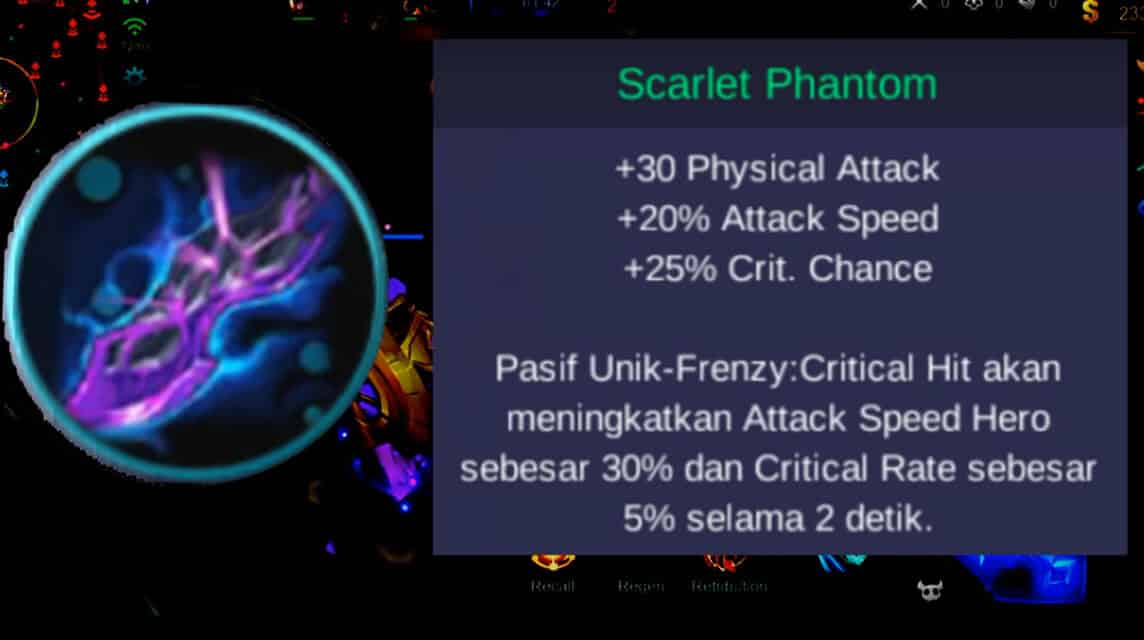 Scarlet Phantom is very important for this hero in the late game and is often used by Pascol. You have to work fast and collect gold to buy the Scarlet Phantom item at a price of 2000 gold. 
This item will be very useful for increasing the damage that Miya deals in the first game because it will add 20 [percent attack speed, 30 percent physical attack, and 25 percent critical chance.
Attack speed and critical chance are definitely the first donna in Mobile Legends and Scarlet Phantom offers both. In fact, these 3 upgrades make your hero's damage even more painful.
H
aas' Claw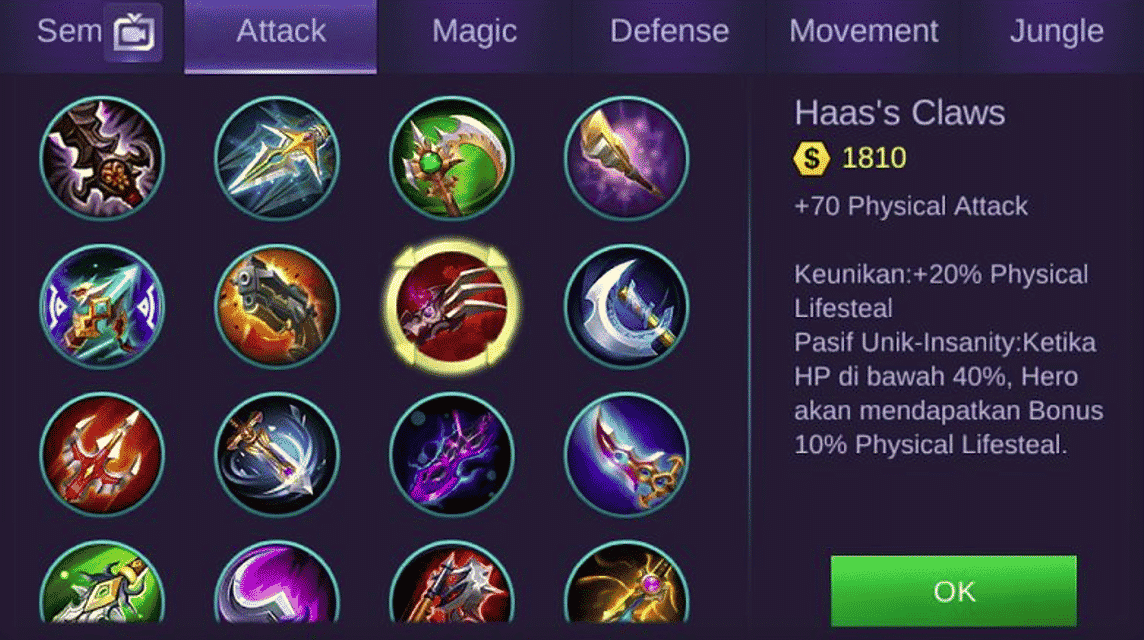 To make up for Miya's lack of escape, the build you need to buy next is Haas' Claw. The Haas' Claw item will make Miya difficult to kill and is indeed a core item for this hero. 
When you buy this item, make sure you don't run away when dealing with your enemy. You just have to survive when the enemy attacks you.
As an offensive item, Haas Claw is used because of its high defensive ability. Apart from that, increasing Physical Attack can also be the second reason why heroes pack this item. 
In practice, Haas's Claw is often an alternative to Endless Combat and Bloodlust Ax to increase physical attack while increasing life (or Spell Vamp for Bloodlust Ax).
Also read: This is the Painful Miya ML Build Item Season 24, Auto MVP!
Keep up with the latest and most complete game news at VCGamers News!