If you are a Tank hero user and want to make your hero even more invulnerable, then you need these 6 best ML defense items.
Hero Tank is one of the heroes who acts as a lead role in Mobile Legends. Tanks have the function of moving along the sidelines. That way, the tank must meet the enemy while roaming. Apart from that, the tank also has to charge its friends if it wants to fight.
So, tanks need to know which ML defense items to use when fighting and roaming. You surely know, things are done according to the enemies you meet in Mobile Legends.
Arif_budiman
IDR 50,000
62%
IDR 18,900
Here we will provide recommendations for 6 ML defense items for Mobile Legends heroes, please refer to the following explanation.
List of Defense ML Items for Tanks
Defense ML items are very strong in resisting enemy attacks. Statistics that increase a hero's defense do several things in Mobile Legends that can withstand enemy attacks and make it more difficult to beat your hero. 
But it depends on its use, because each eye item also has different skills. There are those who can withstand magic damage attacks, there are also those who carry out enemy attacks that do not exceed a certain amount.
Athena Shield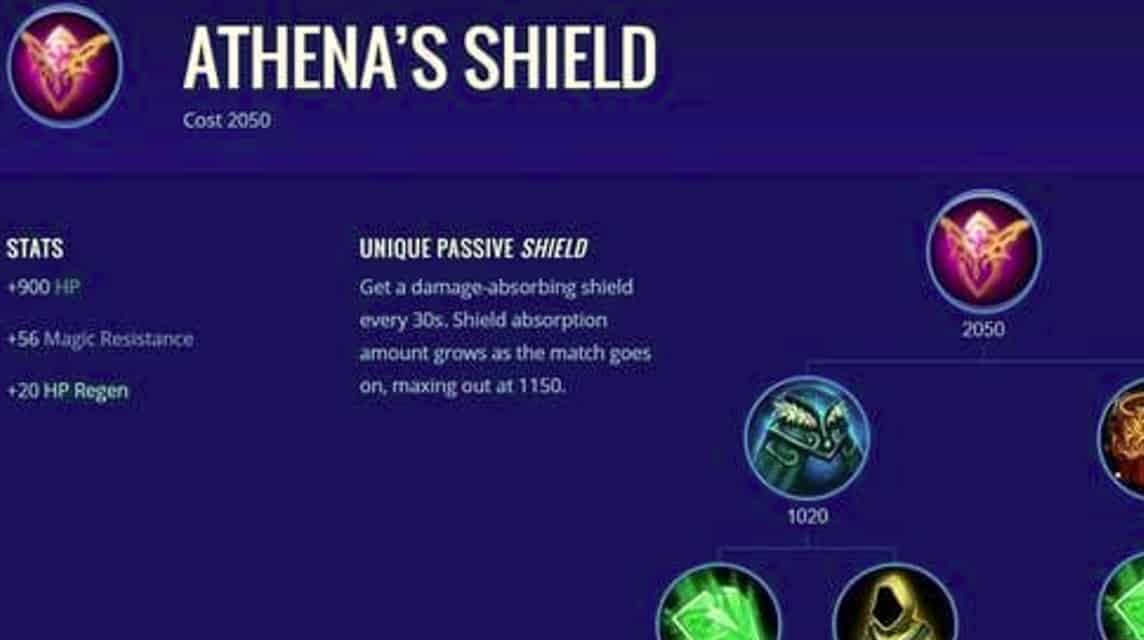 The first ML defense item from what is called the Athena Shield. Of course, tank users always use this thing. This can be seen when the opponent uses the heroic belly.
Athena Shield is a mandatory item for tank users. This item is suitable for resistance to magic explosion damage (1x combo). Examples of heroic mages are Eudora, Vale, Kadita and Kagura.
Items with very high magic defense can withstand enemy magic attacks well. This item will also provide more HP health and defense.
This item will also provide an additional shield every 30 seconds. Shield on this item will be higher along with the longer duration of the game. Therefore, this item can be very strong to withstand enemy magic damage.
Radiant Armor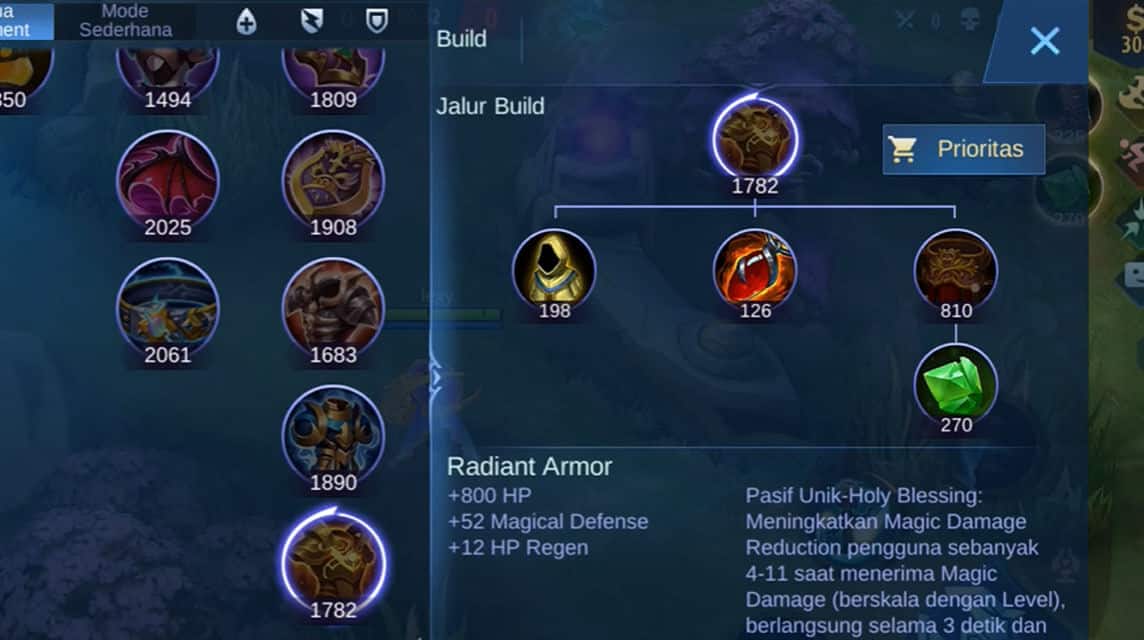 Radiant Armor is also a mandatory item for tank users. Make sure you always see this thing when the user's tank is in the Mobile Legends game.
This item will provide +950 HP, +52 magic defense and +12 HP rain. Radiant Armor is suitable for providing DPS (continuous magic) magic damage. Examples of heroes are Chang'e, Kimmy, Yve and Odette.
This item will give no more than 900 damage to the enemy. Usually used when facing enemies with high explosive damage. You can only withstand 1 attack. Because this thing has a cooldown of 4 seconds to use. However, the damage you get is also minimal.
Wind Of Nature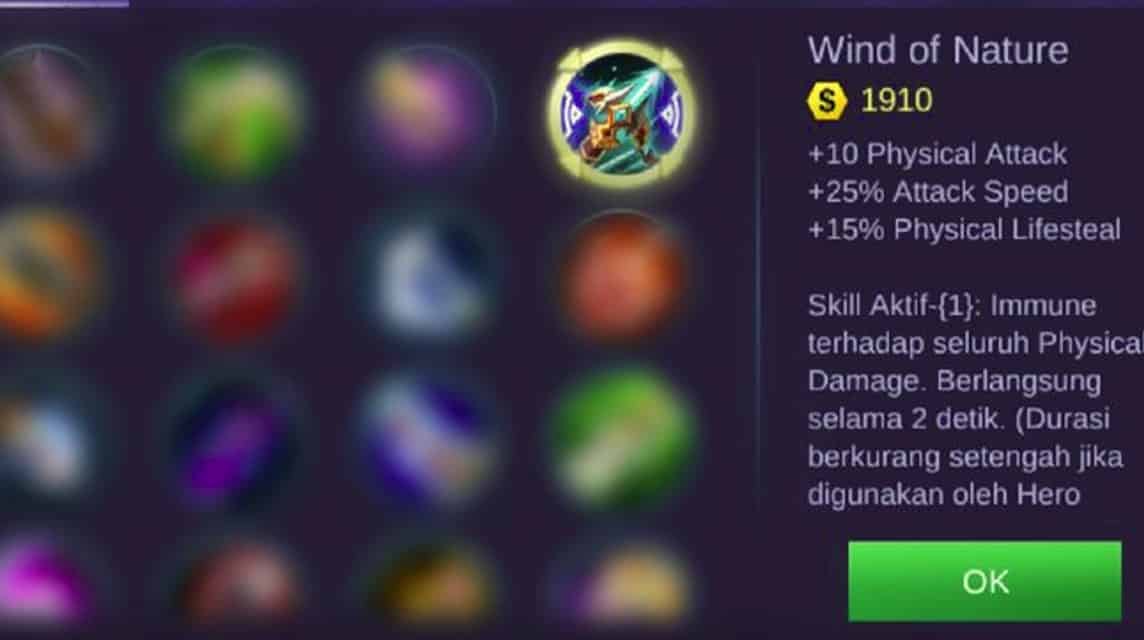 Things that prevent you from taking physical damage from enemies. This object skill removes the physical damage inflicted by the enemy. Because of that, you can prevent enemy attacks.
Items with this hero are mostly attack heroes used as opposed to high defense. However, you can also use it as a battle against existing tanks.
Blade Armor
This item is a mandatory ML defense item for users Tank heroes. It is proven by pro players who often use this item. That's because this item can provide +90 physical defense. So there's no doubt that this item is a favorite of tank users. 
This Blade Armor item is suitable for countering DPS physical damage and attack speed. Countered heroes like Sun, Wanwan, Claude, and many more. This item is usually purchased to treat a painter with a painful injury.
Antique Cuirass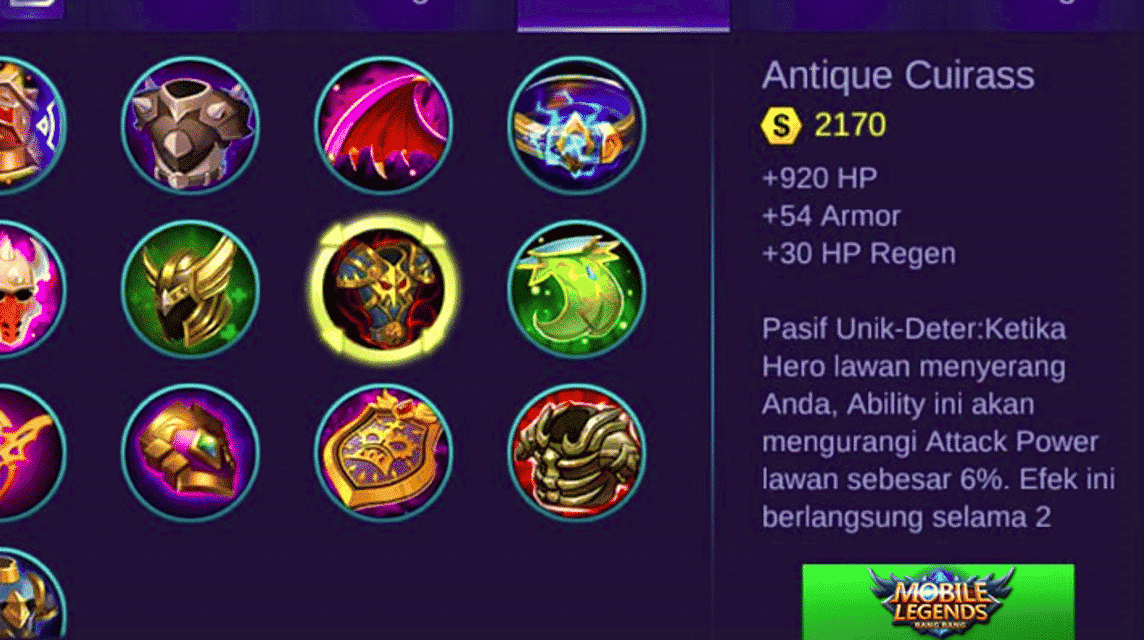 Antique Cuirass is an important ML defense item for Hero tank users. This object is often used by world champions and professional players. Antique Cuirass can provide +920 HP, +54 physical defense and +30 HP rain. Therefore, Antique Cuirass was a target item for players with paper tanks.
This is perfect when you face an opponent with an explosion of physical damage (1x combo). Examples of heroes are Saber, Lancelot and Natalia. Most of these items are selected when the opponent uses the hero killer.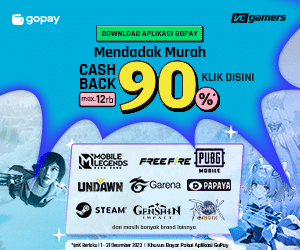 Item Defense ML counter high damage to deal damage to the enemy when he attacks you. If you are attacked by an enemy, the damage to the enemy will be reduced, both physically and magically.
This item is usually used by tanks or warriors if they want to lead a team fight. When an enemy attacks, the damage the enemy has decreases when they attack you.
Also read: Recommendations for the Strongest Counter Yin Items in Mobile Legends 2022
Twilight Armor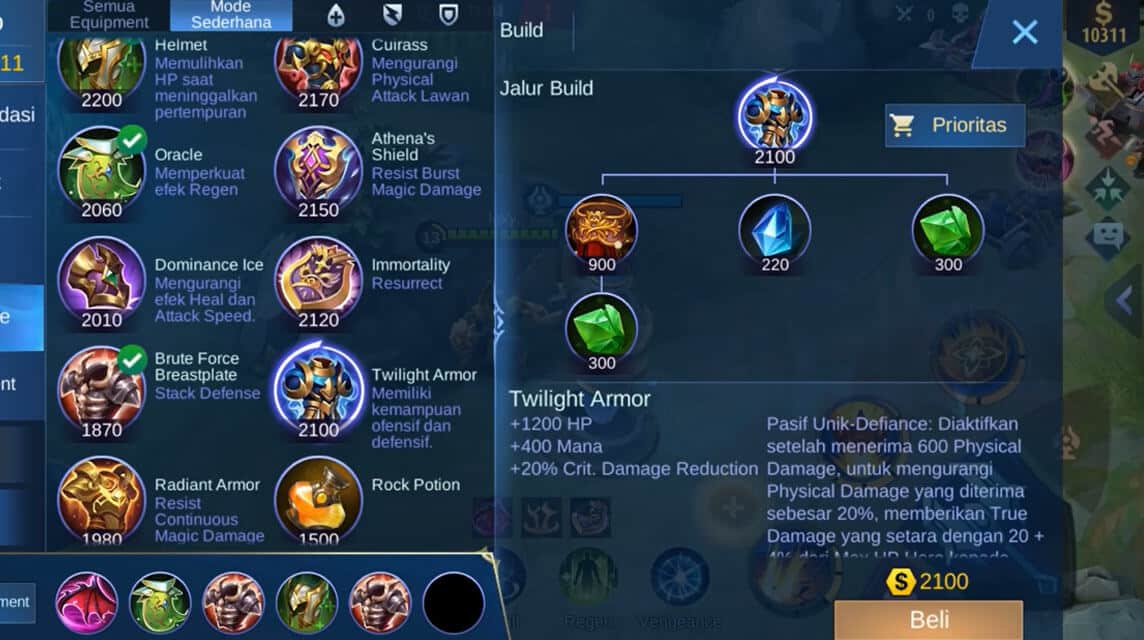 The last item a tank user needs is Twilight Armor. This item is very important for you to buy when the ground is down. Twilight Armor can provide +1200 HP, +400 mana, +50 HP rain. So there's no doubt that this thing is a favorite of professional players, especially tankers.
Twilight Armor is perfect for preventing critical damage (multiple damage). Examples of heroes in question are Aldous, Clint, Yi Shun Shin, Bruno and many others.
Also read: Recommended Brody Build Items in Season 24 ML, Win Streak!
So, above are a number of mandatory ML defense items, especially for Mobile Legends tank users. There are many and different ML defense items with different effects. However, the 6 items above are ML defense items that are always chosen and play an important role in ranked games.