VCGamers x Auto Sultan Capital held a Community Talk event on Friday 17 June 2022. Various things were discussed at the event.
Among them, what is VCGamers about, what products are offered to about the uses of $VCG Token.
The event received responses from various channels. This can be seen from the presence of questions on Twitter to telegrams.
Let's see the results!
Also read:
Get ready! RansVerse Land Sale Will Be Held June 30, 2022
Yeay! EIGER Adventure Coming to RansVerse Soon
Selling Well, Hundreds of RansVerse Land Sold Out in 35 Minutes
Community Talk VCGamers x Auto Sultan Capital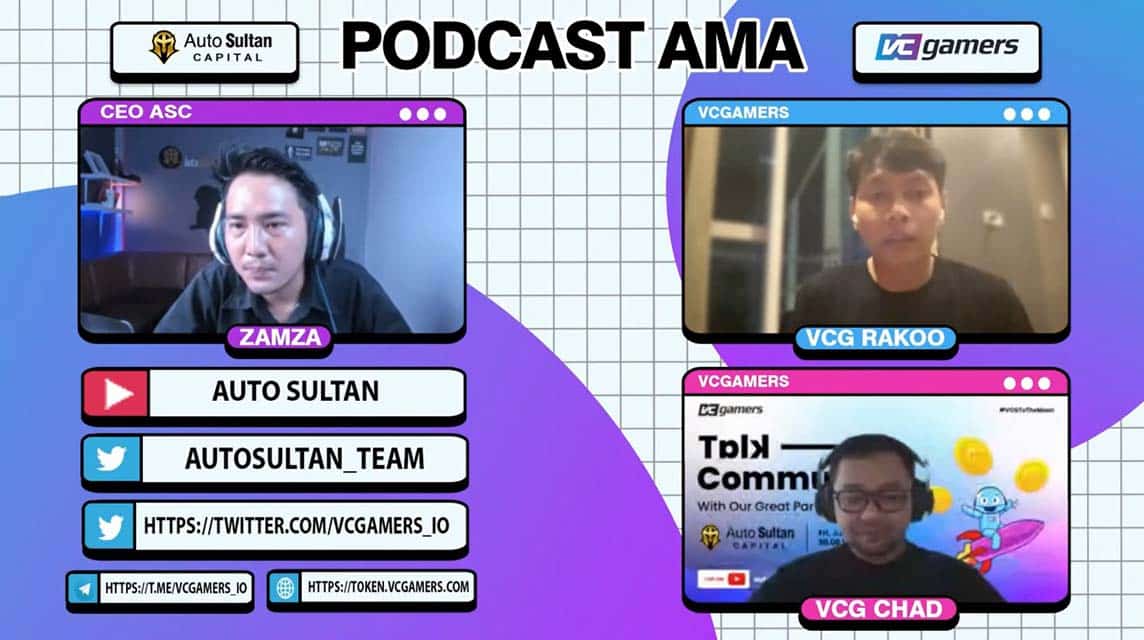 During the event, a number of issues were discussed. It all starts with what is VCGamers first.
VCGamers is the pioneer of the web3 ecosystem for gamers in Indonesia. VCGamers starts from the gaming community and then builds marketplace which provides the needs of game players in Indonesia.
VCGamers raised US$ 2.2 Million or equivalent to IDR 37.3 billion in seed funding led by Venture Capital Global, BEENEXT and RANS Venture.
After that, supported by blockchain technology, VCGamers launched a crypto token named $VCG Tokens early January 2022 ago.
$VCG Token has various uses such as the product that is currently running, namely the first metaverse in Indonesia.
Also read:
Hooray!!! $VCG Token Passes CertiK Audit
Latest! VCGamers Officially Launches $VCG Swap
Yeay! EIGER Adventure Coming to RansVerse Soon
$VCG Token is the only medium of exchange that can be used in the metaverse which was built in collaboration between RANS Entertainment, ShintaVR, UpBanx and VCGamers.
In other words, the economic activities that you carry out in the metaverse can only use $VCG Token.
Currently the sale of RansVerse land to the public has begun. During the sale of stage 1 or Initial Land Offering (ILO) RansVerse 1.1 some time ago, hundreds of RansVerse lands were sold in 35 minutes.
You also have the opportunity to own assets on RansVerse. Because, in the near future, to be precise on June 30 2022, ILO RansVerse 1.2 will be carried out.
A number of brands and educational institutions will also be part of RansVerse. Among them are the Bandung Institute of Technology School of Business and Management (SBM ITB) and also EIGER.
In addition, on this occasion it was also conveyed that $VCG Token is not an artist token because Celebrity Raffi Ahmad's RANS Venture acts as an investor for VCGamers.
Then, it was emphasized that VCGamers focused on the Road Map that had been prepared. This can be seen from the emergence of various features that are in accordance with the existing Road Map.
By being consistent and presenting a clear project, the trend of increasing VCG holders has continued to show improvement since it was launched in early 2022.
In fact, the number of VCGamers holders has exceeded 11 thousand in early February 2022. Apart from that, VCGamers has also passed the CertiK Audit.