VCGamers officially launched one of its newest products called ARENA. You can create and take part in free tournaments and form a team at ARENA.
ARENA allows you to easily create esports tournaments. Besides that, you can also get acquainted with other gamers and join a team in ARENA.
For more details, let's see what is ARENA!
Also read: How to Buy a Steam Wallet on VCGamers, Fast and Easy!
ARENA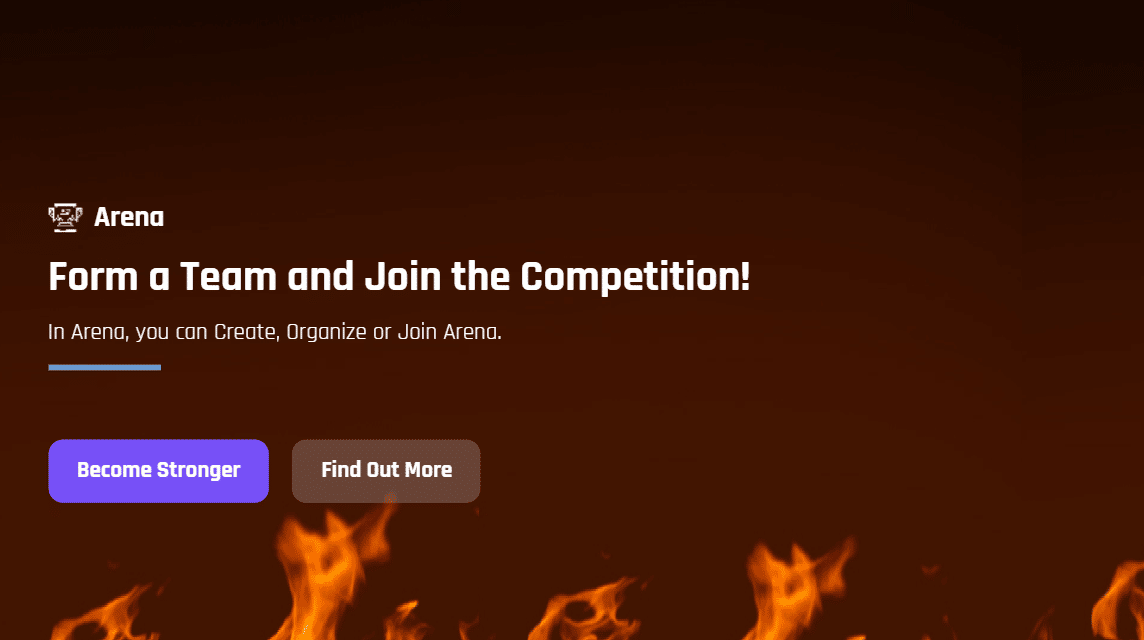 ARENA is a product of VCGamers that allows its users to easily create and join tournaments and get other friends.
So, ARENA is perfect for those of you who want to create or take part in tournaments. Also, for those of you who usually play games alone.
There are two main features of ARENA, namely TOURNAMENT and TEAMS. Here are the details:
Tournaments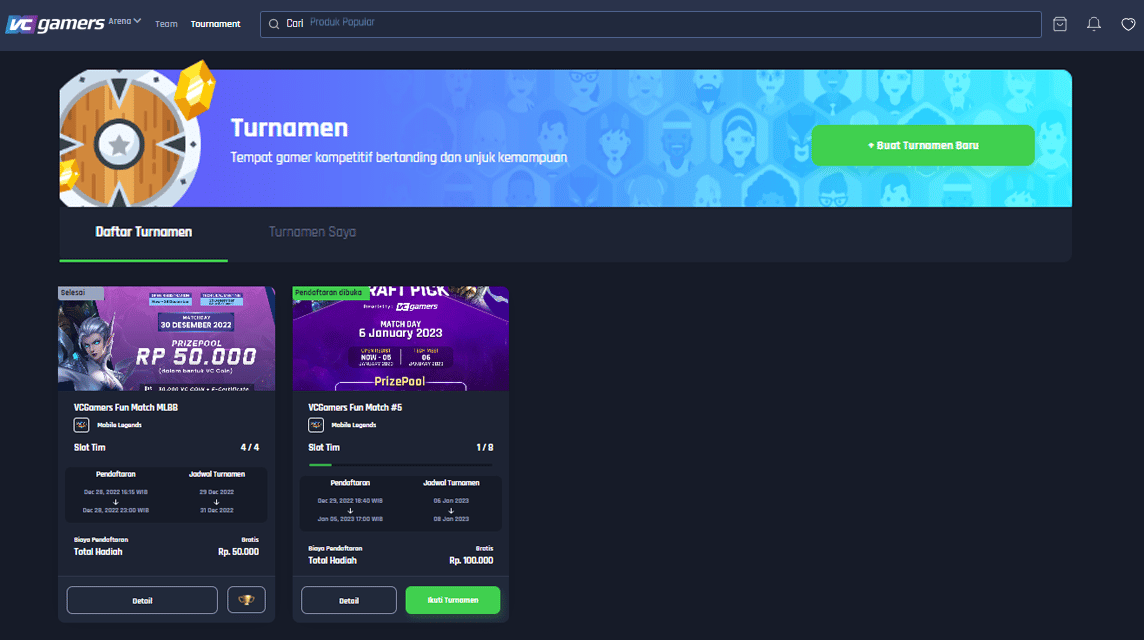 Tournament in the ARENA is a feature that can used to run a tournament or follow a tournament. 
To make a tournament in ARENA also only takes about five minutes. You only need to fill in the available fields. If so, then your tournament will be reviewed by the VCGamers Team.
After that, you can hold a tournament by setting the number of teams, total prizes, aka prize pool, and more.
There is also convenience for those of you who want to take part in tournaments in the ARENA. You just need to look for it with the available menu options.
The following is the menu in ARENA:
HomeTournament
Filter and search: With this feature, you can quickly find the tournament you want through the search feature. To do this, you only need to type the name of the tournament. 
Currently, there are three filters that can be used. You can filter by type of game, filter by status and filter by total prizes.
In addition, there is also a list view mode. Where, you can change the display mode on the 'tournament list' page.
My Tournaments
"My Tournaments" is a tab that is provided for all tournaments that have been created and tournaments that are participated ini.
Filter by game title: You choose a game title to filter the tournament list.

Approved is a section for all tournaments that have been approved by the VCGamers admin, or tournaments that we participate in as participants with the following status options

All Approval: All tournaments that have been approved

Upcoming: All approved tournaments with upcoming registration dates

Registration open: All approved tournaments with open registration dates

Registration closes: All approved tournaments with closed registration dates

Ongoing: All agreed-upon tournaments with the current tournament date starting

Completed: All approved tournaments with completed tournament conditions

Canceled: All tournaments that were canceled because there were no participants registered or less than the organizer wanted.

Request

All requests: All tournaments that request

Waiting for approval: All tournaments waiting for admin approval 

Rejected: All tournaments that were rejected by the admin
Create a New Tournament
This feature is to add a complete new tournament both from the explanation of registration opening until the tournament is over. Including the number of prizepools in the tournament you are holding.
You only need about five minutes to create a tournament in ARENA. Later, the tournament that you create will be reviewed first by the VCGamers Team. 
If it is suitable, then your tournament will be available on the main page so that it can make it easier for those of you who are looking for a tournament to join.
For details, the following is a list that must be filled as follows: 
Tournament name: You must fill in the name of the tournament they want to create. And next to it is the url with the name of the tournament

Tournament description: You are asked to write a description of the tournament that he created, in order to provide information to potential tournament participants about the tournament. 

Choose a game: You are required to choose a game available on VCGamers for the tournament he created

This tournament has 3 winners: You are asked to fill in yes or no for the 3rd place winner

You can choose the number of participants for the tournament, which currently the number of choices has been provided, you cannot type directly. The options are as follows: 2, 4, 8, 16, 32, 64, 128 to 256.

You must determine the minimum number of participants in one team.

Hide Participant List from tournament profile: You can choose to hide the participant list

Include your tournament registration form link (Optional): You can include the registration form link

Tournament Type: When creating a tournament you must choose one of the existing tournaments. And for now only Single Elimination is available, a type of tournament in the ARENA with a one-time play system for each phase or round and the losers fall immediately while the winners advance to the next stage.

Registration Deadline: You are asked to enter a deadline for the start of registration until registration closes. The following must be added as follows: 

Open date 

Opening hours (WIB)

Closing date

Closed hours (WIB)

Tournament Start Time: You are asked to enter the time limit from the start of the tournament until the tournament ends (start date, close date)

Cover Image: You must upload a tournament banner with a maximum of 5 MB .png/.jpg

Registration fee: Currently you cannot apply a registration fee alias free/free for every tournament created at VCGamers Arena.

Total prize: You can enter the total prize from the tournament he created, which is mandatory

Terms and conditions: You can write terms and conditions for the tournament.
Tournament Details
Participants: There is a list of team names as participants in the tournament

Schedule: To see the schedule of matches that have occurred and what will be in the future

As an organizer: the organizer will be required to fill in a time and date schedule in each existing schedule. So there is an action button that only the organizer can see and use:

Change Schedule

Game Pause

End Game

Change Score

As a participant: you cannot see the action button, you can only see the date and time the tournament is taking place, the name of the team that will be facing each other along with an update on the score and the status of the match whether it has been completed, upcoming or ongoing.

Brackets: to see an overview of the brackets along with the results of each match from the tournament

Terms and conditions for tournament participants: provide the terms and conditions that have been made by the organizer.
Also read: Let's Become a VCGamers News Contributor and Get Millions of Rupiah!
TEAMMS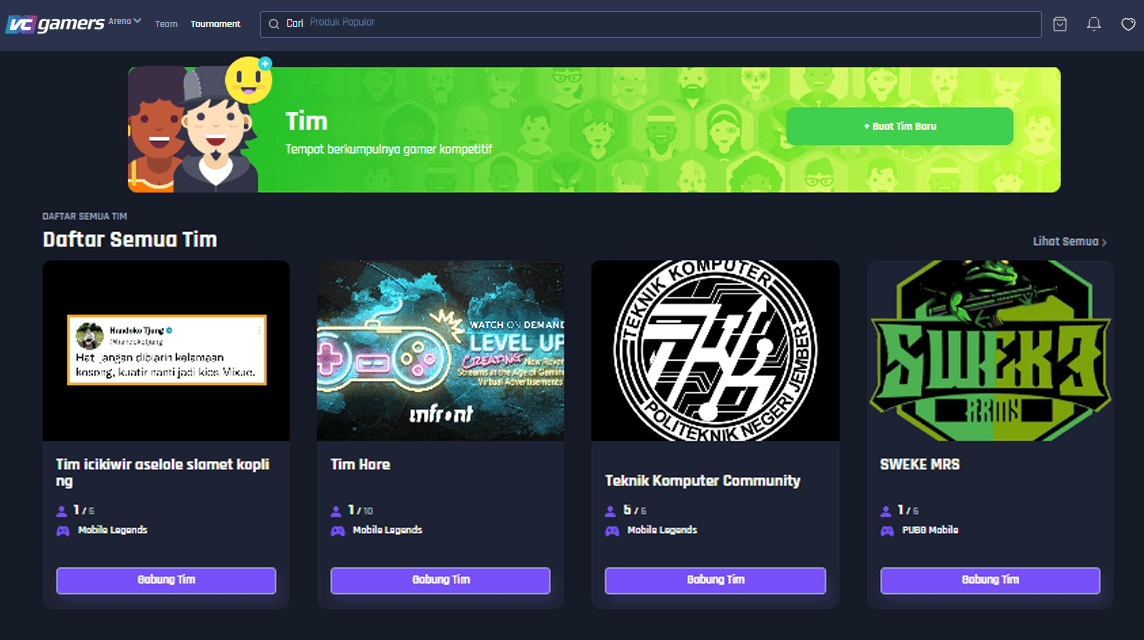 The next feature that has arrived at ARENA is TEAMS. This feature allows all Vicigers to create a team or join an existing team.
There are several menus in this feature. Among them are:
HomeTeam 
Popular Team (Manual by admin): Selected section team selected by admin. 

List of All Teams: A collection of all the teams in the Arena

My Team List: A collection of teams that you created and also joined as a team member
In each section, there is a searching feature by typing in the name of the team that you can search for and filtering teams based on the game
Create New Team 
You can create a new team with games that can be chosen. This team will be used later when you want to register as a tournament participant. Because the conditions for registering for the tournament must have a team
Team name: You are asked to enter the team name

Tagline team : You can enter a tagline for the team

Game played : You must choose a game name, from the many games available at VCGamers for the team

Username in-game: the name of the owner in the game selected in this team

You_id in-game: Id of the selected in-game owner in this team

Team Description: You can write a description about the team

Member Capacity: You enter the maximum limit for how many team members there are. Maximum 10 members

Website Team Link: You can enter a team url link

Cover Image : You can include a cover image on the team details page

Create Team: button to create a team if all required questions have been filled in
Team Profile
Statistics: Data on the results of the history of matches that have been run by that team. The data are as follows; 

Match totals

Winning percentage

The number of times won 1st place

The number of times won 2nd place

The number of times won 3rd place

Tournament Participation: View all tournaments that the team has participated in with all tournament statuses. Both the upcoming one until it's finished

Join Team: You can request to join any team he wants, by clicking the join button then filling in the username and user id in game

Accept or Reject Join Requests: Only the team leader can accept or reject your request to join the team

Invite New Members: Team leaders can invite other people to join as members of their team

Exit: You who are already a member can leave a team that has joined at your own will

Releasing Members: The team leader can also expel members who are already part of his team

Member List: List of usernames that are members of the team
Register ARENA
Now you can register at ARENA by using an account VCGamers what you have.
Find new friends and build a team in ARENA! Then take part in existing tournaments and win prizes! While Free!  Register Here.