Akuomaru is one of the Claymores Genshin Impact which was released as part of the Watatsumi weapon series.
The Watatsumi series is a blue weapon series that focuses on increasing ATK for its use.
This set consists of Akuomaru (Claymore), Mouun's Moon (Bow), and Wavebreaker's Fin (Polearm). Akuomaru was first released along with the 5-star Polar Star bow. 
Cheapest Genshin Impact Products!
Arif_budiman
IDR 50,000
62%
IDR 18,900
This time, VCGamers will discuss in detail about Akuomaru's sword, starting from its stats, ascending materials, to the best Genshin Impact characters that are suitable for using this weapon.
Also Read: Genshin Impact Stats Guide and Explanation, Must Know!
Akuomaru Genshin Impact
Akuomaru is an exclusive 4-star Claymore that you can get from Genshin Impact's limited banner Gacha system.
Akuomaru when this article was written has been re-released as a banner weapon update 3.7 along with Kagura's Verity and Thundering Pulse.
Akuomaru Genshin Impact Stats
Akuomaru's main stat will provide additional ATK stats and additional ATK% in the second stat. So, very good especially for DPS characters.
The additional total ATK granted is 42 at level 1, up to 510 at level 90. In addition, the added ATK% will grant 9% ATK at level 1 to 41.3% ATK at level 90.
Besides increasing ATK and Crit DMG, characters using Akuomaru will also get a bonus called Watatsumi Wavewalker.
Watsumi Wavewalker will provide increased DMG from Elemental Burst of this weapon user. 
For each point of the entire party's combined maximum Energy capacity, the Elemental Burst DMG of the character using the weapon will increase by 0.12% at refinement 1. At max refinement (R5), Elemental Burst DMG increases by 0.24%.
The maximum Elemental Burst increase without refinement will give a 40% increase at refinement 1. At R5, the maximum Elemental Burst DMG is 80%.
Ability bonuses Watsumi Wavewalker is one of the unique weapon bonuses.
Watatsumi Wavewalker will calculate the total Elemental Energy from Elemental Burst needed by all the characters in the party you use.
That means, the more total needs (Energy Cost) needed by the characters in the party, the stronger the Elemental Burst DMG that can be given by Akuomaru users.

Also Read: Genshin Impact 3.7 Special Program Recap: Kirara, TCG New Mode, and Fontaine
Ascension Materials
The materials you need to ascend Akuomaru's sword are as follows:
Drops

of Nobushi's enemies namely: Old Handguard, Kageuchi Handguard, and Famed Hanguard. 

Branch of a Distant Sea's ascension material set: Coral Branch of a Distant Sea, Jeweled Branch of a Distant Sea, Jade Branch of a Distant Sea, and Golden Branch of a Distant Sea.

Drops

from Elite Enemy Riftwolves enemies namely: Concealed Claw, Concealed Unguis, Concealed Talon
Riftwolves are wolf-shaped enemies that can be found on the island of Enkanomiya, Inazuma. There are 4 types of Riftwolves that can provide material drops, namely:
Rockfond Rifthound

Rockfond Rifthound Whelp

Thundercraven Rifthound

Thundercraven Rifthound Whelp
Character Recommendations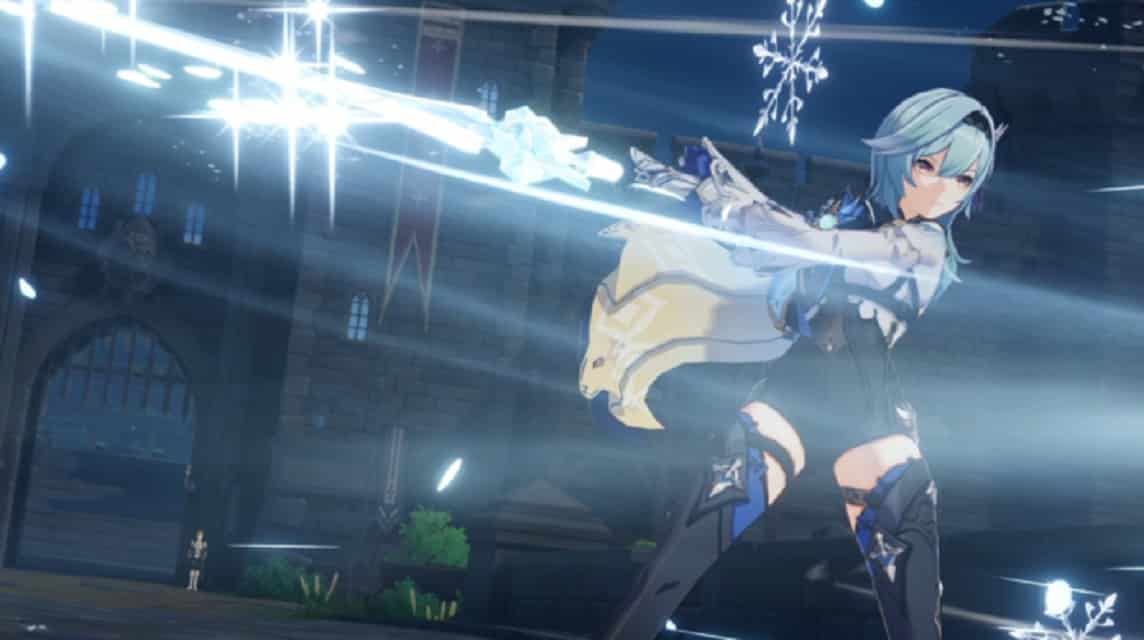 As previously discussed, Akuomaru will be very suitable for use by characters, especially Genshin Impact DPS characters in general.
The high base ATK and additional ATK% will make DPS with any element including Physical DPS have great DMG.
VCGamers thinks Akuomaru will be very suitable for use by the character whose talent kit focuses on using Elemental Burst as the source of the biggest DMG generator compared to other talent characters.
From the results of the VCGamers experiment, Akuomaru will be most suitable for Burst DPS builds such as Diluc, Chongyun, Dehya, Eula, and Razor.
The five characters are suitable for you to build with a build that has a focus on dealing DMG and attacking using Elemental Burst because the DMG scaling of Elemental Burst characters is quite large.
Apart from the characters already mentioned, other characters that can also be built with a focus on Elemental Burst DMG such as Kaveh, Xinyan, and Beidou are still possible to use this weapon. 
VCGamers doesn't recommend Arataki Itto and Noelle because both characters need more DEF stats. Likewise with Sayu and Dori who need the Energy Recharge stat.
Also Read: Build Dehya Genshin Impact: Skills, Artifacts, Weapons, and Team Comps
Those are the character recommendations that are suitable for using Akuomaru. For those of you who haven't gotten this weapon, you can get it in the banner for the first part of update 3.7.
Don't forget to buy the trusted Genesis Crystal for gacha at VCGamers Marketplace yes!