Skins Dyrroth in games Mobile Legends has now returned to receive attention from Moonton, after approximately 2 years of being abandoned without clarity.
It seems that Moonton has been "awakened" by the members player which always makes heroes Dyrroth as play partiesits in each matches. It is proved that in seasons 23 of these, Dyrroth even got counters a number of heroes metas like trios gold laner Clint, Brody and Beatrix.
With presence updates regarding clarity skins This Dark Lord, Dyrroth certainly would comeback and revive ranked matches in the arena Land of Dawn.
Arif_budiman
IDR 50,000
62%
IDR 18,900
Also read: Stuck On Epic MLBB Rankings? Do These Important Tips!
This article will focus on discussing skins which Moonton has released for Dyrroth, with the addition updates in the form of leaks 2 skins new.
5 Skin Dyrroth, The Fierce Dark Lord
Dyrroth – Orochi Chris
Skins Dyrroth, which was released in connection with the MLBB X The King Of Fighters collaboration, changed Dyrroth into more stylish.
When compared with default skinswhose nuances are dark and fierce, now Dyrroth appears with styles Orochi Chris character from games fighting the.
As you can see, Dyrroth is dressed like Orochi Chris, transforming styles and her hair color is brown. His attire was a purple short-sleeved shirt with gray-white jeans. Not to forget, there is a leather belt worn on his jeans.
Animation skins this is also made special, because Dyrroth will play Orochi Chris as a fighter with combos lightning attack. Dyrroth was also chosen because he was considered closer to Chris Orochi's character.
Visual effects of basic attacks, skills 1, 2 and ultimateHis attack was also changed to resemble Chris's Orochi attack. Fortunately, Dyrroth's visual effects have the same dominant purple color as the fighter's attacks.
It can be seen that all of Dyrroth's attacks are dominated by purple aura which makes the attack effect even cooler. Not to mention, Dyrroth also seemed to be more agile than usual.
You can only have skins this moment events Just past MLBB X The King Of Fighters 2019. Not only Dyrroth, heroes Chou, Guinevere, Karina and Gusion also got skins this.
Dyrroth – Ruins Scavenger
Skins Dyrroth next is skins Edition Starlight last year 2019. as skins Orochi Chris, Scavenger Ruins also completely changes Dyrroth's appearance. the difference, Scavenger Ruins showing Dyrroth becoming more frightening and cruel.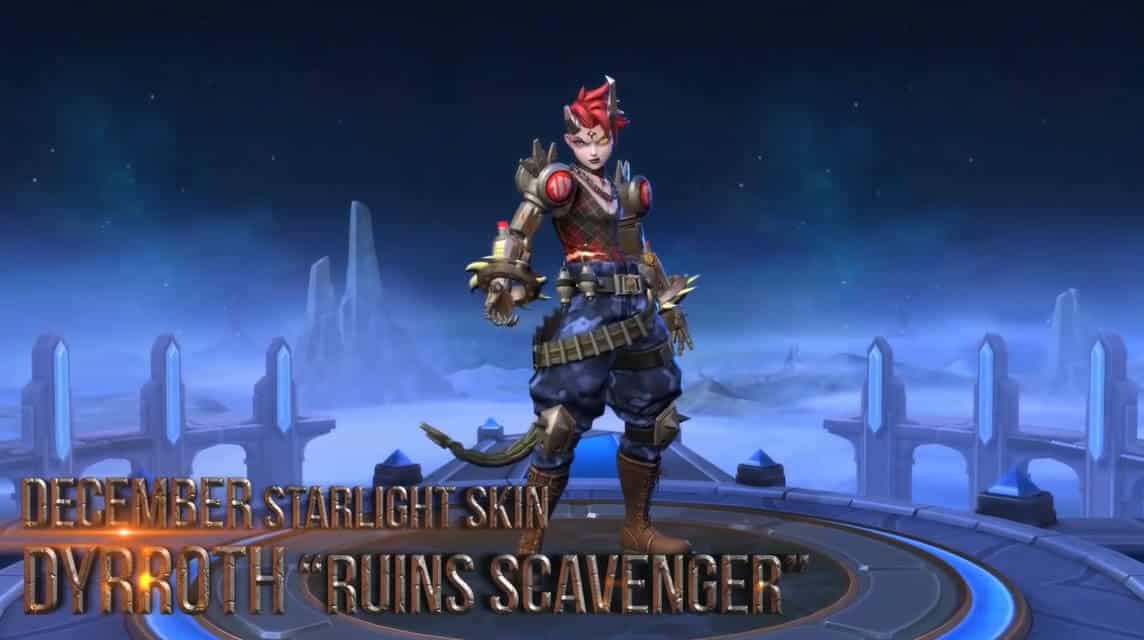 styles Dyrroth's hair was made childlike punks with a bright red color and some accessories that make it even more fierce.
Dyrroth's clothes were also getting scarier because he was wearing them shoulder guard with several sharp edges and looking like a mechanical hand. On both wrists there is also a kind of bracelet resembling an iron cutter that can rotate.
In his trousers, Dyrroth uses a belt to store ammunition, as well knee guard which also looks sharp.
Visual effects of skills 1, 2 and ultimatehas also undergone changes. This time, each Dyrroth was using one of the three skills After that, there will be a black aura effect and an iron cutter that follows it. This is especially deep skills 1 and 2 Dyrroth.
Skins which was released the same year as skins You can only get The King Of Fighters (2019) by buying the edition skin Stralight.
Also read: March 2022 MLBB Skin Collector Leaks
Dyrroth – Scalebore
One of skins Dyrroth, which you can get at any time, provides an alternative color of default skins-his.
Scalebore changing the color of Dyrroth's clothes from black to white, matched with his light purple pants. Can you see that in skins At this moment, Dyrroth became even brighter though his facial expression was still dark and grim.
For the visual effect of skins this doesn't change at all. However, skins this gives the impression of Dyrroth as heroes which is "relaxing but deadly".
To get skins this, you have to prepare diamonds as much as 269 to be exchanged at skin shop.
Dyrroth – Prince Of Light
In fact, skins Dyrroth has been leaking since 2021 and there are many player who are looking forward to its release. However, Moonton seemed to ignore Dyrroth until finally there was a leak about the animation from Prince of Light skins this.
Shown in the image quoted from channels YouTube Clickers Official YT, Dyrroth seemed to be enveloped by the light turning him into the prince of light.
Dyrroth is then shown with styles neater hair, calmer facial expressions and brighter clothes than default skins-his.
As a note too, artwork skins and the animation is still not in stage finals, so you have to be patient to wait for the release skins still pending this.
Dyrroth – VENOM Cobra
Different from skins Prince of Light, this time Dyrroth will also be put in squad VENOM by title skins Cobra.
Reported from channels YouTube Sena YS Gaming, you can see Dyrroth shown in black armor with green and purple gradations on his wrists and horns.
Unlike default skinshim, Dyrroth's facial expression also seemed calmer but still with his cold gaze. Skins this was leaked together with skins 515 this 2022 edition.
Also read: Take a peek at Skin 515 ML 2022, the design is futuristic!
Finally, after all this time, Moonton gave clarity to Dyrroth so he could comeback again in the arena. Could this be a sign that Moonton will also be releasing a lot skins unique in the future? Let's wait for the information, Vicigers!