Hi vicigers, on this occasion we will discuss the best goalkeepers in the game Fifa Mobile. The goalkeeper we will recommend this time is based on our experience when playing FIFA Mobile in manager mode.
Usually people will feel annoyed and dizzy the first time they play in manager mode. This is because the goalkeeper purchased did not meet expectations.
So, we will help you recommend the best goalkeeper based on statistics and performance in the FIFA Mobile game.
Cheapest Top Up Social Live!
Arif_budiman
IDR 50,000
62%
IDR 18,900
Also read: How to Get the Latest Prime Gaming FIFA 23
Best Goalkeeper Player in the Fifa Mobile Game
Here are some recommendations for the best goalkeepers in FIFA Mobile:
Lev Yashin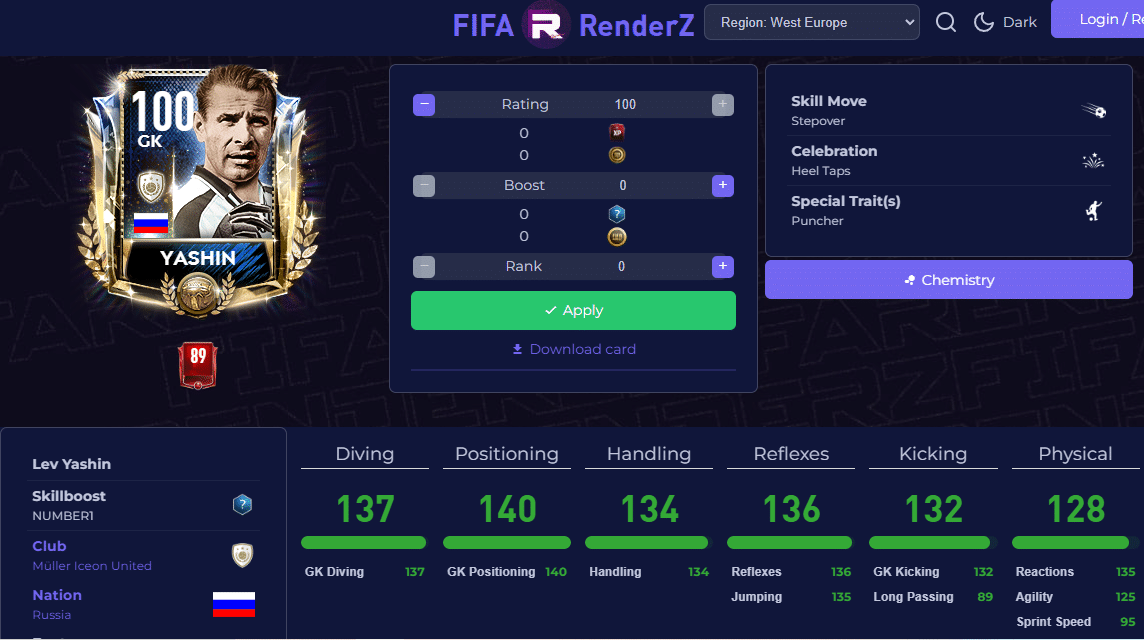 When discussing legendary goalkeepers in the world of football, one name that cannot be ignored is Lev Yashin. With the nickname "Black Spider" and an impressive reputation as one of the greatest goalkeepers of all time, his exploits on the pitch are an inspiration to many football fans.
In the FIFA Mobile game, Yashin comes with the same impressive toughness and skills, proving himself as the unshakable choice to protect the goal.
True Achievement in Digital Form
Lev Yashin in FIFA Mobile is a tribute to the incredible legacy left behind by this legendary Goalkeeper. In his classic look, in a memorable black jersey and gloves, Yashin brings an authentic presence to the world of fifa mobile gaming.
Impressive Statistics
When vicigers look at Lev Yashin's statistics in FIFA Mobile, there are several things that make him a standout goalkeeper. With a very high value of the ability to deflect shots, Yashin is able to respond deftly to various types of shots. Sharp reflexes and precise positioning make him always ready to face threats in the goal.
Goalkeeper Type: Wall
In the FIFA Mobile game, Lev Yashin is considered a "Wall" type of goalkeeper. This means that he tends to focus on being able to thwart well-positioned shots, as well as responding quickly to incoming shots. This type of goalkeeper is very suitable for players who want to rely on a goalkeeper who can maintain position and make spectacular saves.
Historical Symbol of Goalkeeper Lev Yahsin
Yashin is not just an ordinary goalkeeper, but also a symbol of football history. Having a distinguished career at club and international level, he won the first Ballon d'Or for a goalkeeper in 1963. His presence in the game paid fitting tribute to the huge role he played in elevating the goalkeeping profession.
With his impressive stats and brilliant ability, he has established himself as a solid choice to start in goal in matches.
Also read: How to Play the World Cup on FIFA 23, Do This!
Emi Martinez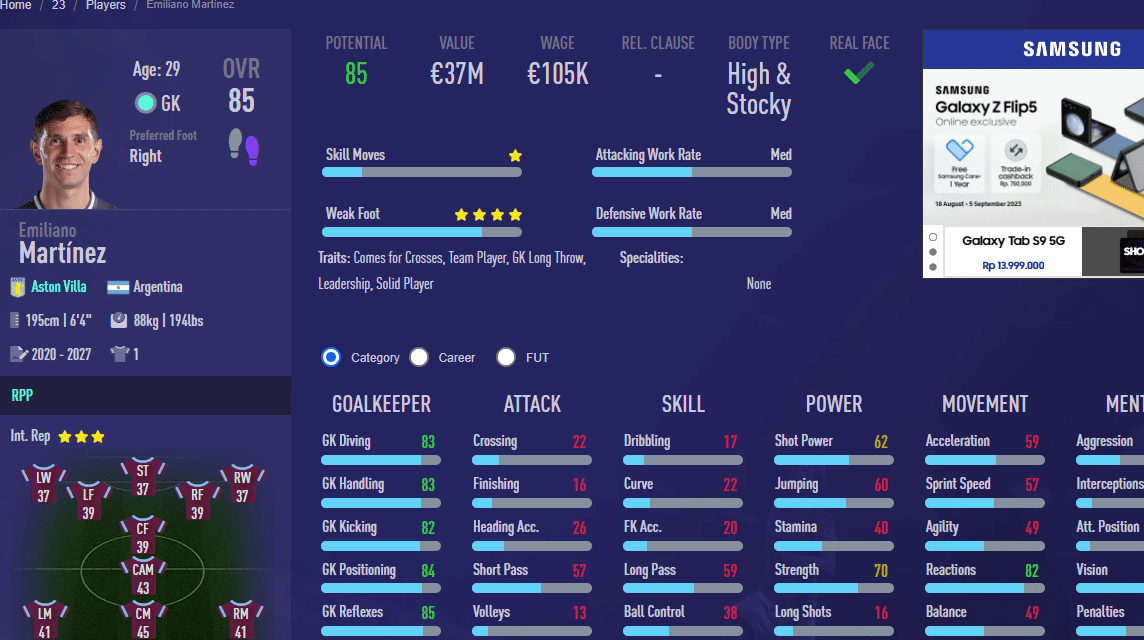 Emiliano Martinez is a goalkeeper who has experienced an interesting journey from club level to becoming an irreplaceable part of the Argentina national team. His presence in the FIFA Mobile game brings the same charm, and let's explore more deeply about his work in this virtual world.
Impressive Statistics
What is interesting about Emi Martinez's statistics is that his reflex value is quite high, allowing him to respond quickly to opponent shots. Strong handling and accurate diving are also important assets in his ability to deal with various situations in the penalty box.
Characteristics of Goalkeepers with High Potential
Martinez in the game is considered to have high potential for development. This means, with proper training and experience, he can become one of the best goalkeepers in FIFA Mobile. If you have the patience to develop her potential, you can observe how her appearance grows and becomes more and more impressive.
Relatively Unpredictable Character
Emiliano Martinez at FIFA Mobile is an example of passion and potential. With promising statistics and unpredictable characteristics, he offers an exciting playing experience for players looking for a goalkeeper with high potential.
David De Gea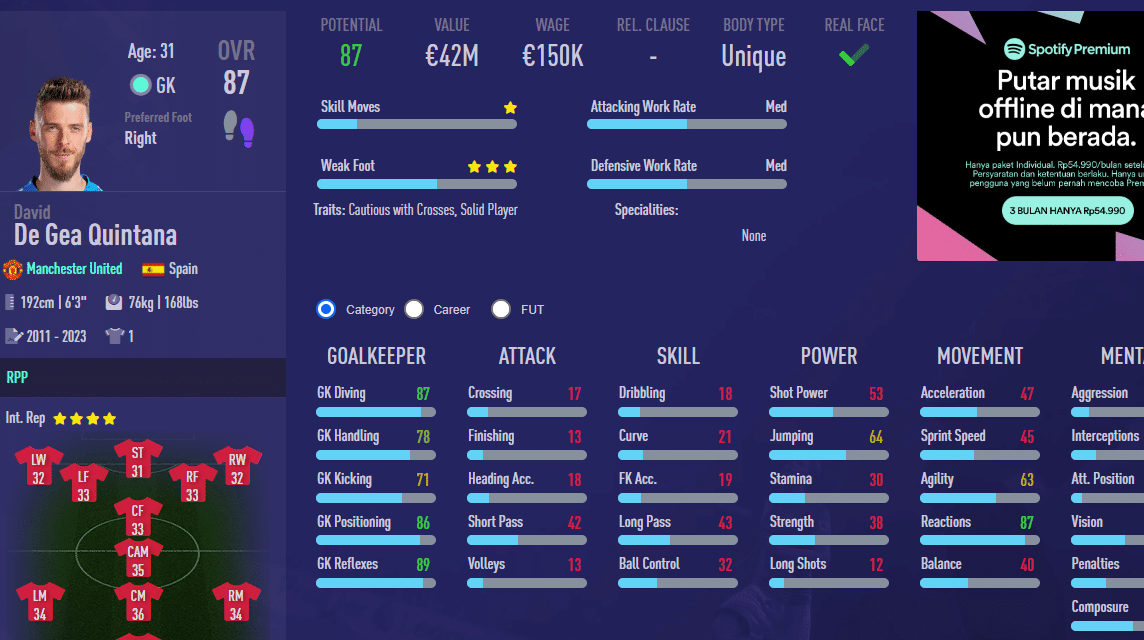 In the virtual soccer world of FIFA Mobile, having a reliable goalkeeper is an important aspect of keeping your team stable and winning.
One goalkeeper who is often relied on by players is David De Gea. With his worldwide reputation and extraordinary qualities, let's take a closer look at De Gea's performance in this game.
Key Statistics
David De Gea arrives at FIFA Mobile with stats that reflect his ability to block shots and organize defense. With high marks in reflexes, diving, and positioning, he is an attractive choice for players who need a goalkeeper with quick reactions and strong saving abilities.
Superior Ability to Save and Parry
One of the things that sets De Gea apart is his brilliant saving ability. In the FIFA Mobile game, he is often able to make spectacular saves that can change the course of the match. High reflexes allow him to respond quickly to gunfire, even in difficult situations.
Safe Ball Handling
De Gea also has good ball handling abilities. He can control the ball calmly and make accurate distributions, allowing the team to build attacks from the back. This can be an important asset in maintaining the flow of a team's play.
Increase Team Confidence
With De Gea in goal, the players can feel more confident in their defense, knowing their keeper is ready to respond quickly and secure the net.
In the FIFA Mobile game, David De Gea brings reliability, extraordinary abilities and spectacular saving abilities. His high stats in reflexes, diving, and positioning make him a solid choice for players who value a strong defense.
Also read: FIFA 23 Ultimate Team Gacha Tips, Don't Get Wrong!
Aaron Ramsdale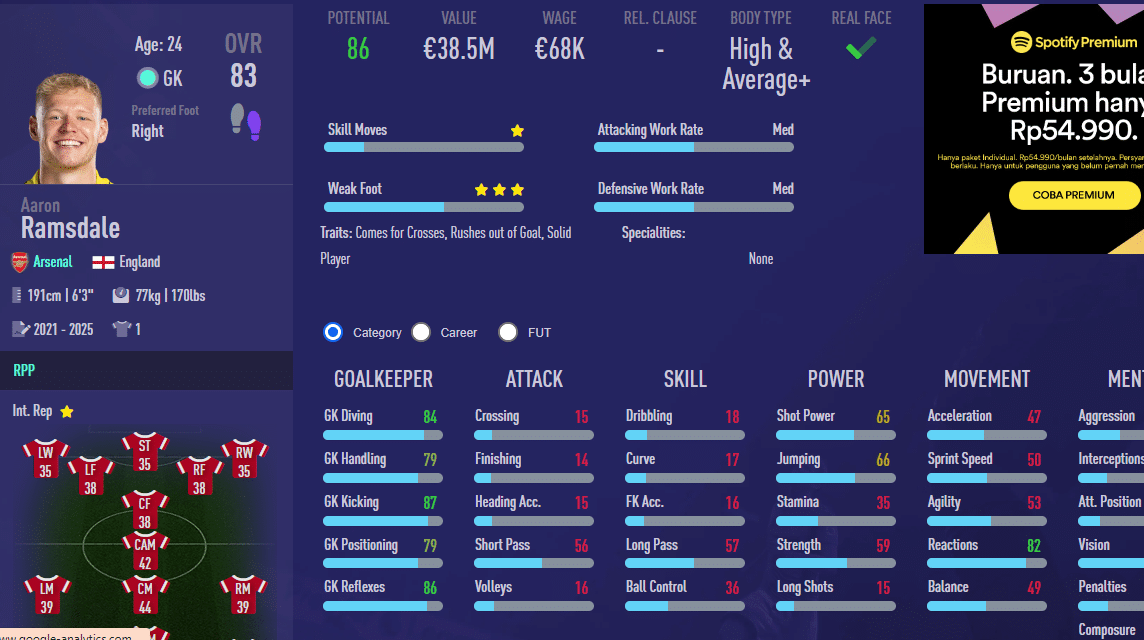 In the virtual football world of FIFA Mobile, there are players who are able to make a big difference among other players. One of them is Aaron Ramsdale, a tough goalkeeper who has attracted the attention of players with his extraordinary abilities.
Standout Stats from Goalkeeper Aaron Ramsdale
Aaron Ramsdale, who currently plays for the Arsenal club, is the top choice in the game for those looking for a reliable goalkeeper. In FIFA Mobile, Ramsdale has very strong stats in several important areas. Ball handling and diving are his standout strengths, allowing him to respond to shots quickly and efficiently.
Keen Reflexes
One of the best aspects of Ramsdale in the FIFA Mobile game is his sharp reflexes. He is able to quickly react to shots and make spectacular saves. This is an invaluable attribute in critical situations where a goalkeeper has to deal with fast incoming shots.
One-on-one Ability
Ramsdale also showed his skill in facing one on one. His ability to get out of goal and handle crucial situations well makes him a strong additional defense in the team.
Good Movement and Positioning
Good positioning is the key to being an effective goalkeeper. Ramsdale in FIFA Mobile has solid positioning skills, helping him to be in the right place to anticipate shots and make important saves.
Aaron Ramsdale is an excellent choice for vicigers looking for a strong goalkeeper in FIFA Mobile.
Edwin van Der Sar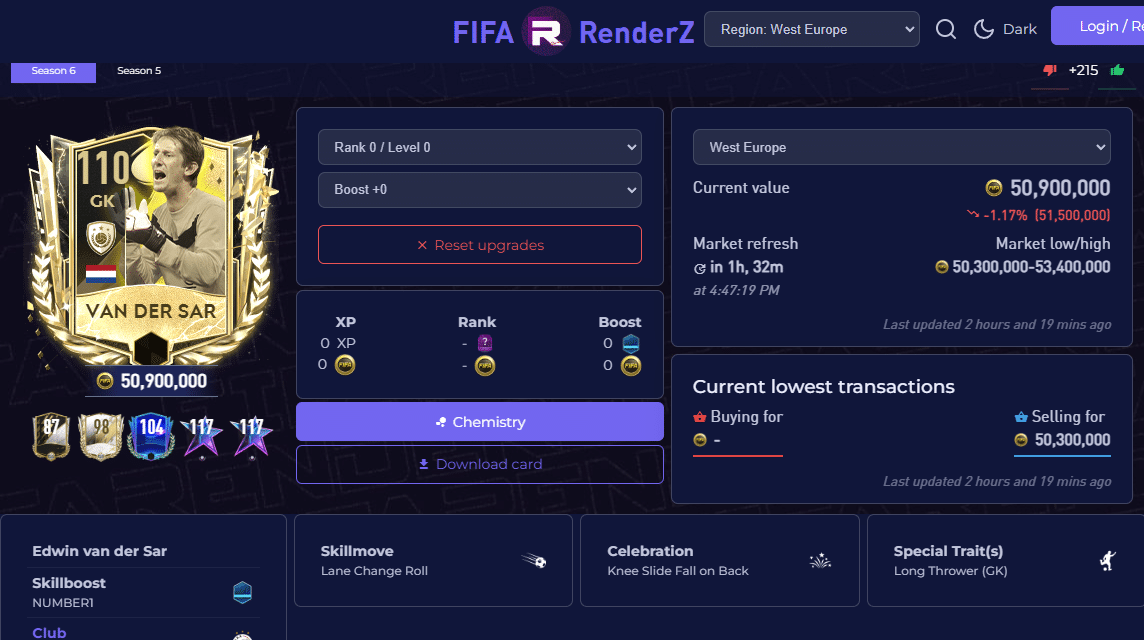 In the world of football, there are several names that are unforgettable and etched in history. One of them is Edwin van der Sar, who is known as one of the best goalkeepers of his generation.
In the FIFA Mobile game, the presence of Van der Sar as one of the iconic players gives players the opportunity to experience the greatness and reliability of this legend between the crossbars.
Strong Stats goalkeeper Van de sar
Van der Sar comes to FIFA Mobile with statistics that reflect his skills and abilities as an elite goalkeeper. With high attributes in his ability to stop shots (Diving), quick reactions (Reflexes), and good positioning (Positioning), he is a strong choice to fortify the team's goal for the vicigers team.
Shot Stopping Ability
One important aspect of a goalkeeper's role is his ability to thwart opponents' shots. Van der Sar has excellent diving ability, enabling him to achieve hard-to-reach shots and secure the ball with a steady hand.
Sharp reflexes from goalkeeper Van der Sar
Reflex is the ability to react quickly to sudden shots. Van der Sar has excellent reflex statistics, so he can quickly respond to sudden shots, even from close range.
Precise Ball Distribution
Apart from being a great goalkeeper, Van der Sar is also known for his precise distribution abilities. In the FIFA Mobile game, he is able to launch long passes with great precision, helping to initiate team attacks from behind.
Iconic Presence
One of the things that makes Van der Sar special in FIFA Mobile is his status as an iconic player. This not only adds historical value, but also gives fans the opportunity to experience the legendary goalkeeper's prowess in action on the pitch.
In FIFA Mobile, Van der Sar proves that his reputation as a legendary goalkeeper applies not only in the real world, but also in the game world.
With strong stats and amazing abilities, he becomes an invaluable goalkeeper on your team. Van der Sar is a highly recommended choice for players looking for reliability and prowess in the goalkeeping position, and reminiscing about his illustrious career in football.
That's our discussion this time regarding the best goalkeepers in FIFA Mobile. Don't forget to top up your favorite games easily, quickly, safely and at the cheapest price only at VCGamers Marketplace!