Hola Vicigers! The feature that is currently being revamped is the MPL Battle Emote, which can be used to perform taunting to opponent, you know.
The reason is, as we know that play Mobile Legends: Bang Bang (MLBB) together with friends is equally fun, coupled with this feature that was released around November 2018. Yes, especially if it's not the Battle Emote feature?
The point is in this feature players can use emotes moment battles. Picture emotesit is also quite large, and the emote used also has a picture of Hero ML like the following.
Layla
Hanabi

Kagura

Hayabusa

aurora

Chou

Lolita

Guison

After all, there are many more emotes heroes available, apart from heroes there are also several emotes that don't use MLBB heroes.
In one match a player can only use 4 emotes. Until now, many choices of emotes have been presented.
How to Use Features Battle Emotes MPL
Emoticons can be obtained from running some events or making purchases. After finishing work events/purchasing players can get emotes.
To activate it open the MLBB main page, select a feature preparations which is in the left corner. Then click on the performance section and select it Battle Emotes. There you can set any Battle Emote that you will use in something gameplay, remember only 4 to choose from!
After making settings on the menu, for use in a gameplay very easy way. Press the message logo part then drag or slides toward battle emotes which will be used. After that the selected MPL battle emote will appear overhead heroes which you use. If it succeed, emotes will come out.
List Emotes Team Pro Player available in the MPL Battle Emote Feature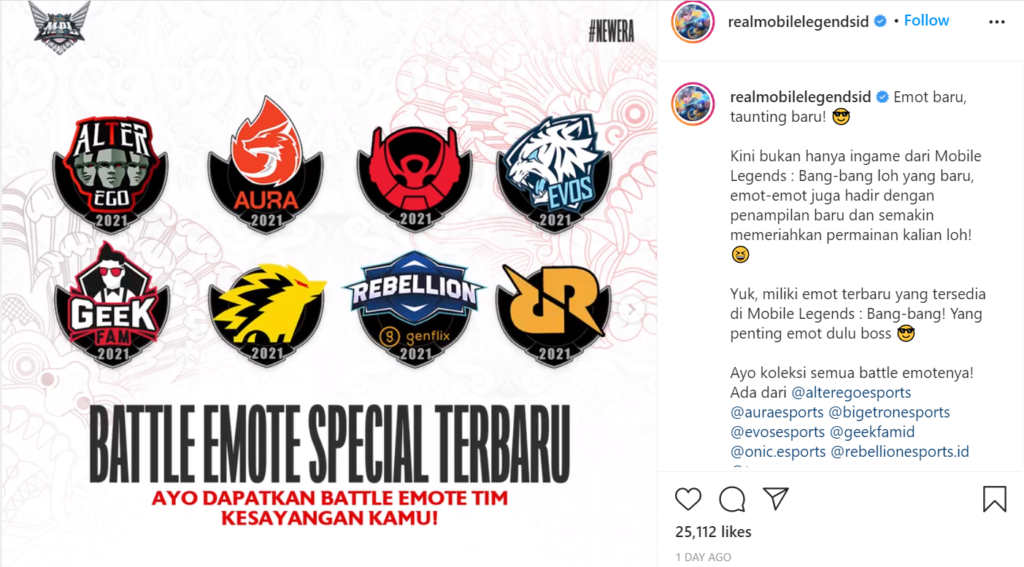 In September 2020 MLBB released emotes which has a picture of your favorite team and in September 2021 the eighth emotes it's on upgrades welcome arrival Seasons 22. Emotes This you can buy and use as support for the team. This is the result of the update Battle Emotes MPL of the whole team pro player is:
REX REGUM QEON (RRQ)
Previously it was just a picture as usual but now it is added with a fiery voice saying, "RRQ Jaya! Victory! Victory!" which adds to the morale of the players.
ONIC ESPORTS
On emotes the ONIC ESPORTS team, experienced the addition of a sound that reads "Go ONIC" which is guaranteed to make players not give up.
GEEK FAM ID
Coupled with the sound of laughter and words suitable for taunting making this MPL Battle Emote much in demand.
EVOS ESPORTS
"Don't forget the stickers", with its funny tunes and baby laughs that make the heart happy makes players want to support and buy emotes from EVOS ESPORTS.
BIGETRON ALPHA
For BIGETRON ALPHA team supporters, this emote is a must to buy.
AURA FIRE
"I'm on fire", that fiery dashing voice made the team, which was in a crisis position, immediately excited to put up a fight.
ALTER EGO
Words that are quite trending among the public, are used as the backsound for Alter Ego's Battle Emote which reads, "Don't you panic? Don't panic! Battle Emotes this one is suitable for taunting against opponents.
REBELLION GENFLIX
Unfortunately for this year AEROWOLF GENFLIX was replaced with REBELLION GENFLIX, so AEROWOLF GENFLIX did not renew emotes-his. But the emote is from the REBELLION GENFLIX team. This is no less exciting.
All of these team emotes have the same price, which is 109 diamonds. For those of you who want to support your favorite team and taunting counter with features Battle Emotes must buy all emotes-his.
How to buy Battle Emotes MPL
There are several ways to get Battle Emote, one of which is by using diamonds. To purchase a Battle Emote with diamonds you can enter features shop. In the menu section, various Battle Emotes will be available. The second way to get Battle Emote is by participating in events When valentines.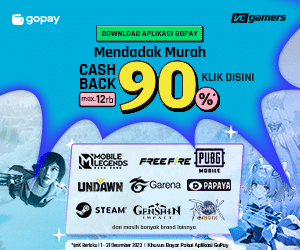 The third way to get Battle Emote is by using default emotes which is free.
The last way to get a Battle Emote is when you have successfully achieved it Mythic tier, you will be given a prize in the form of emotes logo Mythic dragon head.
That's the update summary of the 8 team Battle Emote pro player your beloved. Don't forget to support your favorite team by buying a Battle Emote, and good luck!
Also read: Confused Here! Choose the Lobster Avenger or Ruinous Ravelord Skin Set?