Previously we recommended the best 20 watt charger head version of VCGamers to accompany your newest iPhone or iPad which already supports fast charging. Now we will recommend some of the best C to Lightning cable brands and types for you.
Also read: 3 20 Watt Charger Recommendations for Your iPhone 12 Series
First of all, if you want to buy lightning cables or any accessories for Apple products, don't forget to see if the product is MFI certified.
Cheapest Top Up Social Live!
Arif_budiman
IDR 50,000
62%
IDR 18,900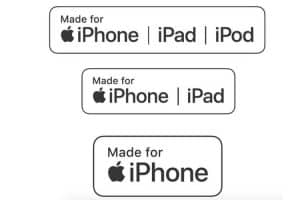 What are MFIs? MFI is a certification provided directly by Apple to 3rd party or aftermarket brands that manufacture accessories for Apple products.
MFI itself stands for Made For iPhone/iPad/iPod. So it's easier, if you buy accessories with this certification, it means you don't need the quality of the product anymore.
But be careful, now many brands attach MFI certification to their products. At least you have to know beforehand, this brand has previously released Apple MFI product accessories or not, if not or if you have just heard of the brand, you should be careful, it could be that the product you are about to receive is actually not MFI or even KW or fake.
2 recommendations for the best C to Lightning (MFI) cable according to VCGamers:
Anker Powerline III Flow Type C to Lightning – A8662/A8663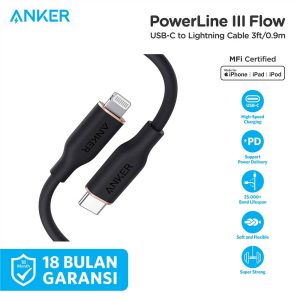 First, we recommend the c to lightning cable from Anker, namely the Powerline III Flow. Who doesn't know the Powerline series from Anker? Maybe some of you know, and some of you don't.
Powerline cable is Anker's flagship series whose quality cannot be doubted, and now the Powerline series has reached series III.
This cable has 2 types of material, the usual cable type is Powerline and for the braided variant there is Powerline+. However, it depends on your tastes. Do you prefer charger cables made from ordinary or braided materials? The specifications for the transfer rate and amperage are the same, but it also depends on the series.
Well, Powerline/Powerline+ III is specifically designed to support the latest iPhone/iPad/iPod series which already supports fast charging technology. So if your cellphone is still an iPhone 6/7 it's a waste to buy this series. Please buy the first version of Powerline at a lower price.
In our opinion, the Powerline III Flow series is also the best cable product from Anker, even though it is not braided. Because the material used to wrap this cable is called Anker as a fine silica gel that is pleasant to hold. Powerline III Flow comes in a variety of pastel colors such as black, white, green, purple and pink.
This cable is priced at SRP of 399 thousand rupiah for 1 meter in length and 499 thousand rupiah for 2 meter in length, but lately Anker has often been holding promos, when promos for this cable are only priced at 150 thousand.
So, if Anker is having a promo at a low price, don't hesitate to grab it right away!
Aukey CB-AKL3/AKL4 MFI USB C To Lightning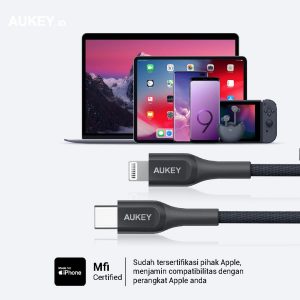 Our second recommendation is none other than the Aukey brand. Aukey and Anker do compete, but Aukey is usually priced at a lower price than Anker.
However, lately Anker seems to want to disturb the Aukey market by often giving crazy promos to consumers, imagine Anker's newest MFI cable, which is usually priced at 400 thousand, is now only sold for 150 thousand during the promo period.
Aukey CB-AKL3/AKL4 is a C to Lightning cable whose quality is also not in doubt. Made with braided kevlar material, this cable is very strong in its class.
Actually there is also a braided nylon series from Aukey at a slightly cheaper price, but since the price difference is not that much, what's wrong with buying a better one?
This cable is priced at SRP 250 thousand for a length of one meter (AKL3), and around 260 thousand for a length of 2 meters (AKL4). Because the price is only a small difference between 1 meter and 2 meters, so we suggest that you buy according to your needs.
Also read: iPhone 13 Series Rumors Launch Later This Year
Don't miss it to always get the latest and complete news updates about games. Starting from new game reviews, tips and tricks and so on. Just follow the account Instagram VGamers and Channels YouTube yes. Come on! Join the community on Discord VCGamers, the largest gamer community in Indonesia discord.gg/EDWvQ9jQEp