Hello fellow Vicigers. Are you an Assassin user player in Mobile Legends? Friends, you must know information about the Lancelot Mobile Legends Season 20 build that you must know, don't miss it!
Below we will discuss how to build from Lancelot. We will discuss everything from equipment to emblems, therefore the Lancelot Build is being used a lot, especially among Assassin roles.
Come on, here is the explanation, listen to it, friend!
Arif_budiman
IDR 50,000
62%
IDR 18,900
Build Lancelot Mobile Legends Season 20!
Magic Shoes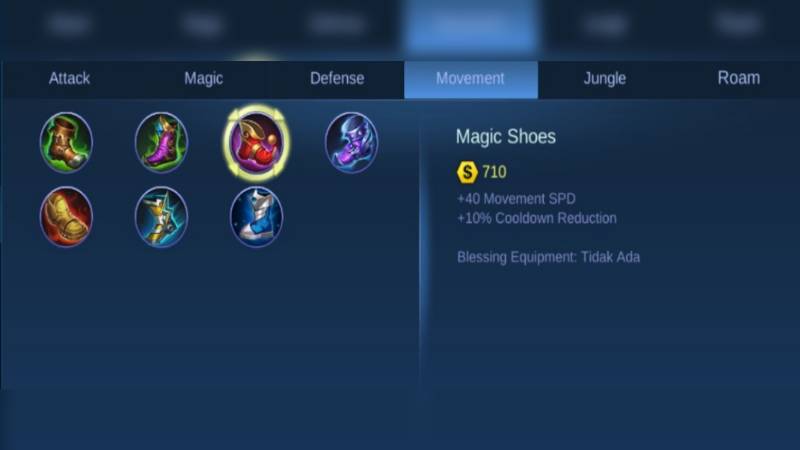 In this first Lancelot Build, you have to wear Magic Shoes to increase movement speed, this item also has skills that many players have been waiting for, especially support players and mages.
So that Cooldown reduction will provide an opportunity for mage or support heroes to spam skills in the early game, so friends, don't get the wrong shoes.
+40 Movement Speed +10% Cooldown reduction
Blade of Heptaseas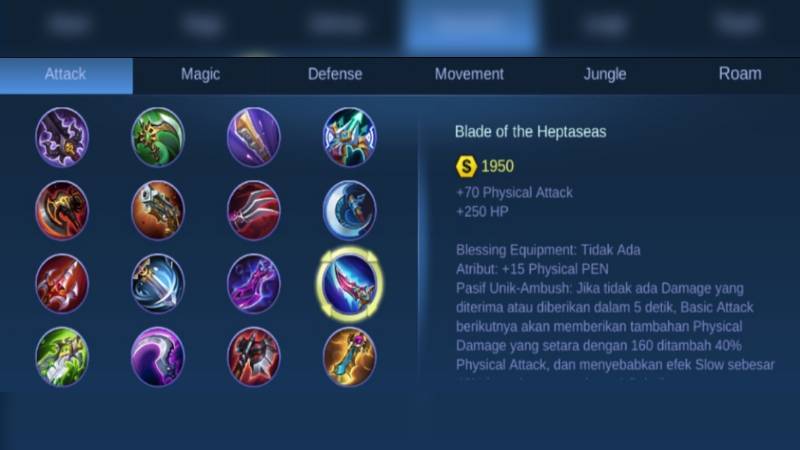 In this second Lancelot Build, you have to use Blade of Heptaseas so you can provide additional Physical Attack to Lancelot but also additional HP in defense. When you don't receive or deal damage for 5 seconds, you will get an increase of 60% from the damage if you use attacks on basic or early heroes.
+70% Physical Attack +250 HP +5% Physical PEN
Endless Battles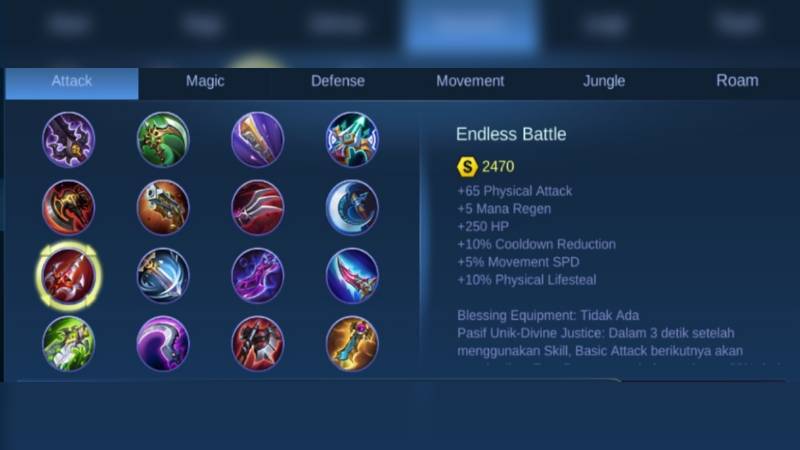 Continue with the third Lancelot Build, you are indeed required to use the Endless Battle item, even though this item is quite expensive with the most complete effect in Mobile Legends. Then this item will increase the physical attack, and give mana to Lancelot and also additional HP, a little addition to the movement speed of the lifesteal effect this item has. After 3 seconds of issuing skills, the next basic attack will increase by 60% from the damage we receive.
+65 Physical Attack +5 Mana Regeneration +250 HP +10% Cooldown reduction +5% Movement speed +10% Physical Lifesteal
Blade of Despair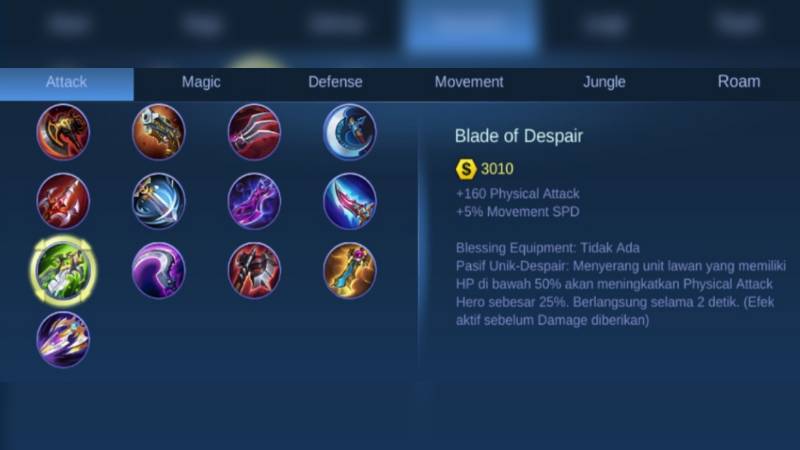 Now, on the fourth item, you are required to buy this item called Blade of Despair because this item is very important for the Lancelot hero, which will provide an additional 160+ of physical attacks and also 5% in movement speed. Then the Blade of Despair item also has a passive skill, which increases physical attack by 25% when the target's HP is below 50%, especially Vicigers friends, you must use this item in particular.
+160 Physical attack +5% Movement speed
Queen's Wings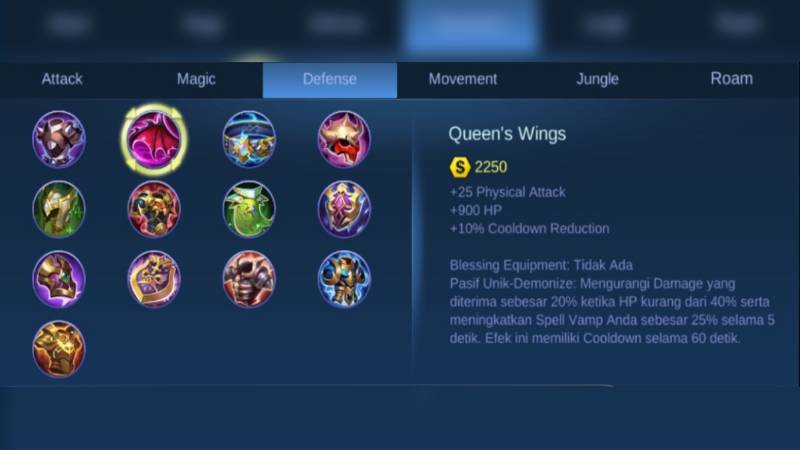 In this fifth item, you will feel very different from the previous item because this item which can be called an anti-assassin defense item is indeed very feasible to use.
When the blood you have is below 40%, the damage you will give will be greater thanks to this unique passive item.
+15 Physical Attack +1000 HP +10% Cooldown reduction
Also read: Banned Mobile Legends in the Philippines? Is it Real News?
Immortality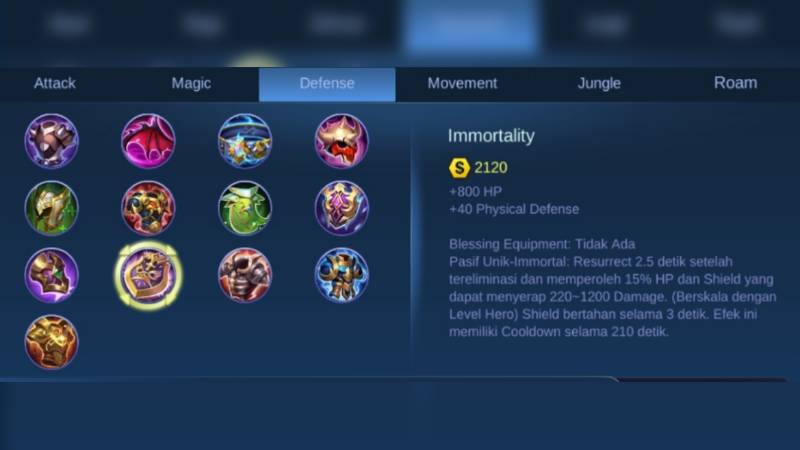 In this last item, when you have entered the lategame stage, you must use the Immortality item because this item will make dead heroes come back to life with protection that can absorb 300-1000 damage listed on each hero of each level. .
Then, what's even better, Immortal makes enemies reluctant to kill us because we still have spare lives to come back to life again.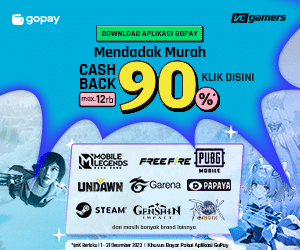 +800 HP +40 Physical defense
The conclusion of the article above is for Vicigers friends for Lancelot players.
Use it on an emblem that is suitable for use on the Lancelot hero as a core offlane or all line because the Lancelot hero is an Assassin emblem with this emblem will make you feel more pain than other emblems with the battle effect combined with Agility + Invasion, friend.
Also read: Still Confused How to Enter the Symbol in the MLBB Account Name? Check Out These Best Tutorials!
Thus the information regarding the Lancelot build in Mobile Legends season 20, you must try it. Hopefully useful, thank you.