Friday, May 28th tomorrow to be exact, will surely be the day that you fans and Genshin Impact players have been waiting for the most.
Because, tomorrow MiHoYo as the developer of this game will hold a special program for the latest 1.6 version of this game.
In this special program, later MiHoYo will share various new information regarding the latest Genshin Impact v1.6.
What information will MiHoYo present? We'll get to that shortly after, so keep reading this article until it's finished!
1.6 Genshin Impact Special Program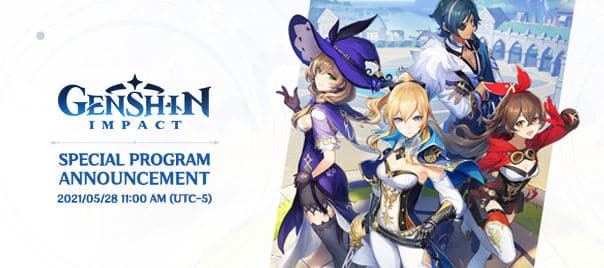 Genshin's special program The impact presented by MiHoYo will be available in less than 24 hours. More precisely, this program will start at 11 pm WIB for the English version, and the Chinese version will start earlier.
MiHoYo will obviously share some information regarding the new version of this game. One of them is the emergence of new characters in the banner. Information about Inazuma is also likely to be revealed in this special program.
Kazuha might also be present along with the release of Inazuma in the latest version this time. This is speculated because many leakers have recently featured Inazuma Island.
It is also reported that this game's Housing System feature is getting a little updates from the previous. Then, there is also information that this special program will also discuss Klee's presence. In fact, Klee is a character with very high sales figures in this game.
Also read: Currently Hits, This is the Difference between Genshin Impact and Honkai Impact 3
Genshin Impact Special Program Live Stream
Relax, you can watch the live stream of this special program on Genshin Impact's official YouTube for the English version tomorrow at 11 pm (WIB).
However, usually there are also many Genshin Impact streamers who hold a viewing together when there is an event taking place, you can immediately check it in the YouTube search column.
If you can't wait to watch the event quickly, you can watch the Chinese version earlier, live stream on the Bilibili platform.
Can't wait for this Genshin Impact special program? Set a reminder on your cellphone now, so you don't miss it!