MDL ID S7 Week 2 resumed on Monday (13/02) with five matches contested, namely between MPL second-tier teams and non-MPL teams. Where are the results from the match week 2 yesterday made ONIC Prodigy still at the top of the MDL ID s7 standings.
In the previous match, the MPL teams lost, so in this match they are trying to get back to winning ways. Meanwhile, non-MPL teams will of course still surprise their opponents.
Also read: Latest Update Patch Note 1.7.58 Mobile Legends: 15 Heroes Got Buffed and Nerfed
MDL Class ID S7
With the results of the match that took place last Monday, the MDL ID S7 standings underwent changes. For more details, see the explanation below!
Arif_budiman
IDR 50,000
62%
IDR 18,900
Match Results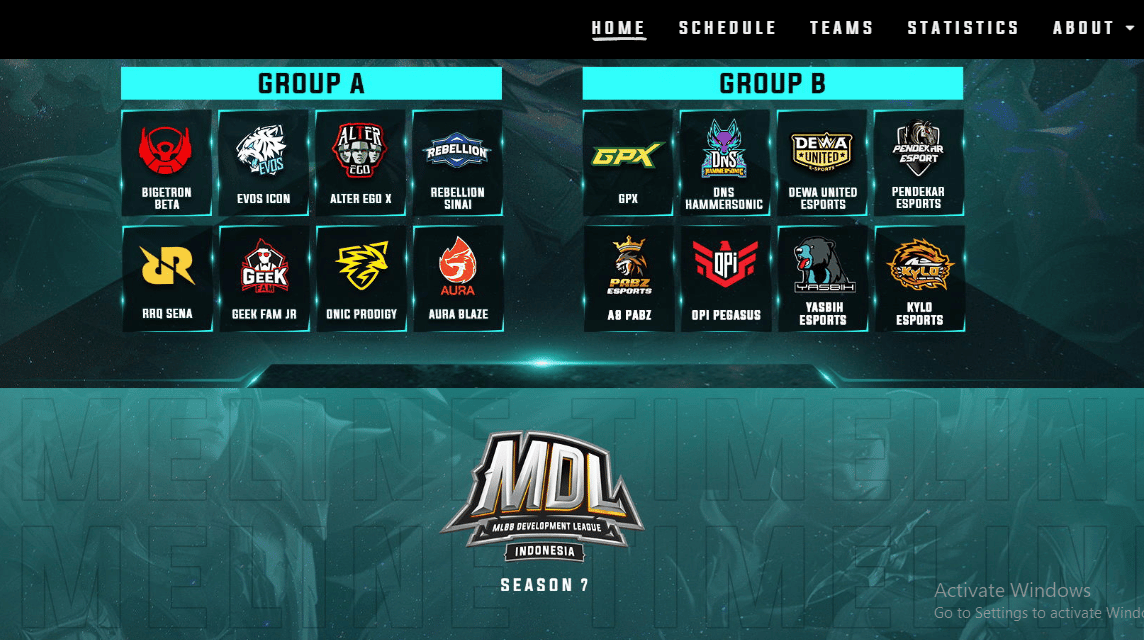 The match on February 13 presented 5 matches which pitted DNS Hammersonic against KYLO Esports and continued with the match between A8 Pabz against GPX.
Then, in the third match, there is a match between RRQ Sena who will challenge Geek Slate Jr. Which was followed by a match between Rebellion Sinai and EVOS Icon. Meanwhile, the final match presented ONIC Prodigy against OPI Pegasus.
Here are the match results:
Hammersonic vs KYLO Esports DNS: 0-2
A8 Pabz vs GPX: 1-2
RRQ Sena vs Geek Slate Jr: 1-2
Rebellion Sinai vs EVOS Icon: 0-2
ONIC Prodigy vs OPI Pegassus: 2-0
With the results of these matches make changes in the temporary standings. However, on the other hand, ONIC has strengthened its position as the top of Group A.
Also read: Match Results for Day One of MDL ID Season 7
MDL standings ID S7 as of 14th February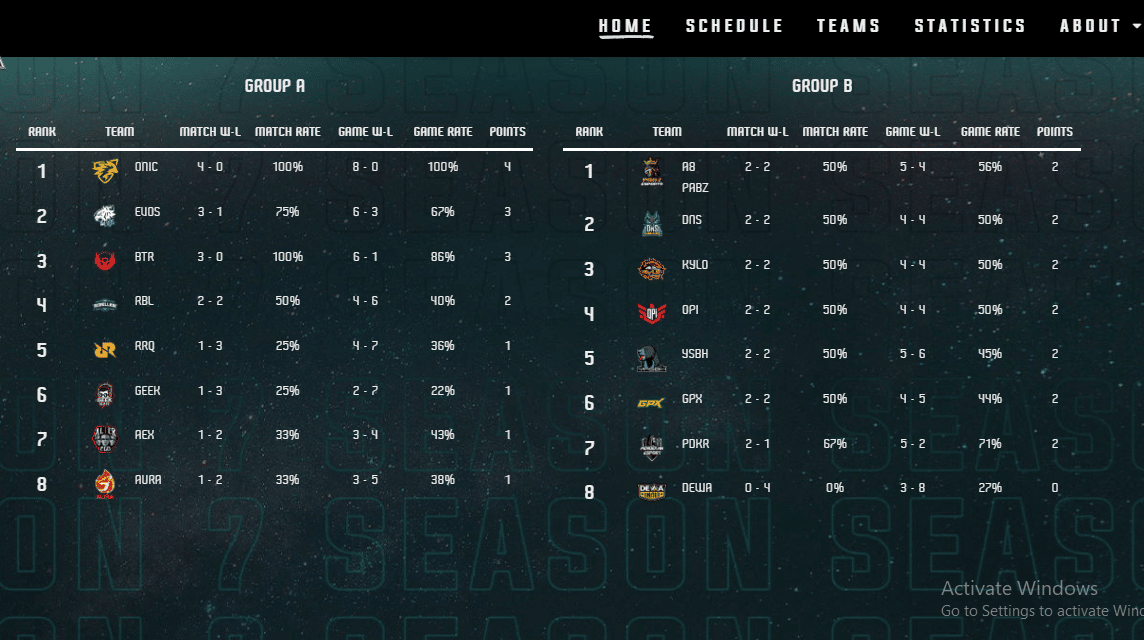 With the results of the match that took place last Monday, ONIC Prodigy still leads the MDL ID S7 Group A standings with 4 points from 4 wins without a single defeat. Then followed by EVOS and Bigetron in positions 2 and 3 which both have 3 points, and Rebellion is in position 4 with 2 points. After that, positions 5 to 8 were filled by RRQ, Geek, Alter Ego, and Aura who both scored 1 point.
Meanwhile, grub B was topped by A8 Pabz with 2 points, and followed by DNS, KYLO, OPI Pegassus, Yasbih Esports, GPX, Pendekar Esports who also both have scored 2 points. While the base of the standings is occupied by Dewa United Esports with zero points.
Also read: Team List, Format and Schedule for MDL ID Season 7
MDL ID S7 Match Schedule February 15th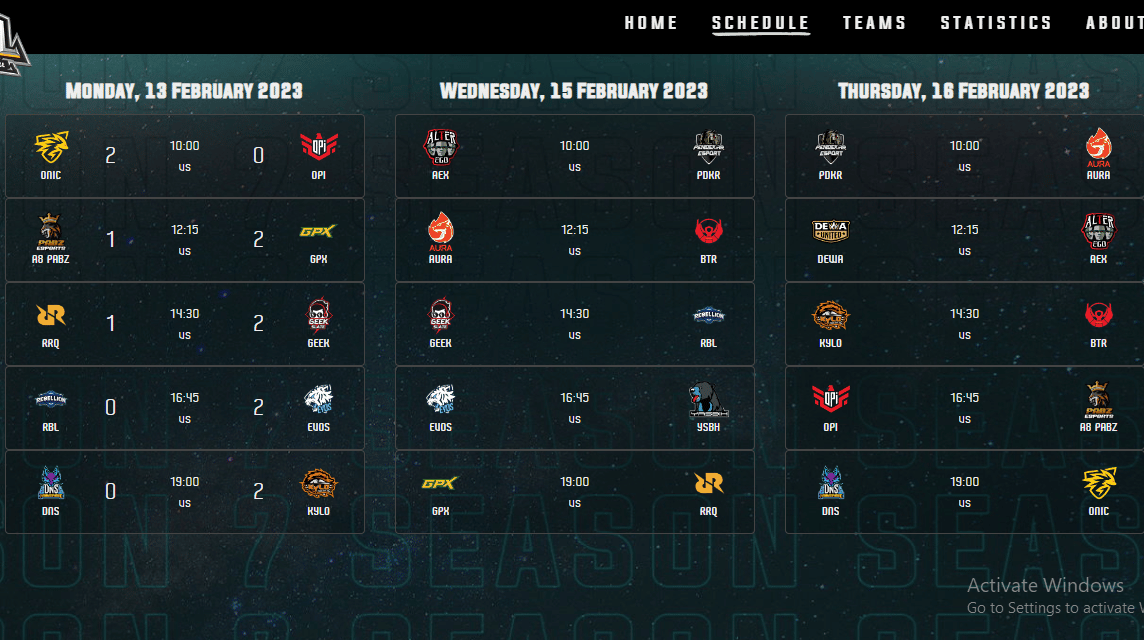 The MDL ID S7 week 2 match will then be held on 15-16 February 2023. Some of the matches that will take place on 15 February include:
EVOS Icon vs Yasbih Esports (10.00 WIB)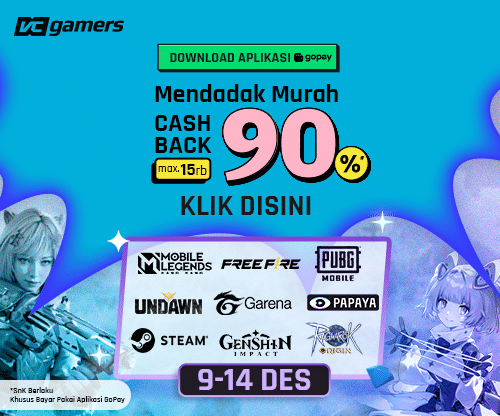 Alter Ego X vs Warrior Esports (12.10 WIB)
Geek Slate Jr vs Rebellion Sinai (14.20 WIB)
Aura Blaze vs Bigetron Beta (16.30 WIB)
GPX VS RRQ Sena (18.40 WIB)
For those of you who want to watch the match, please visit YouTube MDL Indonesia or Facebook MDL Indonesia.
Also read: MDL ID S7 Match Results Today, EVOS Lost 2-0
Follow other information about Mobile Legends on VCGamers News.
Don't forget, Top Up Diamonds Mobile Legends is safe, fast and easy to use VCGamers Marketplace!