Who is Zask?
Aloha Vicigers! Hero Zhask deep Mobile Legends: Bang Bang (MLBB) is often referred to as heroes OP (Over Power) because it has five skills at a time. Battle Points what needs to be prepared for this one hero is 32,000 or 599 Diamonds.
The Kastiyan race is a race known for its ability to change time and its psychonic mind abilities.
The abilities of this race are used for fun and plunder the local population's resources by defeating weaker races.
Arif_budiman
IDR 50,000
62%
IDR 18,900
This race has undergone many evolutions, where the top evolution is the ability to manipulate insect spirits (Doromey or Nightmaric Spawn) increases. Which means the Kastiyan race can control insect spirits.
This insect spirit is housed in a Almighty Staff which is now being ruled by king Zhask. However Saintly Angel, Argus locked up one of Hero Zhask's insect spirits.
The insect spirit fled and reported to Zhask that there was a place rich in resources named Land of Dawn.
This made him go to Land of Dawn, but what he didn't know was that the strongest beings in the entire world were gathering in that place.
The advantages that Hero Zhask Has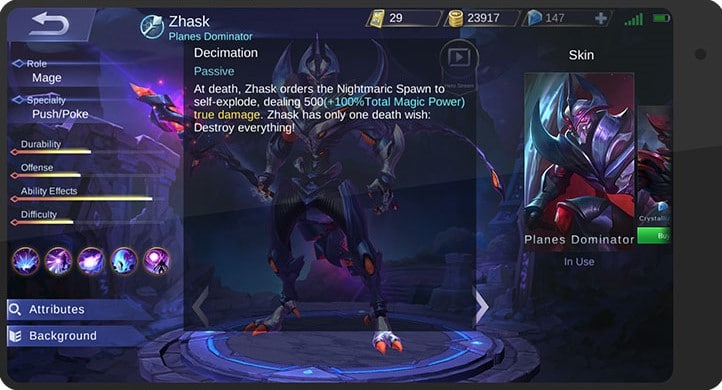 Hero Zhask is known to have five skills, including one skills passive and four skills active. Here is the explanation skills owned by Zhask.
Eradication (passive): skills This passive appears when Zhask dies, where the shadow will be cast and explode and produce truedamage.
Nightmaric Spawn (skills 1): Nightmare Spawn will be summoned in physical form and focus on attacking Zhask's first target. DeathRay will be fired at enemies every two basic attacks from Spawn. Effect stun will arise if DeathRay hit the enemy seven times in a row.
Mind Eater (skills 2): Transparent thought waves will be fired and generate MagicDamage. This thought wave was also shot out Nightmaric Spawn simultaneously.
Hive Clones (skills 3): Five small Spawns are thrown in the desired direction and if they touch an enemy they will explode.
Dominator's Descent (Ultimate): By skills this is the power of the shadow skills 1 is increased, that is, the speed of the shadow is increased by 2 times, damage increase 2 times and also defense.

Reasons MLBB While Men-Takedown Hero Zhask
Hero Zhask becomes very strong because it can issue ultimate constantly caused bugs. Multiple Steps and combinations skills the right one can basically activate bugs this.
However, player who becomes Zhask's enemy will be overwhelmed if bugs it is activated. ultimate skills can be issued heroes This is repeated and unlimited.
As a result of these problems, it was announced that Zhask was temporarily in-tire. Moonton apologized for the inconvenience.
Before Zhask, This Is The Last Hero Ever Di-takedown To be fixed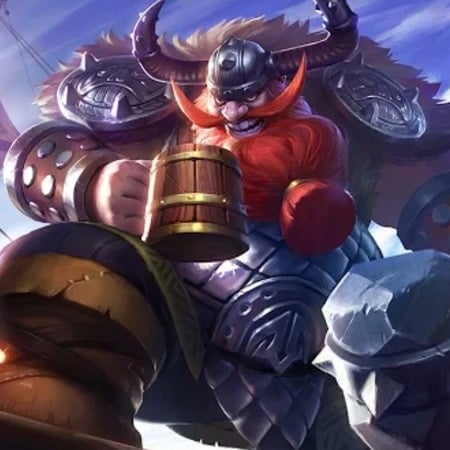 You do you know that before Zhask was banned, apparently there were still some heroes others who hadtire Mobile Legends: Bang Bang to fix, you know!
One of heroes that is Franco. Players can rely on Franco when fighting enemies because of the advantage he has.
Franco is one heroes the enemy is afraid of but Moonton changes heroes this be tank at the last moment. Even so, Franco still has damage which is high and used as a mainstay of para player Mobile Legends: Bang Bang until now.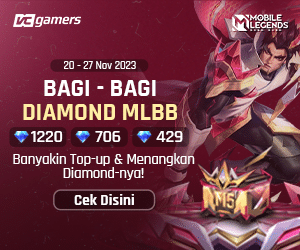 Heroes this one also got on tire because it was problematic because at that time heroes Franco could not be found by the users when committing updates Mobile Legends: Bang Bang. Franco is also nowhere to be found when selecting heroes to be used to play.
If you look at the case tire heroes Franco, where is Franco in-tire on December 16, 2019 and can be played again on January 14, 2020. That means, means fixes heroes Franco took 29 days or almost 1 month.
So, we can predict that the Zhask hero can be played again after 1 month of repairs starting from the beginning of July 2021. Wait, yes guys!
Also Read: Apart from being beautiful, these 4 female MLBB pro players are horrified!