Aloha Vicigers! Free Fire players must be familiar with the AK47, right?
Weapons are very important for you to win battles and survive until the end of the battle in the game battle royale like Free Fire.
To win the battle, you also have to use the right weapon according to the Free Fire character and match it skills which is owned. There are lots of weapons that you can use in Free Fire to win battles.
Cheapest Free Fire Products!
Arif_budiman
IDR 50,000
62%
IDR 18,900
There are 4 types of weapons in Free Fire, starting from shotgun, SMGs (Submarine Guns), snipers, until assault rifles. You can choose one type of weapon to make skills the characters that are played get the maximum in battle.
There is one of the most lethal types of weapons in this type of weapon assault rifles on Free Fire. The deadliest weapon is the AK47 which has damage very big in battle.
In general, AK47 weapons do have damage big, but needed skills which is also good for controlling this weapon in order damage-it's getting more and more extraordinary. You can pair too attachments damper like muzzle, magazine, scope, or foregrip.
If you pay attention to the statistics, the AK47 weapon also has the same power level as other Free Fire weapons, but if it is not used in combination with skills high so the bullets can spread everywhere.
The AK47 weapon is known for its low accuracy, but as mentioned above the AK47 weapon has damage incredibly spicy! damage the spicy one can be a mainstay to win the battle.
There are 3 options skins The AK47 in Free Fire that you can use to win the battle is the AK47 Flaming Dragons, AK47 Pumpkin Flames, and AK47 Winterland. Third skins each has its advantages and disadvantages.
Skins AK47 Flaming Dragons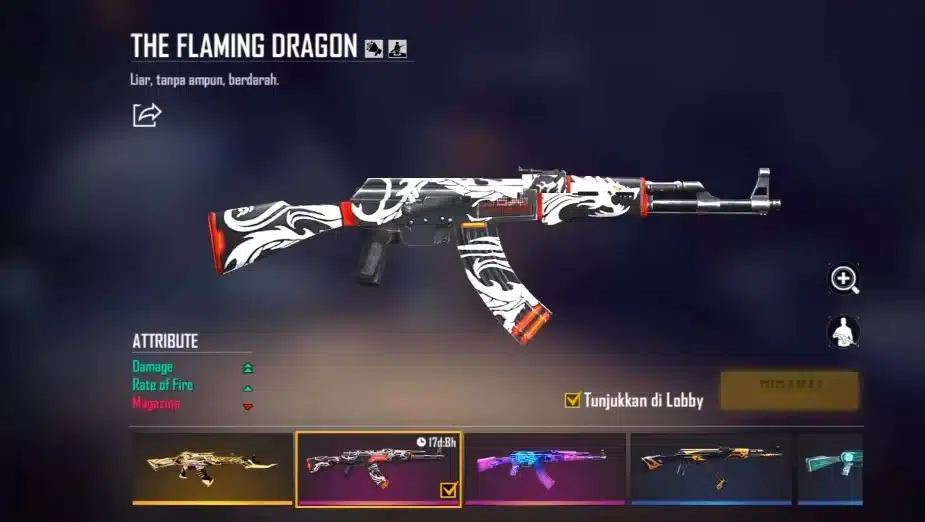 If you use skins AK47 Flaming Dragons, so performance AK47 weapons will be more extraordinary damage-his. damage and rate of fire on the AK47 weapon will increase with flaming dragon skin this.
damage and rate of fire on skins AK47 Flaming Dragons can kill enemies more quickly and easily. But the downside is magazines will decrease, but will not be too pronounced reduction.
Skins AK47 Pumpkin Flames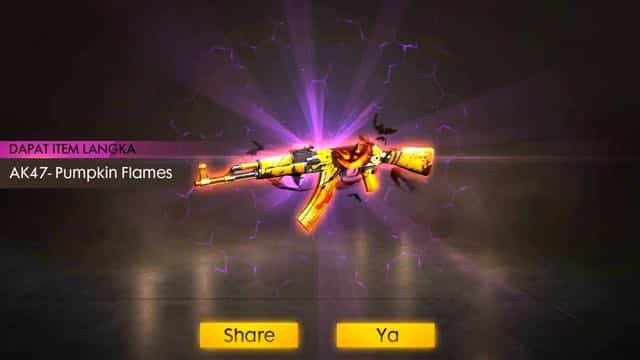 Skins AK47 Pumpkin Flames is one of a kind skins which is pretty good. You can increase accuracy and rate of fire on weapons by using skins this.
These advantages can make the bullets fired more optimally on the weapon. However, you need to understand that skins AK47 Pumpkin Flames this is more suitable for close range combat because the shooting range will be reduced.
So you have to understand the right shooting strategy when using skins this.
Skins AK47 Winterlands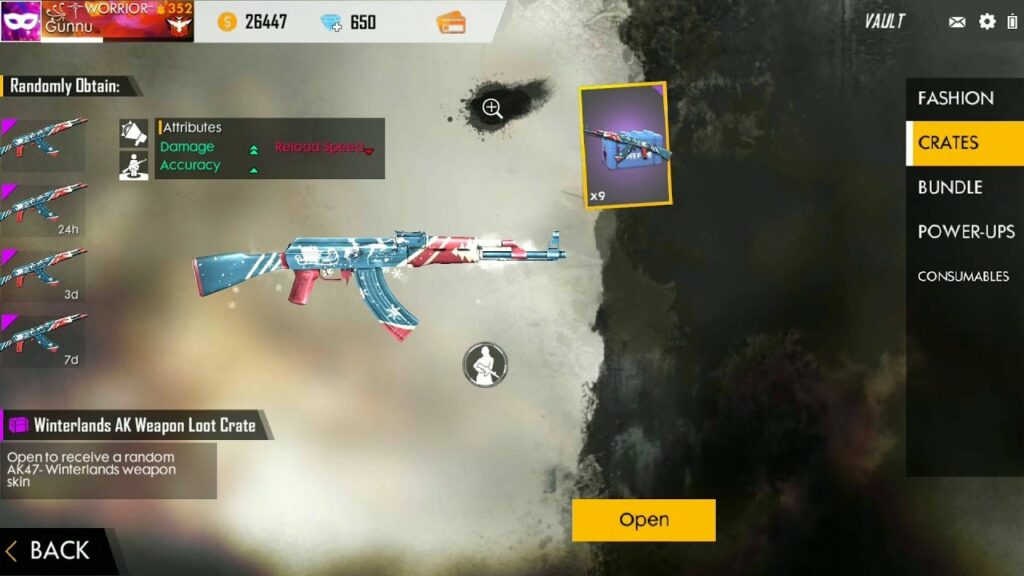 Skins AK47 Winterlands known as skins AK47 is the best because performance-its second to none. You can easily get extra damage and accuracy, However reload speed there will be less and less. Skins This can also be played remotely.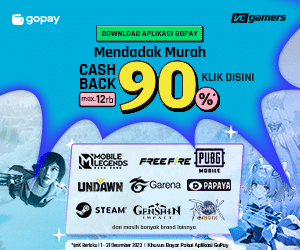 Advantages and Disadvantages of AK47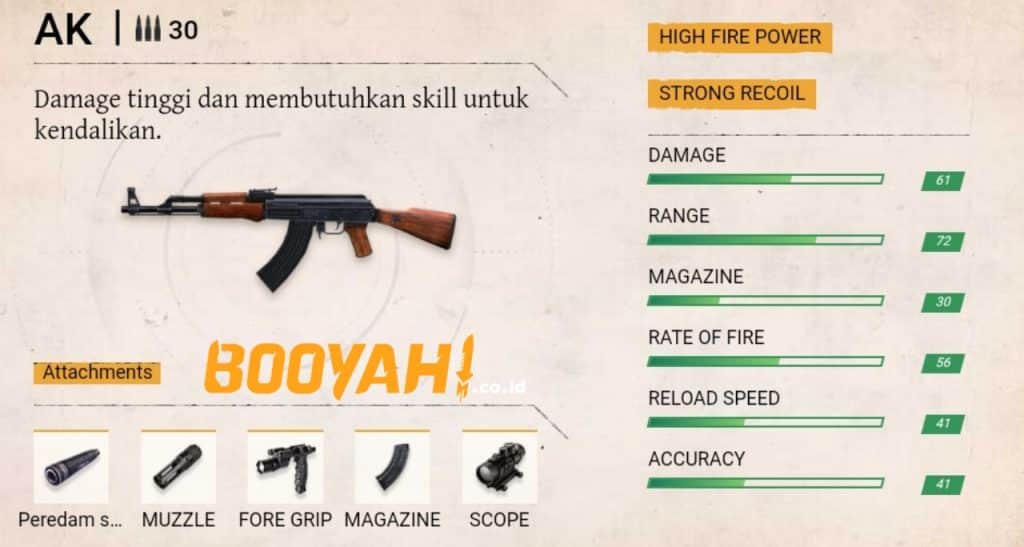 You should know the advantages and disadvantages of the AK47 Free Fire weapon so you can apply the right and accurate playing strategy. After that, you will be able to win the battle easily!
The advantage of the AK47 weapon is when you fight indoors, then damage produced by this weapon will be greater when the bullet is fired at close range. Apart from that, you also don't need to rely on accuracy when your opponent is too close.
The drawback of the AK47 is that it has recoil and always experience a drastic decrease in accuracy when in mode full auto. So, so that you can shoot accurately and precisely, you have to shoot the enemy in the right way tapping.
What are you waiting for? You are definitely interested in using the AK47 Free Fire weapon which has low accuracy but damageits spicy to strengthen the character in the game and win the battle, right? Let's play now!
Also Read: Free Fire x Alok Achkar Peres Petrillo, Check Out These 4 Facts!