Genshin Impact has several DPS characters that are rated "Overpowered", one of which is Ganyu. Ganyu with the right build, it will be more Overpowered thanks to the damage from Frostflake Arrow Bloom.
Only with a Charged Attack, Ganyu can deal very painful damage. However, Vicigers need to apply the right Ganyu build so that the damage hurts.
Here is the gameplay from Ganyu to a suitable build so that the damage output from Charged Attacks is very high.
Cheapest Genshin Impact Products!
Arif_budiman
IDR 50,000
62%
IDR 18,900
Also Read: Best Kamisato Ayato Team Build and Composition 2022
Ganyu Build Gameplay
Ganyu's gameplay is actually quite easy. The source of the bad damage comes from Frostflake Arrow Bloom after Vicigers takes a long aim so that Ganyu will shoot a bloom with great damage.
However, Vicigers must be careful when performing Charged Attacks. When hit by an enemy attack, then Vicigers must perform a Charged Attack again and this takes quite a long time.
So, when performing a Charged Attack, Vicigers will stay still and can only move a little. This can be anticipated by using characters who provide shields, such as Diona and Zhongli.
Apart from Charged Attack, his Elemental Burst is also one of the best Elemental Bursts. Because, Ganyu will give hail whose area is large enough so that the enemy will be hit by Cryo.
Ganyu's Elemental Skill is also very useful against enemies. Vicigers can use Elemental Skills to avoid enemy attacks. Usually, the enemy will attack the flowers produced from these Elemental Skills because of the Taunt effect.
Also Read: The Painful Xingqiu Build for the Best Sub DPS
Artifact Recommendations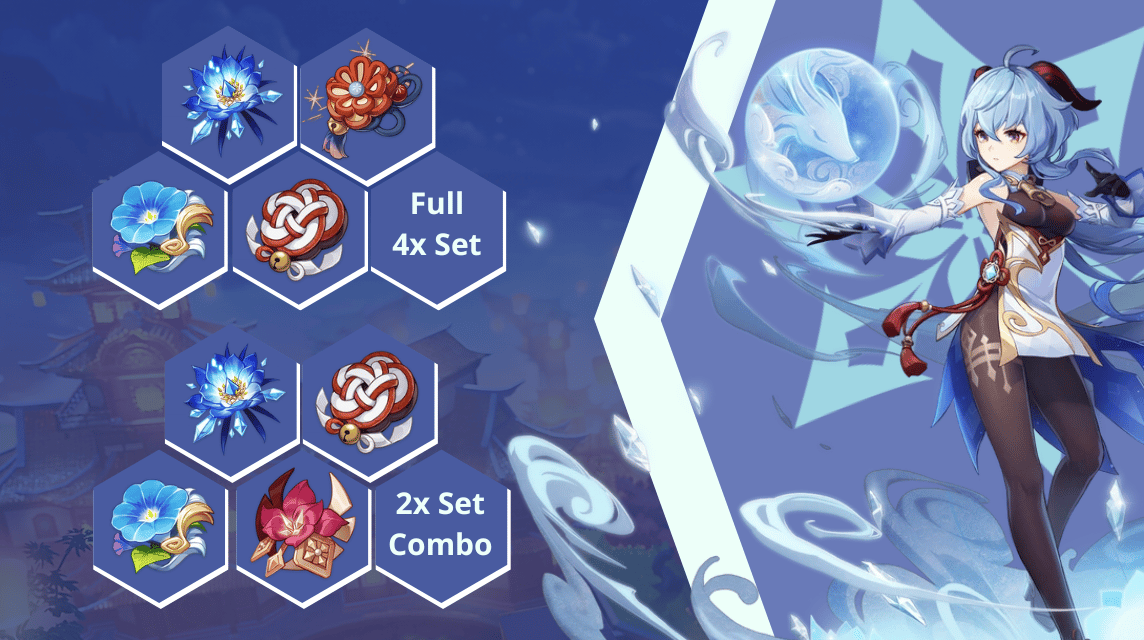 Ganyu has quite a variety of artifact sets, depending on how Vicigers plays. However, the most suitable artifact according to VCGamers is the full set of Wanderer's Troupe. The full set of artifacts gives +80 Elemental Mastery and 35% Charged Attack Damage.
This bonus is perfect for Ganyu, who has a source of damage from Charged Attacks. Apart from that, the set also helps the composition of Melt Ganyu which will be discussed below.
The Blizzard Strayer Full Set is also quite good for Ganyu. There is a set bonus in the form of +15% Cryo Damage Bonus and an additional Crit Rate if the enemy is Cryo and Frozen. The set is suitable for the Perma Freeze team composition.
Shimenawa might be Vicigers' choice if he rarely uses Elemental Burst. Although the full set gives 50% Charged Attack Damage Bonus for 10 seconds, this bonus has a cost of 15 Energy.
Retracing Bolide is an artifact that is quite under rated. The artifact gives Ganyu 40% Charged Attack Damage but must have a character that can provide Shield, such as Diona and Zhongli.
Vicigers can also combine 2 sets between Shimenawa, Gladiator, Wanderer, and Blizzard Strayer to get a 2-set combination. However, VCGamers does not recommend doing so if Vicigers has the full-set of the artifacts listed above.
Best Weapon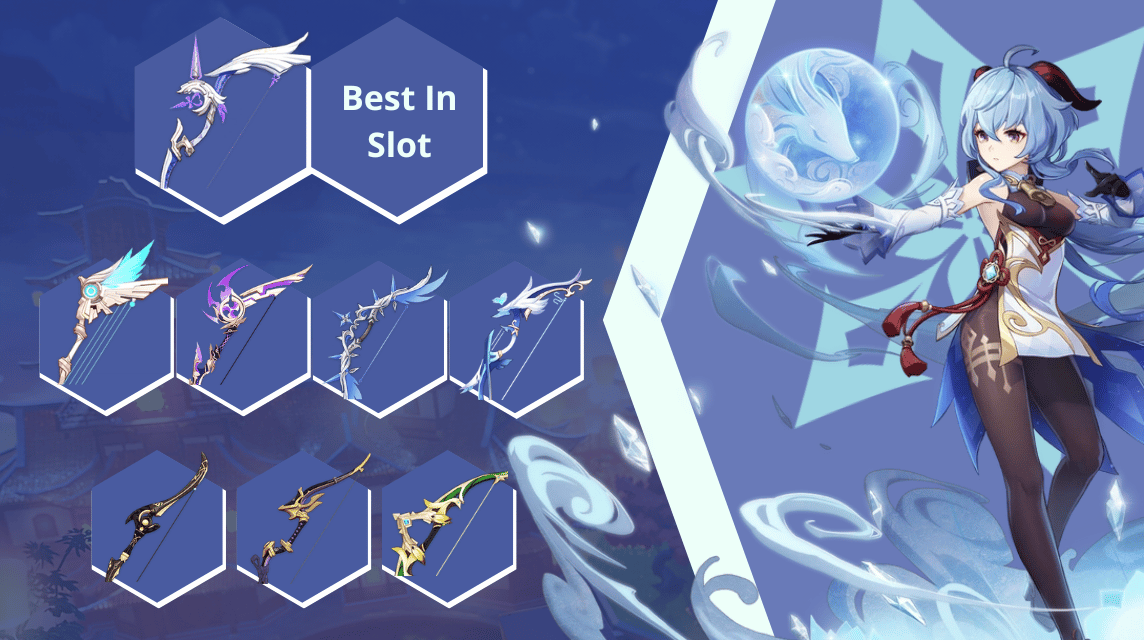 Amos' Bow is the best and most suitable Ganyu weapon. Gives an unusually large Attack stat and its passive which buffs Charged Attack Damage, especially Frostflake Arrow Bloom.
Of course it is very difficult and expensive to get Signature weapons. However, if the Vicigers don't have the Amos' Bow, there are other options although the damage will not be as painful as the Amos' Bow.
One of the other best choices is Skyward Harp and Polar Star. Both of these Bows provide a second stat in the form of Crit Rate so that it can give Ganyu more Crit.
Apart from that, Thundering Pulse and Aqua Simulacra can also be options for Ganyu. The two Bows provide a second stat of Crit Damage, although Aqua Simulacara provides less Base Attack.
For Vicigers who are F2P or Free to Play, the Crescent and Hamayumi Prototypes are the right choices. The two bows are very suitable and are the two best bows for F2P. Apart from that, Viridescent Hunt as a Bow from the Battle Pass can also be an option.
Also Read:Xiao Genshin Impact Full Review, Best DPS Anemo 2022 
Ganyu Build Team Composition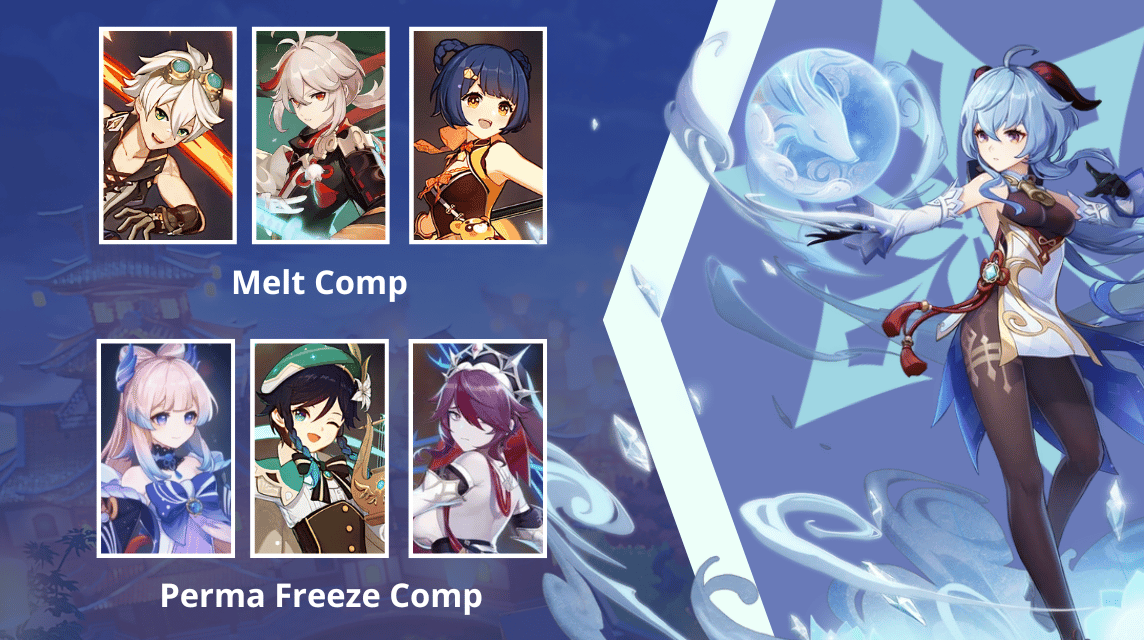 The composition of the Ganyu team is quite diverse, but one of the strongest team compositions is Melt Comp. With Pyro, the Cryo damage from Ganyu's Charged Attack will double.
Xiangling and Bennett are able to provide Pyro Resonance thereby increasing Ganyu's Attack. Apart from that, Kazuha can also provide a buff in the form of additional Cryo damage by performing a Swirl reaction with Cryo.
Apart from Melt Comp, Perma Freeze Comp can also be an option for the composition of the Ganyu team. This team is perfect because the Ganyu element, namely Cryo with the Hydro element, can cause a Freeze reaction that stuns the enemy.
Kokomi's Hydro application will cause a Freeze reaction if Ganyu continues to attack with Charged Attacks. Ultimate from Venti will collect a lot of enemies coupled with the additional Cryo application from Ultimate Rosaria.
If the Vicigers don't have a character like the picture above, then the Vicigers can replace that character. For example, the Vicigers could replace Kazuha with Zhongli in order to provide the Shield for Ganyu.
Apart from that, Rosaria can also be replaced with Diona and Kokomi can be replaced with Mona. The Venti slot is also quite flexible and Vicigers can replace Venti with Sucrose, 4-star Anemo Support.
Thus the discussion about Ganyu Build. For Genesis Crystal top up needs, don't forget to visit VC Market by VCGamers yes!