Free Fire or FF is the first game built by Garena himself. Garena Free Fire carries the battle royale genre which in a short time has become a favorite game, especially in Indonesia. Indonesian gamers, especially teenagers, are very enthusiastic about this FF game.
Moreover, not long ago Garena officially introduced Free Fire Cristiano Ronaldo as the Global Brand Ambassador.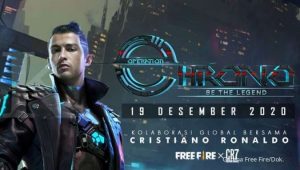 The collaboration is part of the biggest collaboration in the gaming industry. It also confirms Garena's reputation as the pioneer of Esports Mobile
Games that combine games with sports. Previously, Free Fire had collaborated with popular figures such as DJ Alok, Joe
Taslim and Hrithik Roshan, a Bollywood celebrity.
Cristiano Ronaldo became the idol of the world community where he is now collaborating to use his character in a game that is played by millions
person. Survivors can play Free Fire Cristiano Ronaldo using the Chrono character. It is said that this figure is carrying out a secret mission called Operation: Chrono. Setting the place is a new world with a futuristic metropolis atmosphere. The situation there was so chaotic and messy. From the chaotic world of this sophisticated metropolis, a hero emerges who is able to inspire the people there to always be excited about life.
This collaboration will not only attract the attention of Cristiano Ronaldo fans and millions of Free Fire gamers, but also the sports and gaming sector
wider area will get a positive impact. Various plans, innovations, and details have been made very well so that the character of Chrono is certainly so special that it will delight FF gamers in the world.
Game FF includes regularly releasing the latest content, one of which is adapting popular figures in the game. Before Free Fire Cristiano Ronaldo, there was Joe Taslim who was adapted into a character named Jota. Each character will bring lore or story background and exclusive abilities. In the Operation Chrono mission, FF players will be offered a new game scene with a futuristic theme with a number of missions related to the story of the Chrono hero.
The Free Fire game is the only battle grounds game with many different character choices like the MOBA genre Mobile Legends game. The various types of new Free Fire characters that appear have their mainstay skills plus their unique looks. The diversity of characters is what makes this one game quite challenging so that players don't get bored quickly. The skills brought by the Free Fire characters will also be able to determine whether they win or lose in the game. Not only that, the character can also be upgraded, thus the skills brought
will grow stronger.
Previously, Garena Free Fire also released various popular figures to be adopted as the newest character choices in the Free Fire game, the list of which is as follows:
DJ KSHMR becomes the character K
This Free Fire character is the embodiment of a DJ from the city of California America but is of Indian descent. DJ KSHMR himself has the real name Niles Hollowel-Dhar. In the FF game, DJ KSHMR is adopted as the character K. K has the Master of All skill. Through this skill, this character can change to Jiujitsu mode. That will produce the effect of increasing the EEP conversion rate by up to 500 percent. This effect can be sent to teammates with a range of up to 6m.
Hrithik Roshan as the character Jai
The Free Fire character is taken from a well-known figure from India who is also a Bollywood actor. His adopted name is Hrithik Roshan
into Jai's character. Roshan's posture seems to match the grim look. The skill that is owned is so special, this character can fill the magazine
AR, Pistol, SMG and SG type weapons after killing enemies.
DJ Alok becomes the character of DJ Alok
His full name is Alok Achkar Peress Petrillo. While he is more popular with the title. This disc jockey from Brazil has also been adopted as one of the characters in Free Fire. Many Free Fire players really rely on this one character because it looks pretty cool.
So, DJ Alok's character brings a skill called Drop the Beat. This skill can increase walking speed and send HP to
a teammate with a range of up to 5m.
Joe Taslim becomes the character Jota
This action film player from Indonesia is also involved in the Free Fire game world. Except for starring in several action films, Joe
Taslim was also adopted as one of the characters in Free Fire, namely to become Jota. Jota's character is quite good at running parkour, so this character is quite agile. Jota's character has the Sustained Raids skill where the advantage is that he can restore HP when operating SMG and Shotogun weapons when killing opponents.