Event Evermotion Mechanical Painting Genshin Impact is events which is running and is events last for patches 2.8 before welcoming the opening Sumeru.
On events here Vicigers will be invited to play puzzles. However, puzzles This will later use gear components (gears) that you have to make move and rotate with each other.
Also Read: Sumeru Genshin Impact Character Leaks in Patch 3.0, Anyone?
Guide to Evermotion Mechanical Painting Genshin Impact
The event Evermotion Mechanical Painting is events which is available from August 12, 2022 to August 22, 2022 according to the time servers what you play.
Cheapest Genshin Impact Products!
Arif_budiman
IDR 50,000
62%
IDR 18,900
Your task is actually quite easy. You will help an NPC named Felix return the painting from the gear so that it rotates again.
Requirements for Participation Evermotion Mechanical Painting Genshin Impact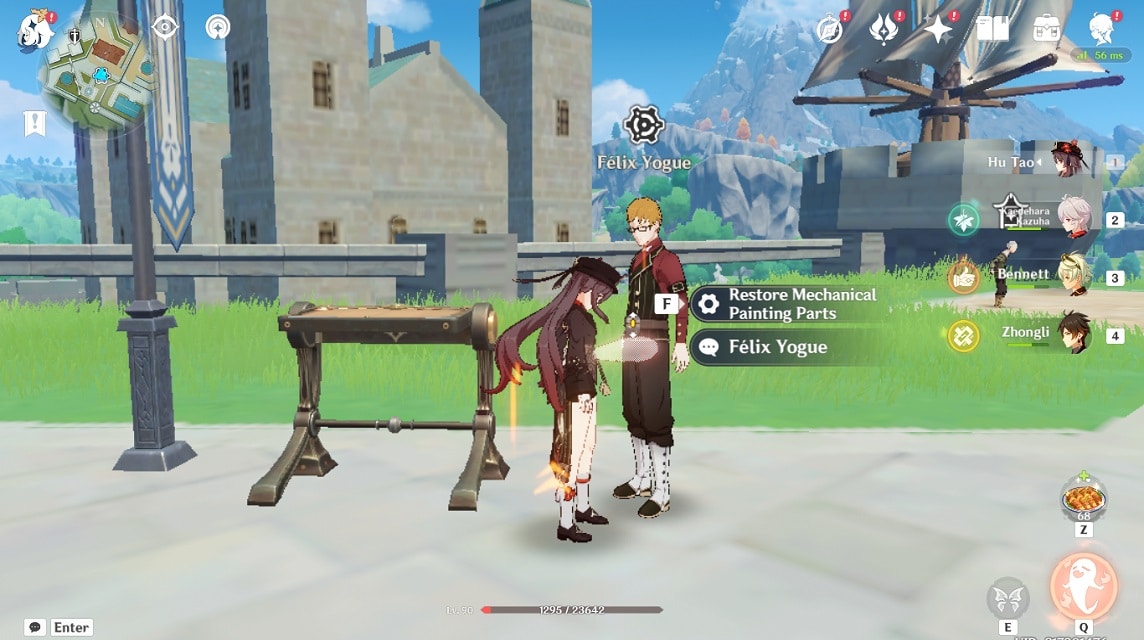 The first requirement that you must fulfill is that you must be at AR level 18+ to be able to do this events.
You must have completed Archon Quest Prologue: Chapter 3 – Song of Dragon and Freedom or essentially have completed Archon Quest Mondstadt.
Also Read: Got Leaked! This is the latest information on Sumeru Genshin Impact 2022
Genshin Impact Evermotion Mechanical Painting Reward Event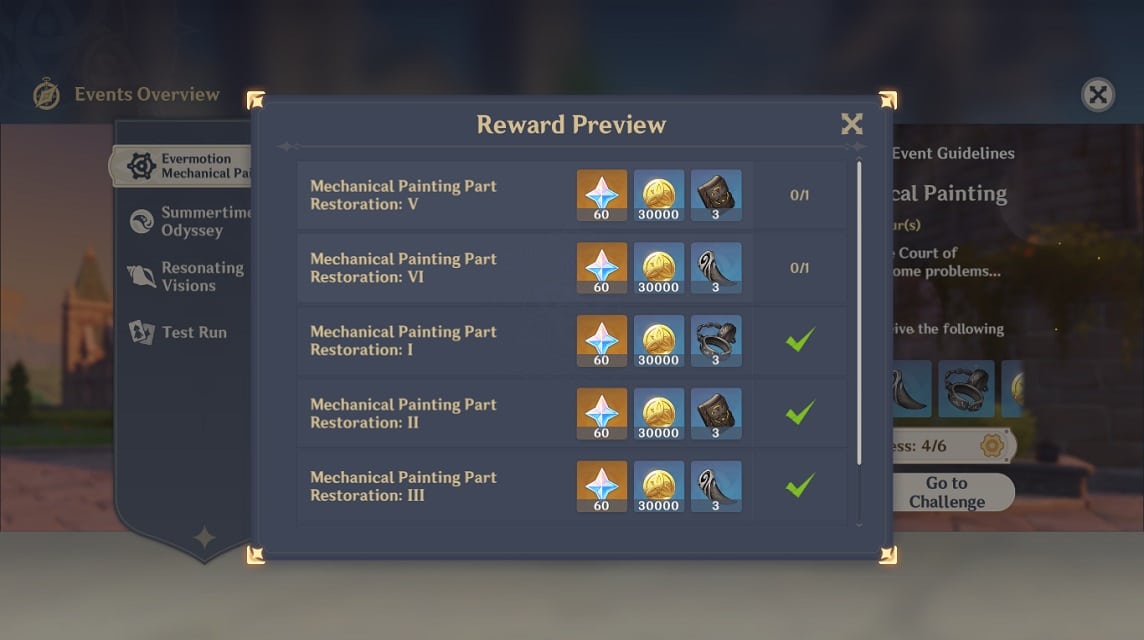 Rewards what you will get is Primogems, materials ascension for weapons, and furnishing for a special Teapot from events this. Following are the details of gifts or rewards what you can get:
Primogem x360

Mora x360,000

Material Weapon Ascension Chained of the Dandelion Gladiator x6 

Material Weapon Ascension Debris of Decarabian City x6

Material Weapon Ascension Boreal Wolf's Cracked Tooth x6
Also Read: Stats and Bonuses of Kagotsurube Isshin, Sword of Kaedehara Kazuha
How to Play Genshin Impact's Evermotion Mechanical Painting Event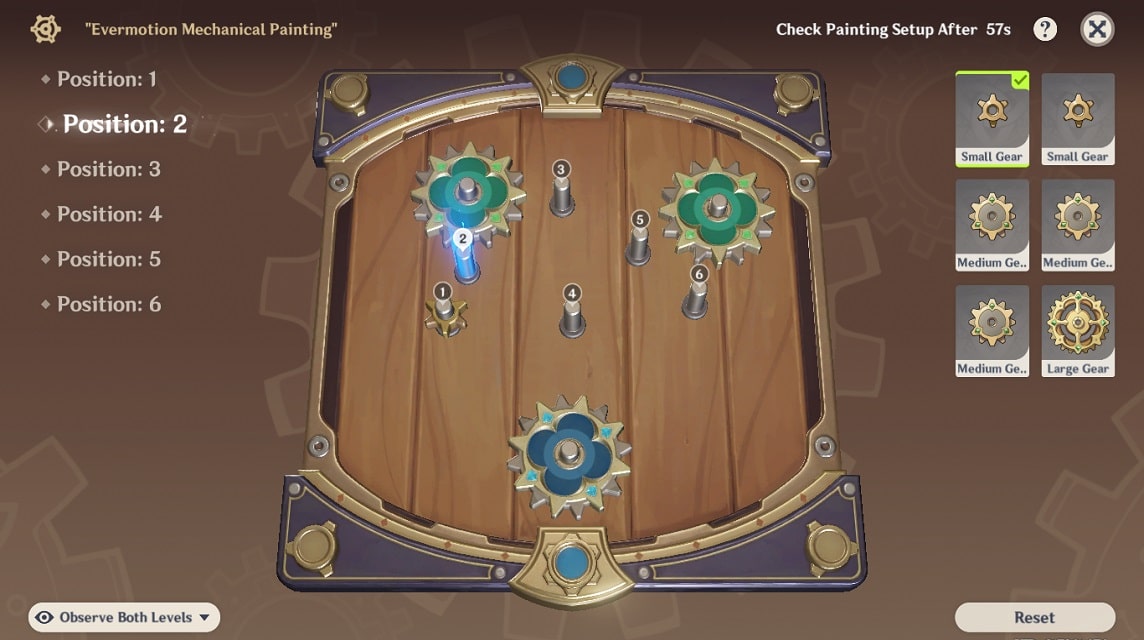 You can teleport to Mondstadt and meet an NPC named Felix. You can go straight quests Evermotion Mechanical Painting to direct you to Felix's position.
Next, Felix will ask you to take components by fighting enemies in the indicated place.
You'll bring the components back and get started right away games by selecting "Repair Mechanical Painting Parts" while talking to Felix.
There are a total of 6 Paintings that you can play with different levels, components and shapes.
The puzzle itself will consist of a Lower Level and an Upper Level. You must create gears what is there is put in its place, and everything must rotate and move.
To make it easier for you, VCGamers has summarized it gears used and the position determined will be described as follows:
Day 1 (I)
Lower Level
Position 1: Gear Medium Gear Medium

Position 2: Small Gear Small Gear

Position 4: Big Gear Big Gear

Position 6: Medium Gear Medium Gear
Day 2 (II)
Lower Level
Position 2: Small Gear Small Gear

Position 3: Gear Medium Gear Medium
Upper Level
Position 6: Large Gear Large Gear

Position 7: Gear Medium Gear Medium
Day 3 (III)
Lower Level
Position 3: Small Gear Small Gear

Position 5: Big Gear Big Gear

Position 7: Duplex Gear Duplex Gear
Upper Level
Position 4: Medium Gear Medium Gear

Position 6: Medium Gear Medium Gear
Day 4 (IV)
Lower Level
Position 1: Gear Medium Gear Medium

Position 3: Big Gear Big Gear
Upper Level
Position 2: Medium Gear Medium Gear

Position 4: Large Duplex Gear Large Duplex Gear
Day 5 (V) : will be updated on August 16, 2022
Day 6 (VI): will be updated August 17, 2022