Shani character
Game battle royale favorites that have a user base from various countries, games it continues to innovate to present various new features and new characters. Characters are an integral part of this game.
In game Free Fire lots of female characters. One of the favorite characters for FF players is Shani.
Besides having a beautiful face, this one character is also equipped with special abilities that are different from other characters.
Cheapest Free Fire Products!
Arif_budiman
IDR 50,000
62%
IDR 18,900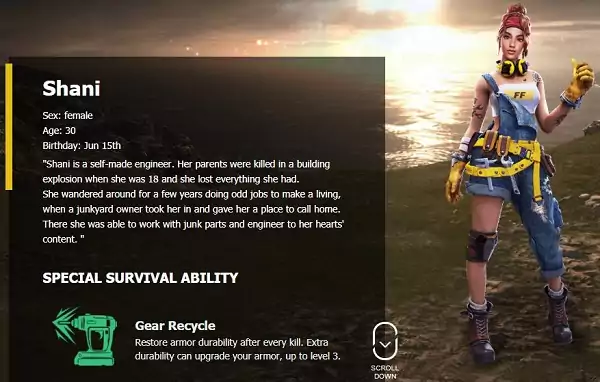 With the abilities he has, Shani's character can deliver support being kind to his team members during battles takes place, and also players can get booyah in fairly fast time.
Shani is depicted as a woman who has a beautiful face even though she is 30 years old. It is said that Shani lost both his parents when he was a teenager. Shani's parents both died due to a large explosion.
From then on, Shani loses everything and starts an adventure to find his life. Until one day, Shani meets a junk collector. It was there that Shani lived and began to be passionate about his work as a mechanic.
Shani has great abilities in repair armor strong, even he can provide a high level of defense for the armor.
Of course this helps players survive longer and doesn't need to look for armor when the previous one is broken.
Actually, increases resistance armor is passive skills owned by Shani. Moreover, Shani can repair too armor it slowly.
To make Shani's character even more deadly, players must be active in fighting.
skills Shani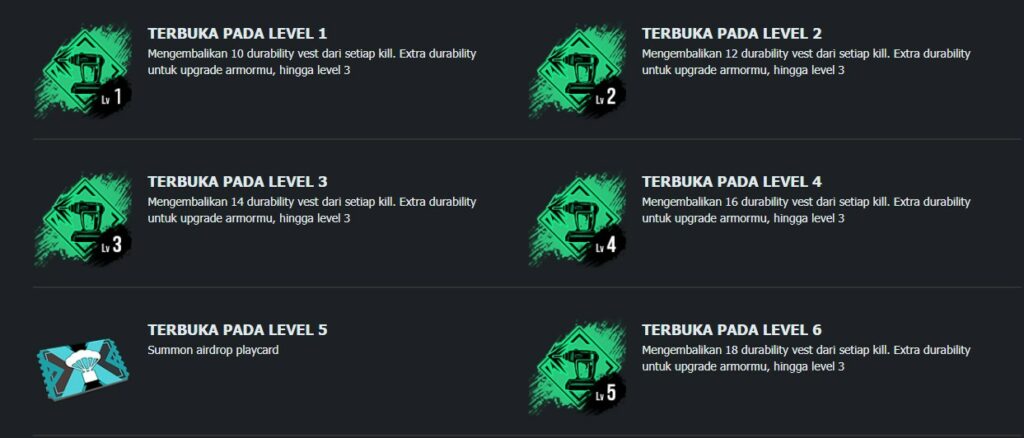 His acumen in the field of mechanics in the game Free Fire this has a difference that is not too significant from the passive ability possessed by Shani's character.
He has a skills specifically named Gear Recycle.
When this Shani character uses an ability Gear Recycle which he has, Shani can provide renewal services armor with extra durability up to a maximum of level 3.
Not only that, Gear Recycle skill Shani's can also have a good effect on the other members. By using this ability that he has, Shani's character can provide returns durability vest in every kill which he received.
At level 1 this ability will provide armor updates with extra durability max level 3 and also returns 10 durability vest on the affected member kill. When the next level, namely level 2, skills it will return 12 durability vest.
As the level increases returns durability vest on dead team members this will continue to grow.
By 20 durability vest at the highest level, namely at level 8. If skills the characters in this game are mostly about gifts healingHowever, Shani's character is indeed different.
Shani can give returns durability vest for each affected member kill. That's why the character Shani often becomes the favorite character of the players Free Fire games.
When maximizing Great Recycle skill owned by this Shani character, players must know how to play well and well when using this character in this game.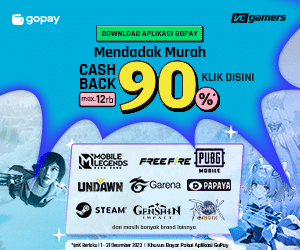 One of the things related to this character that players need to know is that this character is very suitable to be a person rushers when playing in Free Fire games.
With this character's special power, Shani can provide resistance to other team members without worrying about his armor being destroyed.
In addition, even though they already have special abilities that no one else has, players can still make improvements by providing weapons rush. When using a weapon rush, players can provide additional strength to Shani's character.
How To Get It
This Shani character can be purchased for 499 diamonds. Here's how to buy it:
The player opens the game Free Fire
Then press the 'Shop' symbol on the left side of the screen,
Then when the shop opens, click on the character menu, a list of characters will appear.
Next look for the Shani character and click on the 'Buy' button
After a successful purchase, the player can equip the Shani character from the payload.
Also Read: Thorough Peel 3 Facts About Antonio's Character!