one of the team esports Mobile Legends: Bang Bang (MLBB) who became a team of veterans in the world esports this gives shocking news.
This is officially quoted from the page official accounts Instagram Indo Saints who announced to have disbanded his team on July 4, 2021 as below.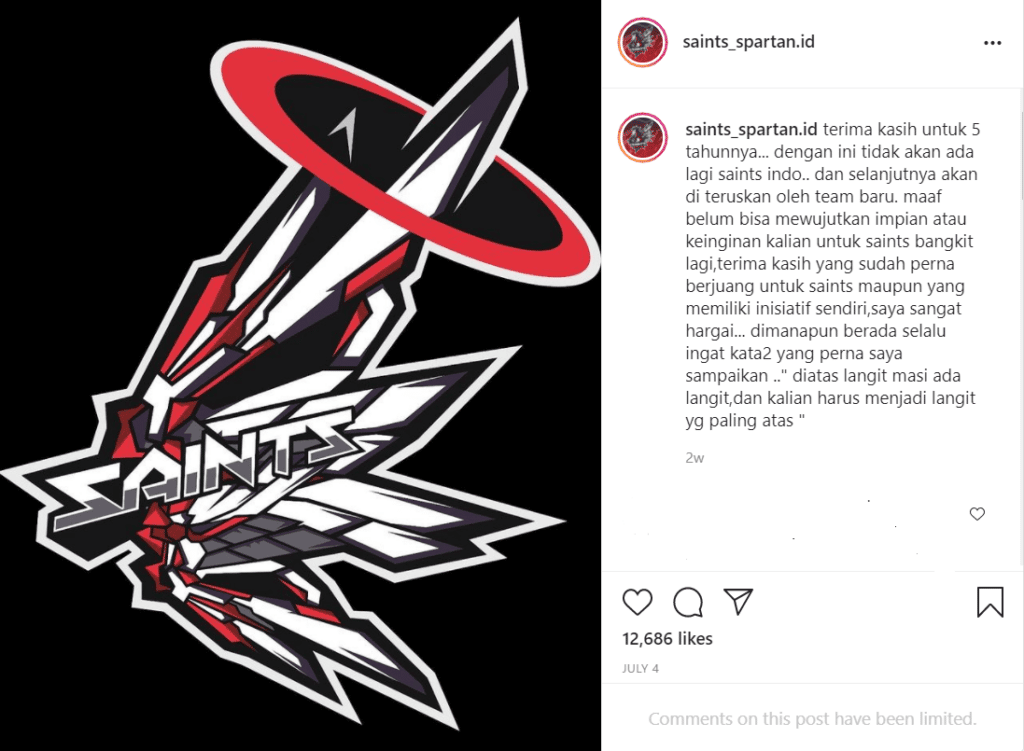 This makes the fans Mobile Legends surprised and many also do not believe in the dissolution of this team. With Instagram uploads from the official account Indo Saints, they said goodbye and thanked the fans.
Arif_budiman
IDR 50,000
62%
IDR 18,900
This greeting also turned to them, where many fans thanked one of the veteran Mobile Legend teams for giving birth to many players or Pro Player who are talented in the world of Mobile Legend Indonesia.
This team itself was created and established in 2016 where it was one of the first esport teams to enliven the competitive world Mobile Legends.
Indo saint one of the participants from Mobile Legends Professional League Indonesia (MPL ID) Seasons 1 which was the first official tournament.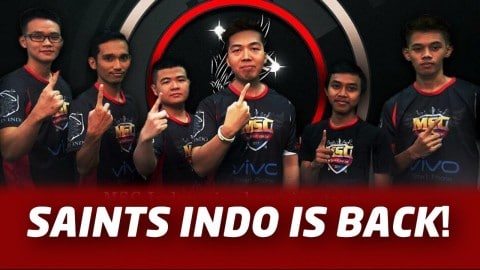 At that time, name Indo Saints become a big name like the other teams that is Rex Regum Qeon (RRQ) and also the team Evos Esports. At the time roasters They are Daylen, Warpath, Hexazor, Oura, and jess no limit.
Where some of them chose to change teams and some chose to become one content creator like Oura and Jess No limit.
Because it is one of the long-standing teams in the competitive world Mobile Legends, Indo Saints gradually being eliminated and starting to be displaced by new teams that have just emerged with talented players and a financial system or a better investor system.
Based on information circulating that as is known to compete in official tournaments it is not free. Mobile Legends Professional League (MPL) in Indonesia alone since seasons 4 to seasons now it's implementing a paid system.
In its own rules each team that wants to take part in an official tournament from Moonton as Mobile Legends developer estimated to have to pay 2 billion to take slots.
Therefore, Indo Saints which is not a team that is rolling in wealth having difficulty growing.
Though many great players who started his career in this team. Tobias (Jess No Limit), Eco (Oura), Joshua (Kido), and Randika (Warpath) who started their career as proplayer on the team Indo Saints.
The achievements of this team itself are winning MSC 2017 and making title this is the best achievement for the team.
However, there is good news for fans Indo saint, reportedly they will do comebackk with a new face.
So what's the new face of this legendary team? Check out the discussion below!
Saint Spartan Esports
Yep, just a few days apart from his announcement to disband the team. Indo saint now doing comeback or will be back active in the world esports especially in division Mobile Legends. This news was confirmed on Wednesday, April 7, 2021.
This official info was issued through social media accounts Indot Science who stated that their career in the world of esports and Mobile Legends still not over. Now the veteran team is back with the names and roasters new.
This name change coincided with those who decided to merger or work with one of the teams exportother t ie Spartan Esports. Therefore, the new name of this Indonesian veteran team was changed to Saints Spartan Esport.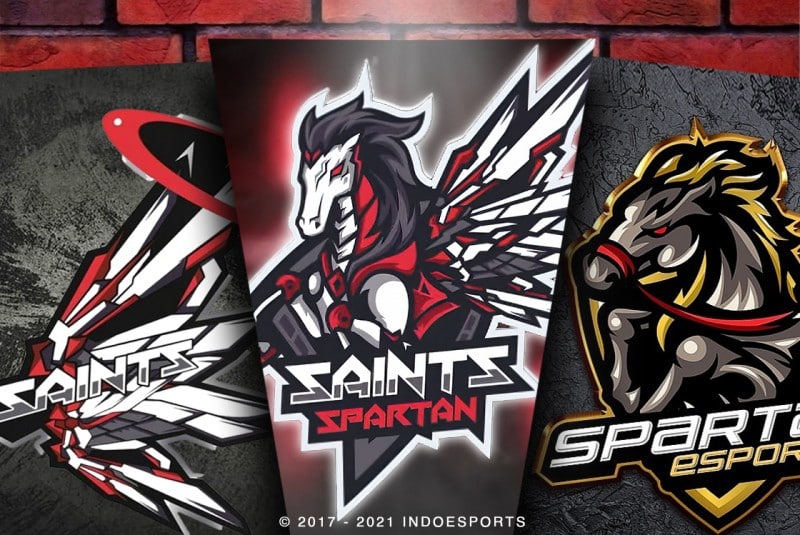 Spartan Esports itself is a community that provides opportunities for teams from other communities to participate in tournaments Mobile Legends big in Indonesia.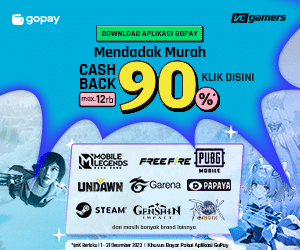 This is based on RevivalTV known that Spartan Esports It often uploads information about tournaments in Indonesia.
On the announcement comeback this is an old team, the feeling of this new team also shows roasters one of them is Daylen Reza who is captain or the leader of the team Saints and some roasters from Spartan Esports that appears in the team introduction.
Apart from the players, of course there are a few changes to the logo, where the logo is made by combining the logos Indo Saints with logos Spartan Esports.
This team is also reportedly about to start comebackher by following Mobile Legends Development League (MDL) Indonesia Seasons 4.
It's worth waiting for the appearance of the Indonesian legend team, so don't miss it!
Also Read: Hot News! Wann Will Be Back Playing, Really?