When do you want to buy
Xbox
, there are several models to choose from. Xbox One is one of the newest game consoles from Microsoft, recently
these were succeeded by the Xbox Series X and Series S.
For those who don't know, Xbox is a console brand that is a device that can be connected to a television – which Microsoft released since 2001.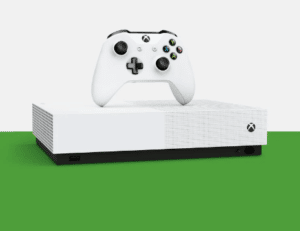 Xbox One
Microsoft is known for its Windows operating system on PCs, but Xbox has also made the company a major player in the video game console market.
The Xbox One has been available since 2014 and there is no successor yet. Microsoft excels when it comes to compatibility with older devices. For example,
many games that have appeared on previous Xbox consoles, such as the Xbox 360 and Xbox, can also be played on the Xbox One, and Microsoft offers a variety of services that make it easier and cheaper to play many games.
Microsoft has a number of exclusive game series that can only be played on the Xbox platform. Then almost all games from other developers also appear on Xbox One.
Plus, new Xbox One games will continue to be released in the near future, even though the Xbox Series X and S are now on sale. Microsoft
want to continue to support this platform for a long time. What to look for when buying an Xbox One?
Xbox One controllers
Every Xbox One comes with an Xbox One controller as standard. This controller is very comfortable to hold, wireless and
uses two AA batteries.
Xbox Elite controllers are also available. These specialized, more expensive controllers will give you the opportunity to make all kinds of adjustments as you wish to achieve the perfect gaming experience.
Xbox Live
Online games on Xbox One via Xbox Live. Anyone can sign in to Xbox with an account, but you must subscribe to Xbox Live Gold to
compete with others online.
Everyone has access to the Microsoft Store where hundreds of games can be purchased. You save the games on the Xbox One hard drive. There are also many choices of interesting films of various genres.
Kinect
Kinect is a camera that you can connect to Xbox One. You can then control the entire system with hand gestures and speech. There are also various games that use the camera, such as Kinect Sports Rivals.
Microsoft has focused less on the Kinect in recent years and is no longer supplying the device with the Xbox One as standard. Therefore, buying a Kinect Xbox One is not necessary.
Multiplayer on Xbox One
Just like on other consoles, you can play multiplayer. You of course need more controllers for that than controller ones
included with the console.
Luckily, there are Xbox One controller deals regularly and there are controllers from brands other than Microsoft. These so-called third-party controllers are often much cheaper.
Best Xbox One Games
Xbox One has several games in various genres. The best Xbox One games include games that Microsoft releases themselves. Xbox games that
popular is the Halo series. The main character Master Chief can no longer be ignored by gamers.
Nearly every Halo game is combined in Halo Collection: Master Chief. Then there's the online multiplayer game Sea of The Thieves, in which players form a pirate crew and hunt for treasure.
Forza Motorsport and Forza Horizon games offer realistic racing excitement. Meanwhile fans of modern classics can play Ori and Blind Forest or Cuphead.
Lots of new games on Xbox One. Almost all major games from other developers are available on Xbox One. FIFA, the very popular soccer game, comes out every year, or adventurers can enjoy the Assassin's Creed games.
Other popular game series, including Call of Duty, are also available on Xbox One. The most popular online shooter game also available on Xbox One is Fortnite, free to download. Another popular game is Minecraft.
In 2014, Microsoft acquired the game for over $ 2 billion.
On the newest Xbox, many of the older games that appeared on the Xbox 360 and regular Xbox can be played. It is called "backwards compatibility". Players who own the original discs of older games can pop them into their Xbox One and then start playing them.
If a player has purchased an old game and downloaded it from the Xbox Live store, it can be downloaded again from Xbox One at no additional cost. But if the game has never been purchased before, you have to pay once to buy the game.
A growing number of games that Microsoft is releasing themselves on Xbox One can be played on PCs running Windows 10. Both products are from
Microsoft.
Games labeled "Xbox Anywhere", such as Gears of War 4, Sea of The Thieves, and State of Decay 2, only need to be purchased once and then
playable on Xbox One and Windows 10 PC.
4K Blu-ray format
Xbox One S and Xbox One X can play 4K blu-ray for the best picture quality in movies and series. This is best seen on a television set
supports this resolution, and the console can play Blu-ray on all televisions. Games also look great in 4K format.
On both Xbox One S and Xbox One X, games also have HDR support for more realistic deep light
games
.