Booyah in the Free Fire game is an expression of congratulation for the winner of the match. Booyah Free Fire is the last player alive out of 50 players in one battle arena. If in the Mobile Legends game the term Victory is known, then the PUBG game uses the term Winner Winner Chicken Dinner, then Booyah! used for Free Fire.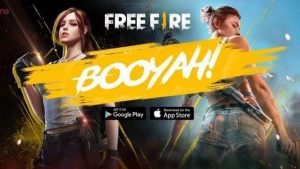 Booyah Free Fire
Booyah is the sentence chosen to express happiness. Especially when playing pretty or winning moments in a sports match. Well, that word is used in the game Free ire when the player is able to become the last man standing. The last player
still alive in a duel.
One of the goals of playing the Free Fire game is to gain booyah. Achieving booyah is of course the pride of every player including you. Booyah is the standard of skill for Free Fire players who fall into the pro or beginner category. Achieving booyah in Free Fire is definitely not an easy matter.
Players must outperform 49 other players. But it's not impossible to achieve it, follow the following Free Fire booyah tips.
The following Free Fire booyah tips are very important for newbie players to learn. Because not a few of the novice players just don't play
consider important matters. As a result, not long after landing from the plane he was shot and killed. Free Fire booyah tips are important for you
newbies who want to be solo ranked. Because the tactic is to avoid dying quickly while maintaining rank so it doesn't drop.
Mastering maps
FF includes games with the battle royale genre or do battle in groups. In order to make it easier for players to win in matches, one of the keys is to master the map that is played in detail. Remember, each map in Free Fire has an area to hide or fight that is not the same as other maps. If the players don't really understand the map they are going to jump on, of course it will be difficult to reach booyah. In the Free Fire game, three main maps are provided, namely the Kalahari, Portugary and Bermuda maps. The technique for playing the Free Fire game for newbies is to try one map several times to find out the details. Beginner players should not change maps frequently.
Don't overdo the Loot
The mistake that often occurs in ordinary players is excessive looting. Players try to collect items in large quantities as capital
fighting. However, this step turned out to be inefficient. In fact, it often results in players getting shot faster. So easy
To reach Free Fire's booyah, players should equip themselves with a number of medical facilities, necessary bullets and weapons. In line with
The longer the hours you play Free Fire, the more you will begin to understand which weapon combo to choose. Even so with the attachments needed. If the player plays the squad mod, excessive looting can actually disturb other members of the team he is following.
Be careful in Kill
Also included are tips for playing Free Fire so that you quickly get excited, namely abstaining from killing as many as possible. Remember, marksmanship
those who are still unfamiliar will even result in fast players being shot when playing short distances. For newbie Free Fire players, you should learn
be patient by waiting for the opponent to come. After that, find a suitable place to shoot it. If you are unsure of your ability to control a weapon properly, you don't need to start a war. It must be understood that in the FF game the bullets fired by the players will go straight towards the point. This results in an even greater chance of being hit. Especially if the opponent is more skilled at operating certain types of weapons.
Reduce Running here and there
Because of the desire to get as many kills as possible, generally novice FF players often run aimlessly to find targets.
Even though when playing in an open area, the chances of being hit by a shot are even greater. It's better if you take cover behind a mound of earth, a wall or a building. Make sure that the hiding place is not in an open area which can be seen by the enemy. The secret is to be patient in waiting so that the chance of getting shot will be small which in the end Free Fire's booyah is even more open to grab.
Always moving
Even though it is recommended to hide to keep an eye on the target, players don't necessarily just stay in that place continuously.
It must be remembered that a zone is formed where it narrows in size over time. If a player is outside the zone, of course it's over. So that
the best is to keep looking at the map and then hide in the zone.
Booyah Free Fire can be achieved at least if players consistently apply the tips above. Don't miss it to always get
update the latest and complete news about the game. Starting from new game reviews, tips and tricks, how to top up diamonds and so on. Just follow the account
Instagram
VCGamers
and Channels
YouTube
yes.