You have to know the best weapons in the game Horizon Forbidden West. The goal is to defeat stronger enemies and complete missions.
To get the best weapons in Horizon Forbidden West, you have to complete various quests, starting from defeating Hunting Grounds, Relic Ruins, and Black Box locations.
If you plan to collect the best weapons in Horizon Forbidden West, we will recommend what weapons you should collect.
Cheapest Top Up Social Live!
Arif_budiman
IDR 50,000
62%
IDR 18,900
Here are the five best weapons you can get for Aloy in Horizon Forbidden West.
Also read: Complete list of FF 2023 Assault Rifle Weapons
Skykiller (Spike Thrower)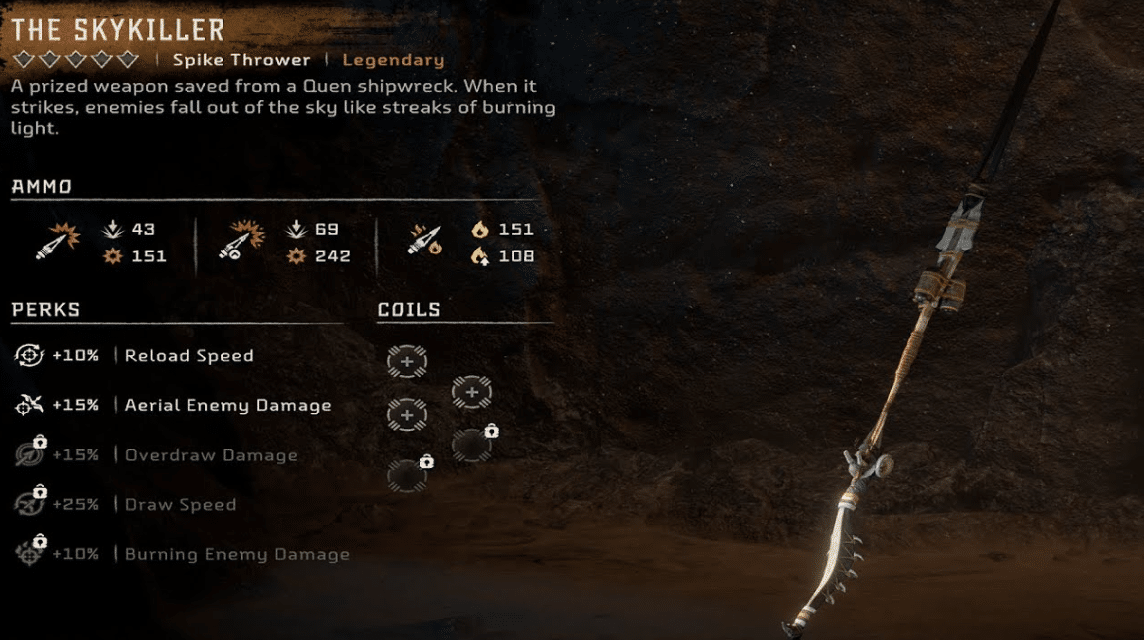 If you want to equip your arsenal with one of the best Legendary weapons in Forbidden West and in Spike Thrower, then you have to have Skykiller. 
This long-range weapon with five bullets is equipped with the ability to pierce anything, both flesh and machinery. 
Apart from that, this weapon also has a very low cooldown time and additional aerial damage. 
So it can be concluded that this weapon is very strong, and will be twice as strong with the addition of the Powershots Valor Surge and Splitting Spike technique combo.
To get Skykiller, you have to go to Legacy's Landfall. Once there, talk to the woman on the boat, who will activate the thread of quest. 
Once you complete "The Way Home", you will receive a Legendary Spike Thrower as a reward. 
Also read: PUBG Mobile's Strongest Weapon Recommendation, Auto Chicken Dinner!
Blast Forge (Boltblaster)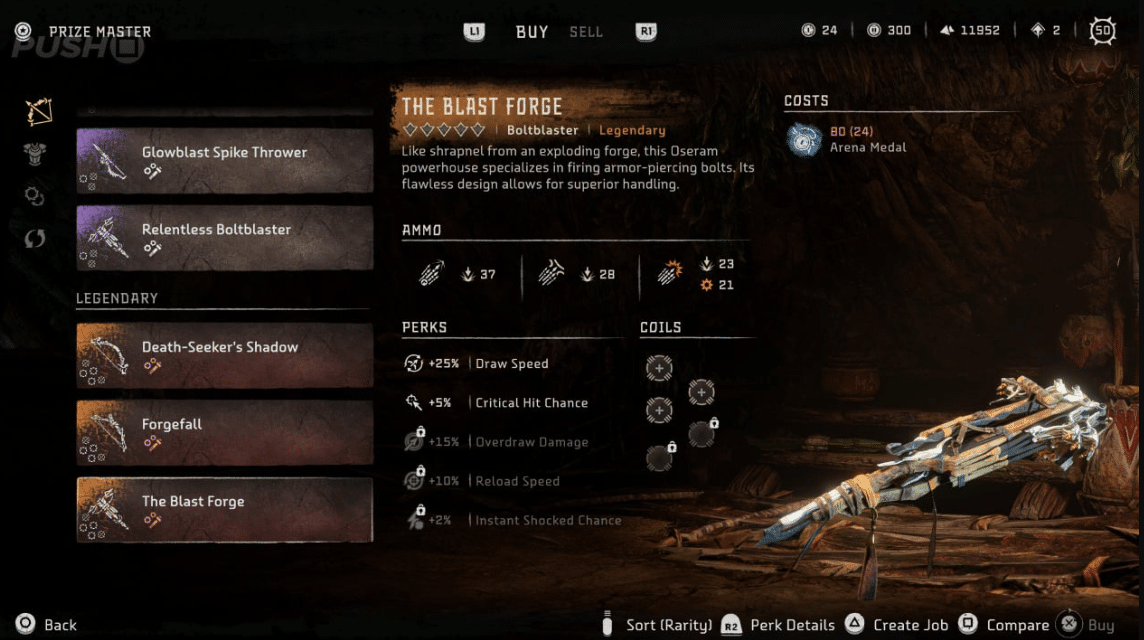 You must have a Boltblaster, especially if you want to hunt down the giant machines that are hidden pockets in the Forbidden West. 
The Blast Forge is the best weapon of its kind, and complements the Skykiller surprisingly well when combined together in tough boss fights.
To get the Boltblaster, you must collect a total of 80 Medals in the Maw of the Arena. 
To reach this location, you must head south of Scalding Spear, where you will meet a trader who will exchange the Blast Forge for the Medals you have obtained.
Forgefall (Sharpshot Bow)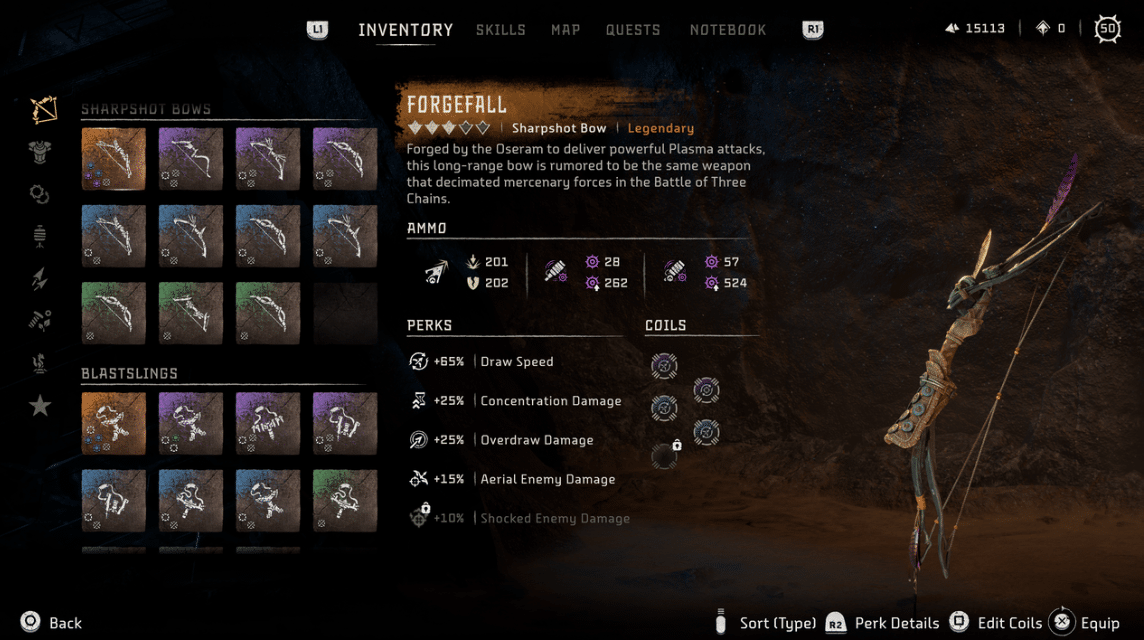 If you are the type of hunter who likes long-range combat, then you must have a Sharpshot Bow which provides attacks from a distance. 
The best weapon that can fulfill all these criteria is Forgefall. 
Thanks to this Legendary bow, you will never be in close proximity to a machine again.
To purchase this bow you will need 54 Medals, which can be spent in the Maw of the Arena by talking to the merchant. 
Also read: Skyward Harp Review: An Amazing 5-Star Weapon
Death Seeker's Shadow (Hunter's Bow)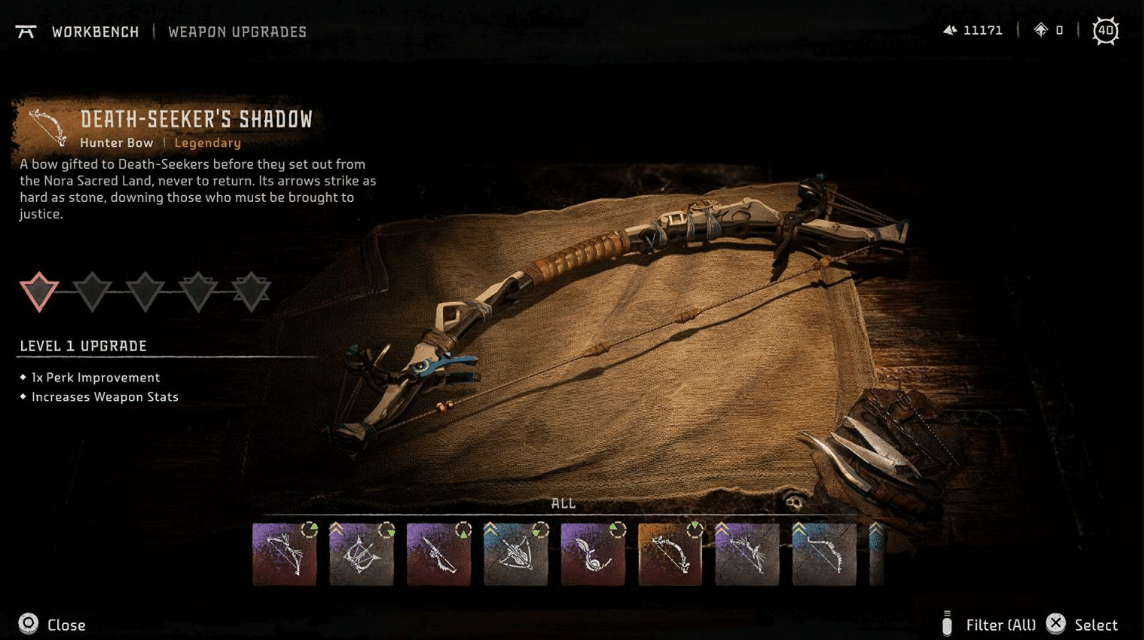 If you have some Medals left after completing all additional missions in Maw of the Arena. 
You can buy one of the best Hunter's Bows can be purchased from the same merchant. 
This will cost you another 80 Medals, but the results are well worth the investment.
Death Seeker's Shadow not only deals massive damage to its target, but also forces the overridden machine to attack an enemy of your choosing. 
So, this bow can control troops, as well as deliver a serious blow. 
Ancestor's Return (Shredder Gauntlet)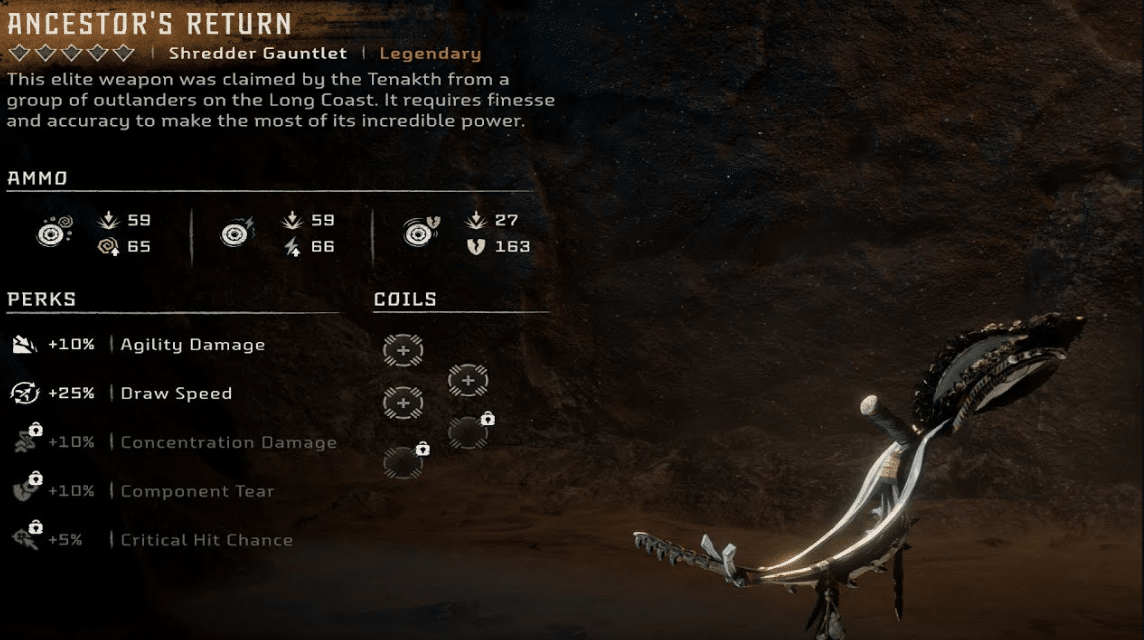 To date, no endgame weapon has come close to being as perfect as the Shredder Gauntlet variant, Ancestor's Return. 
This boomerang-like long-range weapon deals large amounts of Acid and Shock damage to many enemies.
And it has five additional coil slots to customize and upgrade, making it the strongest Legendary weapon in all Horizon Forbidden West.
Also read: 10 Best CS:GO Weapon Skins for 2023
So, that's our discussion about the strongest weapons in the game Horizon Forbidden West. Have you collected the weapons above?
Don't forget to stay up to date with the latest information about games, technology and gadgets, only at VCGamers News!
Come on, top up your favorite game or top up credit easily, quickly, safely, and at the lowest price only at VCGamers Marketplace.