Traveling to another country or locale by plane is a common choice these days. Of course you never thought about how to start a successful aviation business. Not in real life, developer Playrion offers an Android game about the aviation business, namely Airlines Manager Tycoon 2020. What are the twists and turns of this mega business?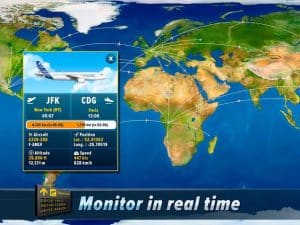 Acting as a Manager
As the name implies, the game Airlines Manager Tycoon 2020 requires players to assume the position of an airline manager. His job is to manage various aspects of aviation, for example financial aspects, business expansion plans, aspects of maintenance, service, marketing, and many other aspects. The task is certainly not easy and requires various thoughts and careful considerations so that the business can run smoothly and generate profits. There are various choices of aircraft brands prepared in this game, starting from Airbus, Boeing, Bombadier, Embrear, and even aircraft made by IPTN from Indonesia.
Like Running a Real Company
Airlines Manager Tycoon 2020 is a choice of company simulation games that really depict real conditions. Be a player
as a manager has the task of buying an airplane. Not only that, he also had to buy an airport to operate, a route
flights, including flight destinations. What makes the game Airlines Manager Tycoon 2020 even more interesting, are the various place names as routes
the flight actually bears the names of airports around the world, including Changi airport in Singapore, Heathrow airport in London,
Ohare airport in Chicago and do not miss Soekarno Hatta airport in Jakarta.
flight schedule
After getting airplanes and flight routes, players can start determining flight schedules. The trick is to enter the menu
schedule. Players can determine the daily schedule, or if they are not excited, an automatic mode is also prepared so that players can concentrate on certain flight classes, whether it be economy, business or executive class. Easier and simpler without the headache of taking care of everything.
Real Time
Game Airlines Manager Tycoon 2020 offers real time gameplay. That means players are based on the flight schedule according to the time in the real world. It's just that if the player wants to shorten it there is also a fast mode. That means the passage of time just like time in video games.
For example, a player has a flight schedule from Paris to New York with a time of 7 hours in the real world, but if you activate the Time Accelerated mode, this route can be reached in just one hour. The Time Accelerated mode can be found at the beginning of the game. But it depends on the player's desire to play it in real time or accelerated.
Comprehensive Flight Management
As previously stated, the player as a professional manager has the task of managing all aspects of an airline starting from managing aircraft, increasing passenger comfort, beautifying airports, managing finances so that they are profitable, for example determining airplane fares, fuel costs and much more. This is what makes Airlines Manager is
a tricky game. It's safe to say that Airlines Manager Tycoon 2020 is not a casual game.
Very Beautiful Artwork Display
The Airlines Manager Tycoon 2020 game does not present realistic airport or airplane visuals. This airplane game
using minimalist visual graphics. There is a world map in the background, which players can notice the lines showing the flight routes being managed. Game Airlines Manager also collaborates with the international aviation association IATA (International Air Transport Association) so that it can display real airport data around the world.
Online Games
This free Android airplane game is a must run online. Players can also watch several advertisements that appear in order to get a certain number of prizes. This game also requires players to log in every day like an online game. Players can also buy several types of currency with real money.
Airlines Manager Tycoon 2020 is a real simulation game, which is not suitable for casual players. Running an airline company certainly cannot be relaxed. This game is suitable for those who want to hone their brains in managing the strategy of the aviation company they manage by occupying the position of CEO.
Don't miss it to always get the latest and complete news updates about games. Starting from new game reviews, tips and tricks, ways