In the PUBG Mobile game, players are presented with several maps. Sanhok is the third map introduced by Tencent as the developer of the PUBG Mobile game
this. The capacity of the Sanhok map is narrower than the previous two maps which have dimensions of 8×8 km while Sanhok is only in 4×4 km format.
Therefore, how do players determine the best weapon in PUBG Mobile for the Sanhok map?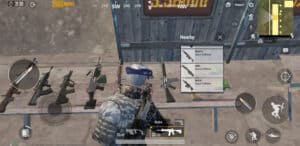 Since the Sanhok PUBG Mobile map has a narrower capacity than other maps, players will inevitably encounter close to medium range combat. These factors certainly directly affect the type of weapon you want to choose during the game. When competing in the Sanhok Mobile Legends map, players can more easily find hidden weapons. The weapons available in the Sanhok map also vary, which can follow the existing gameplay.
Check out what are the best PUBG Mobile weapons, especially for capital to act on the Sanhok map and win:
Type M416
If players have trouble controlling the M16A4 recoil which is usually so wild, try changing it to the M416 type. The bullet type for this weapon is the same as used for the M16A4 which can produce widespread burst damage. Besides that, this weapon also has a relatively fast fire rate. It's just that the M416 requires a more complete attachment that can function optimally. Since the duration for this Sanhok map is comparatively faster than the other maps, naturally players must look for attachments as soon as possible.
Type M16A4
Another weapon that can be taken to play in the Sanhok PUBG Mobile map is the M16A4 type. The best PUBG Mobile weapon has 5.56 mm caliber bullets which are capable of producing large burst damage because it can spit out three bullets at the same time at the target. Thanks to these features, the M16A4 is quite suitable for players to rely on in close combat. While in mid-range combat, players can
adjust the fire mode to single fire. PUBG Mobile's best weapon is the most flexible because it is reliable in close to mid-range duels.
UMP9 type
Unlike other types of weapons, UMP9 type weapons carry 9mm caliber bullets which result in a large amount of damage. Then the fire rate is also high, so it is very worth relying on in the battle on the Sanhok map. Moreover, this weapon is also quite often found in several maps, including the Sanhok map. Players may also be able to equip UMP9 with Vector. It's just that UMP9 does not require excessive attachments. Even without adding accessories, this PUBG Car weapon is still reliable to use.
AKM type
This type is a group of Sniper weapons that are often found in the Sanhok map, as well as other maps. AKM can kill targets fairly quickly in close range duels. Even players can use it in remote combat if they are able to control the resulting recoil. This PUBG Mobile best weapon can generate quite a large amount of damage, which is deadly when used on the Sanhok map.
QBU type
Even though in the Sanhok map there will often be close to medium range combat, you can also try sniper type weapons. Including the choice is the type of QBU in the Sanhok map. QBU weapons use bullets with a caliber of 5.56mm which can produce a level of damage that matches the other types of weapons mentioned. This QBU type weapon also has good stability even though it is operated in the prone position because it has an additional bipod installed.
Type QBZ95
Another PUBG Mobile best weapon that can be relied upon in battles on the Sanhok map is the QBZ95 type. This type has a very good recoil,
easy to handle, plus a pretty cool level of accuracy. In fact, for the degree of accuracy, this weapon is appropriate when compared to the M416 type.
Vector type
Is a type of weapon with an attack ability that deserves thumbs up. This weapon can finish off targets so quickly even though it's just
only a few bullets left. Vector can be even more dangerous if it is equipped with a silencer. Even though it only fits the number of bullets counted
limited, but the Vector type is efficient enough to function in early games. There are several rules that must be observed for this type of weapon
such as: having to add an Extended Magazine Attachment, using a Full Attachment as well, specifying a shooting mode, and you don't have to
combine it with Sniper.
Knowing what types of PUBG Mobile's best weapons for the Sanhok map will be very beneficial. The narrow map area requires players
must often fight from close to medium range. Don't miss it to always get the latest and complete news updates