Caroline, Pretty Girl Character in Free Fire
Caroline's character, is a character that you can find in games Free Fire. Caroline is a character that is described as a young girl popular at his school.
Apart from her beautiful appearance, Caroline was also born in a wealthy family so that she was always treated like a princess from the time she was small.
In fact, Caroline is told to always be accompanied by bodyguards who is on duty to accompany him at all times.
Cheapest Free Fire Products!
Arif_budiman
IDR 50,000
62%
IDR 18,900
Therefore, it's not surprising that Caroline is very popular at his school. Although Caroline is very popular and surrounded by many friends, Caroline still has friends who accompany her, namely Kelly and Maxim.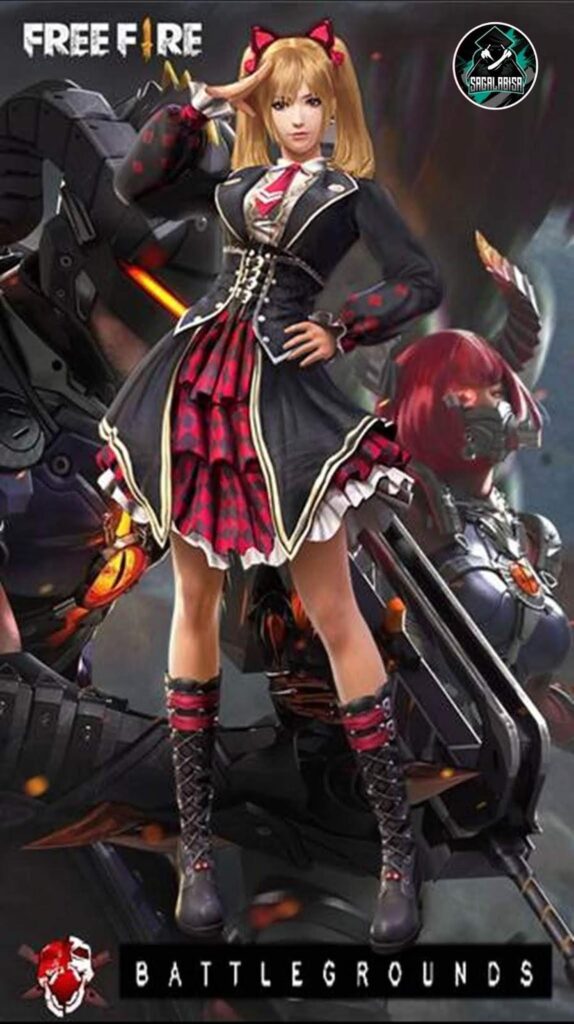 Although Caroline's character is told as a rich girl and popular, Caroline still cannot be doubted in terms of her abilities in Free Fire, because of her reliable ability to use shotgun and shoot at close range.
Caroline's character is known for her abilities Agility his, this character can run fast with a weapon shotgun.
With these abilities, it is very suitable if Caroline is paired with the character Andrew, who can provide good protection when Caroline uses weapons. shotgun-her at close range.
Caroline and Guns Shotgun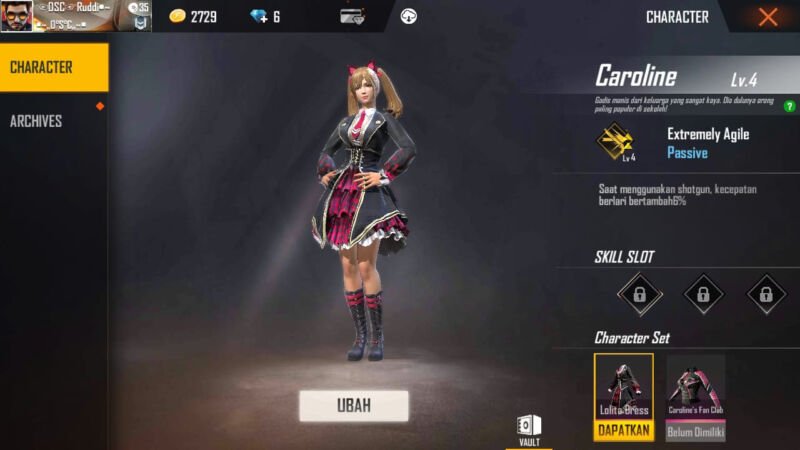 Caroline's character is known for weapons shotgun-his. At the start of the game, Caroline had to search shotgun first because only by using weapons shotgun That's Caroline can run fast.
So that it can be said, Caroline's skill only works if she is already carrying a weapon shotgun.
If at the time of the game we can't find a weapon shotgun, then Caroline's skill cannot function optimally.
Caroline's skill is deliberately designed specifically for players who use weapons shotgun. So this Caroline character is very suitable for those of you who are proficient in using weapons shotgun.
Strengths and Weaknesses of Caroline's Character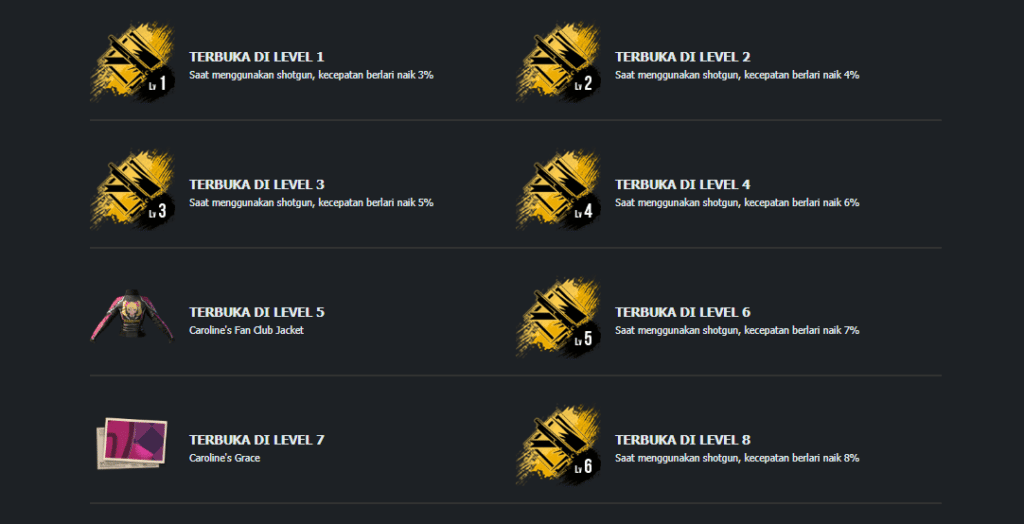 The character of Caroline being one of the characters favorite the players Free Fire. However, we also need to know more about the abilities of this character as well as their strengths and weaknesses.
Knowing the strengths and weaknesses of each character played, of course, will allow us players to better adapt to the character's abilities, to devise a good game strategy.
Previously, we already know that Caroline is famous for weapons shotgun-his.
However, what are the advantages of this character? Now,, below are some of the advantages of Caroline's character.
Immediately we see, come on!
Caroline can run fast when using weapons shotgun. This character can run without fear even when being chased or faced with enemies.
This character is also very reliable in doing straight shot, jump shot, running after, etc.
With guns shotgun possessed, this character can fight with enemies even at close range.
Weapon shotgun this is indeed more optimal if used at close range, and of course supported by armor used.
Reducing the risk of dying while fighting
This character is known for his ability to run very fast.
Of course, with this capability, player more able to play and move freely. And of course it can reduce the risk of dying from being attacked by enemies.
Also read: Must Try! These 5 SPAS12 Skins are Perfect for Caroline in Free Fire!
Now,, that's the advantage of this Caroline character, very cool'right? After knowing the advantages of this character, we also have to know the weaknesses so that we can adjust more when using this character.
Let's look at the explanation of the shortcomings of this character!
Can only use weapons shotgun
Caroline's character was designed to only be able to use weapons shotgun to issue skills-his. So, we have to look for weapons shotgun first at the start of the game.
This is one of the weaknesses of Caroline's character, because of the process looting looking for weapons shotgun this is not always easy.
When we're too late to get weapons shotgun, the risk of dying from being attacked by an opponent would be extremely high.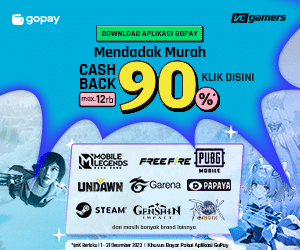 Shotgun only used at close range
Shotgun we cannot use it from a distance, so there is a possibility to die from being attacked by enemies.
Therefore, the use of this weapon and character requires skills enough so that we don't die easily.
Need a combination skills another character
skills Caroline will be classified as weak if she doesn't use weapons shotgun.
Therefore, this character will be maximized if you use a combination skills the good one. Like skills Hayoto, Miguel, and Andrew.
Those are some of the shortcomings of the Caroline character that we need to know, so that when the game uses this character, we already know, here, what should we do with these character deficiencies.
Wow, after knowing more about this character, are you ready for Booyah with Caroline's character?
Also read: Competing with MP40, XM8 Has High Fire Rate and Damage!